Can Bangladesh transform insurance using tech?
A tie-up between insurers and tech firms could show the way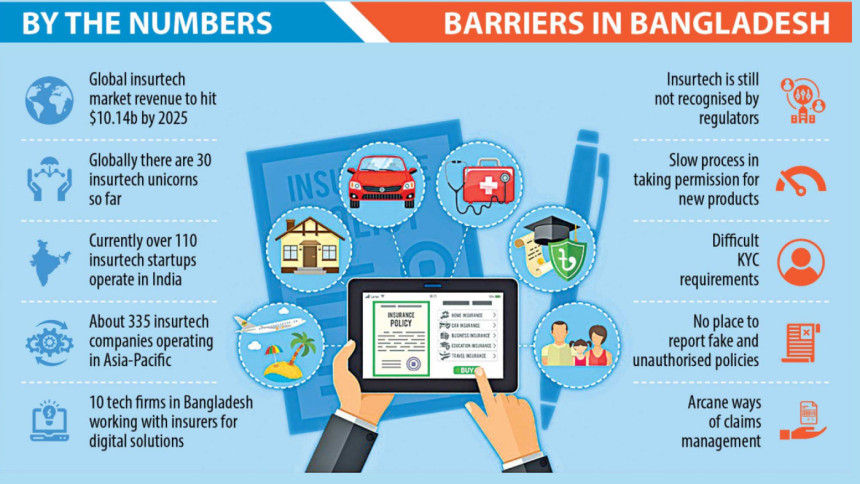 Bangladesh, which has one of the lowest insurance penetrations in the world, is missing out on tapping the potential of the insurance sector using technologies for a lack of recognition of insurtech by regulators, said experts and industry people yesterday.
Insurtech, a combination of the words insurance and technology, refers to the use of technology innovations designed to squeeze out savings and efficiency from the current insurance industry model.
"It is important for the Insurance Development and Regulatory Authority (IDRA) to make necessary amendments to its policies to allow technology companies and insurers to work together so that they can develop and modify products to provide technology-based and hassle-free services to customers," said Masud Rana, an additional director of the Bangladesh Financial Intelligence Unit.
He was speaking at a roundtable styled "Potential of InsurTech in Advancing Bangladesh's Economy", organised by the Bangladesh Association of Software and Information Services (BASIS) at its auditorium in Dhaka.
Speakers said the role of insurtech players has to be formalised to bring about a paradigm shift in the insurance sector of Bangladesh.
The insurance sector in other countries, including those in the sub-continent, has considerably higher market penetration with a much wider range of products than in Bangladesh.
For example, there are more than 110 InsurTech startups in India and 335 such companies in the Asia-Pacific region.
In Bangladesh, there are around 10 companies working with insurance companies to provide insurance solutions digitally or enable insurance through information technology.
Globally, a handful of accelerating technology trends are poised to transform the very nature of insurance, said a report of McKinsey & Company is a global management consulting firm.
In auto insurance, risk will shift from drivers to the artificial intelligence (AI) and software behind self-driving cars. Satellites, drones, and real-time data sets will give insurers unprecedented visibility into the risk around facilities, leading to greater accuracy.
Claims processing after natural catastrophes will be automated, infinitely scalable, and lightning fast. The life insurance industry will bring to market "wrapped" products that seamlessly adjust coverage based on the evolving needs of their customers, said McKinsey & Company.
"Bangladesh needs to update the Insurance Act 2014 with provisions for insurtech companies and should allow the BASIS to contribute with an assessment of the Act and implications across industries," said Fida Haq, co-founder and CEO of Adorsho PraniSheba, an insurtech firm.
Adorsho PraniSheba has partnered with Phoenix Insurance Company and Green Delta Insurance Company to ensure value protection, loan and insurance benefits of cattle through Bangladesh's first and only IoT-based cattle monitoring platform.
Cattle insurance protects farms from financial losses incurred from the unexpected death or theft of cattle. Thanks to the insurance, farmers will get comprehensive protection against loss.
In the case of death and theft, a farmer will get 90 per cent compensation for the value of the cattle within 15 days of submission of the claim.
Adorsho PraniSheba uses machine learning and artificial intelligence to recognise the cattle, helping insurers insure the cattle and making claim settlements easier since technologies can recognise the insured animals, even the dead ones. "So, it becomes more transparent and hassle-free," Haq said, while presenting a paper. It has insured 300 cattle so far.
He called for a provision in the Insurance Act to allow insurtech companies to operate as digital insurance agents, or issuing a no-objection certificate until the law is revised.
"Technology can boost the insurance sector as data can transmit real-time and policy premium calculation can be done automatically with AI-powered solutions."
AKM Fahim Mashroor, chief executive officer of Bdjobs.com and AjkerDeal, suggested a significant revision of the existing regulations and mandates as per current market needs. Samira Zuberi Himika, senior vice-president of the BASIS, also spoke.