Barishal launch services see passenger rebound before Eid
Use of launch services in Barishal declined by up to 50 per cent in the first seven days after Padma Bridge was inaugurated but the situation has since changed thanks to an onrush of Eid home-goers.
Launch owners say there was an initial reduction in cabin bookings as people preferred using roads in order to visit Padma Bridge.
However, many passengers are now using launch services as fares have been slashed by at least 25 per cent, making this mode of transport significantly cheaper considering the tolls of Padma Bridge, which are at least 1.5 times higher than the average charge on ferries.
Debashish Saha, a counter staff of the Sundarbans launch service, said they reduced the cabin fares to Tk 1,000 from Tk 1,400 while the cost of booking a spot on the deck was cut to Tk 250 from Tk 300.
Shafiqul Islam, a cabin boy of the Survi launch service, said all the tickets for their ferry have been booked till July 8.
Mohana Das, a passenger from Dhaka, said she paid Tk 800 for a cabin just a few days ago as launch operators are decreasing the charge in order to fill their empty seats.
On the other hand, most launch owners are saying they reduced the prices considering the altered conditions brought on by the opening of Padma Bridge.
According to launch owners, there are seven luxury ferries that travel from Barishal river port to Dhaka and back every day.
The total number of cabins provided by these ferries is more than 800 while there are more than 500 seats on the deck. However, around 10,000 to 15,000 people are travelling on the Dhaka-Barishal route by launch every day ahead of Eid-ul-Azha.
In the past, even 1 lakh people would travel to and from Barishal river port every day during the Eid holidays, they added.
Similarly, bus owners say that 2,000 to 3,000 people would previously travel on the Dhaka-Barishal route by road but their numbers have since doubled with the inauguration of Padma Bridge.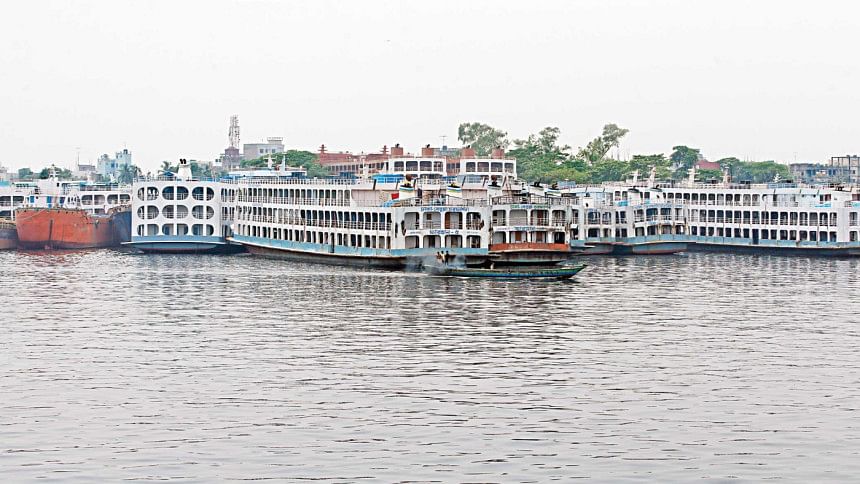 "But due to the lack of width of the Bhanga to Barishal highway, buses do not have the capacity to carry a large number of passengers on this route," said Kishore Kumar Dey, secretary of the Barishal Bus Owners Group.
Still though, about 50 new busses started plying the route after Padma Bridge was opened on June 25.
Saidur Rahman Rintu, vice-president of the Barishal Launch Owners Association, said it is not possible to move more than 10,000 people daily using roads but launches are currently transporting about 3 lakh travellers each day.
Mostafizur Rahman, a former officer of Barisal river port, said although nearly 5,000 launch passengers leave Barishal every day, most of them only travel during Eid.
"But traffic on the Dhaka-Barishal highway has tripled ever since the inauguration of Padma Bridge," he added.
Badsha Sardar, manager of Green Line Transport, said they had four transports plying the Dhaka-Barisal highway in the past but now, there are twelve transports on the route.
Akib Hossain, counter-in-charge of Sakura Paribahan's Barisal Nathullabad bus stand, said they used to operate at least 32 vehicles on the Dhaka-Barisal route but the number has since risen to 42 vehicles.