Bangladesh needs proper policy for net zero by 2050
Experts tell Robi-CSR Window roundtable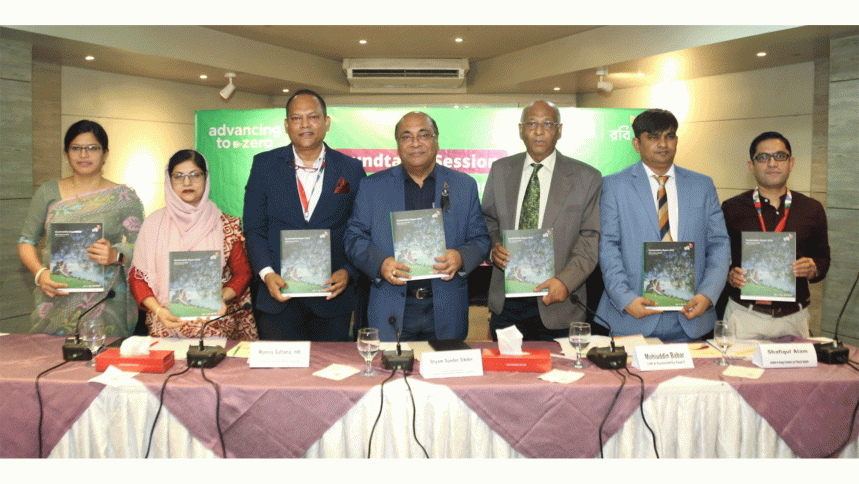 As a growing economy that needs to adopt clean technology, Bangladesh requires coordinated efforts and proper policy support to achieve net zero by 2050, said experts yesterday. 
"Achieving net zero also depends on the overall capacity of the country," said Shafiqul Alam, an energy analyst at the Institute for Energy Economics and Financial Analysis.
"So, Bangladesh needs to spearhead measures to ensure the availability of sufficient finance and international support is crucial here," he said.
He suggested that corporate companies focus on high mitigation targets as it can enhance business competitiveness, which Bangladesh can utilise to its advantage.
Net zero refers to the balance between the amount of greenhouse gases being produced and the amount being removed from the atmosphere
Alam was addressing a roundtable titled "Creating a Net Zero Smart Bangladesh" at Brac Center yesterday organised by mobile phone operator Robi Axiata Limited and CSR Window, a collaboration platform for social projects.
The roundtable sought to raise awareness on the need for pursuing the "Smart Bangladesh" vision on a net zero emission basis.
Net zero refers to the balance between the amount of greenhouse gases being produced and the amount being removed from the atmosphere. It can be achieved through a combination of emission reduction and removal.
To limit global temperature rise to 1.5 ºC by 2100 according to the 2015 United Nations Paris agreement on climate change, emissions need to be net zero by 2050.
Alam recommended increasing renewable energy capacity to meet 40 percent of demand by 2041 and then spearhead measures for cleaning the energy system rapidly as well implementing waste to energy projects.
Enhancing energy efficiency both on the demand and supply sides is key alongside adopting a behavioural change to minimise wastage of energy and resources, technological shift in brick kilns, electric vehicles and mass transport, he said.
"Way forward for Bangladesh is to develop climate friendly programmes and explore climate finance options, enhance capacity to utilise more climate finance and check the viability of probable just energy transition fund projects," he added.
Unveiling Robi's Sustainability Report for 2022, Sharif Shah Jamal Raz, vice president of Robi's public affairs and sustainability, informed that Robi was currently working towards a net zero vision by 2050.
Robi will cut down its emission by 45 per cent within 2030, he said.
"As of now, Robi is powering around 13 percent of its network sites with solar energy. With a total of 2,127 solar powered network sites, total installed capacity increased by nearly 50 percent between 2020 and 2022," he said.
"This resulted in an almost 25 percent increase in solar power-based energy production. Besides relying on solar power, Robi is also aggressively pursuing tree plantation to offset its carbon emission," added Raz.
"We should not wait for 2050 as stipulated by United Nations, rather we should aim to achieve net zero target within 2041, when we will achieve our Smart Bangladesh vision," said Shyam Sunder Sikder, chairman of Bangladesh Telecommunication Regulatory Commission.
"We need the public and private sector to collaborate to deliver," he added.
Bangladesh needs to approach the net zero vision on a step-by-step basis, said Munira Sultana, chairman of the Sustainable and Renewable Energy Development Authority (Sreda).
"We have reduced electricity consumption at Sreda by more than 40 percent by taking simple measures," she said.
"Even a common person can be part of this drive by using the net metering policy which allows anyone to supply electricity to the national grid and adjust their total electricity consumption in the process," she said.
"We need to popularise this policy instrument to pave the way for a journey towards the net zero vision," said Sultana.
Mohiuddin Babar, a CSR and sustainability expert, moderated the roundtable where Anamika Bhakta, Robi's executive vice president for regulatory affairs & communications, gave a welcome speech.
Forum for Energy Reporters Bangladesh Chairman Md Shamim Jahangir and Telecom and Technology Reporters' Network Bangladesh President Rashed Mehedi also spoke.