AUW launches apparel school with HSBC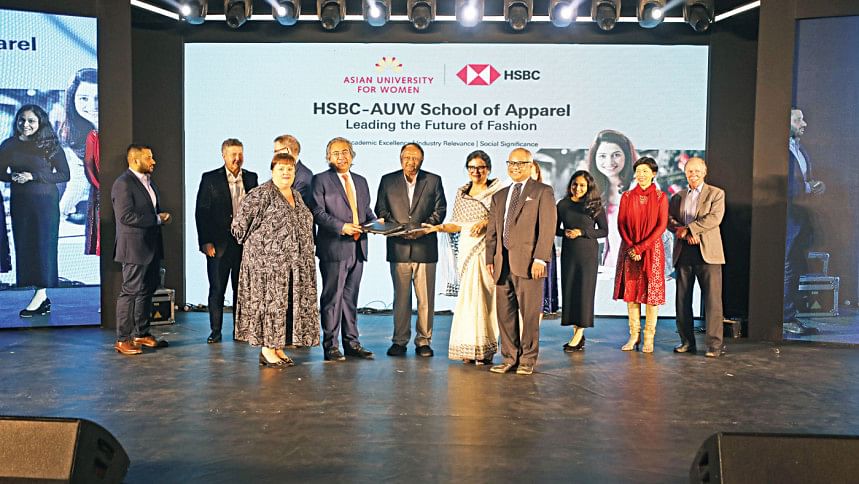 The Hongkong and Shanghai Banking Corporation (HSBC) and The Asian University for Women (AUW) yesterday jointly launched an "HSBC-AUW School of Apparel and Retail Management" at the educational institution. 
The school will offer a one-year Master of Science in Apparel and Retail Management programme of international standard, said the lender and university at the launch at Radisson Blu Chattogram Bay View.
The programme will be guided by a global academic committee chaired by Dr Dipak C Jain, former dean of the Kellogg School of Management at Northwestern University. He also served as a dean of INSEAD in Fontainebleau, France.
Under the programme, 13 courses will be offered to 50 students who will be enrolled in the inaugural year. HSBC will help set up the school, including design Mac labs, provide support for curriculum and faculty, IT and class infrastructure and education materials.
The initiative aims to create a pool of trained women graduates to lead businesses in the apparel sector, not only building local management talent and enabling enduring skill formation but also contributing towards the social goal of women empowerment.
The launch comes at a time when Bangladesh maintains its position as the second biggest global garment exporter after China.
Garment is the single largest industry in the country, employing around 40 lakh workers, a majority of whom are women.
"The master's programme will prepare young female professionals with expertise in fashion, merchandising, supply chain management, brand management, and occupational health and safety issues," said a press release.
"It is intended to help the burgeoning apparel industry induct more female talent in management roles," it said.
Bangladesh's garment export market is touching $40 billion a year and the economy is 80 per cent dependent on this industry, highlighted Dr Rubana Huq, vice-chancellor of the AUW.
"…it's time we engage with creating a group of young women ready to take charge of what lies ahead…(and) prepare cohorts ready to take on the challenge of employability in Bangladesh…complete with required courses on industry specific areas," she said.
"While empowerment of women continues to remain as a central focus for us in Bangladesh, real empowerment is yet to happen," she added.
Women in the garment sector have not been able to graduate beyond the sewing machines or at the maximum, supervisory position, she said.
This is a regular phenomenon at a time when the top positions are either being occupied by mostly men or by expats, who are mostly men, said Huq.
"Today, the apparel industry in Bangladesh needs a homegrown talent pool, which will service the needs of the sector," she said.
"We are proud…(to be) equipping future talent with the expertise to drive continued innovation in Bangladesh's largest export industry," said Amanda Murphy, head of commercial banking, South & Southeast Asia, HSBC.
"Importantly, this programme supports the professional and leadership development of women, providing better access to opportunities through inclusion and fostering the long-term growth for Bangladesh and its communities," she said.
"(The school) is a natural alignment for us," said Md Mahbub ur Rahman, chief executive officer of HSBC Bangladesh.
"I am certain the school will play a pivotal role in imparting world class education aiming to build the future leaders in an industry where we have a competitive advantage in leading the future of fashion," he said.
Women have to be educated the same as men, said Poul Nyrup Rasmussen, a former prime minister of Denmark, at a panel discussion on "Leading the Future of Fashion: A Journey Together" held afterwards.
Putting emphasis on investment in women education, he said, "If you invest in women education, it would pay back in society level, research level and employment level."
"Through investing in women education, we can bring a world with equality between men and women," he said.
The garment sector's achievement has been made possible through the labour and efforts of mostly women, said Commerce Minister Tipu Munshi as chief guest.
"We have a target of $100 billion export from readymade garments sector by 2030 and this initiative will support to achieve the goal," he said.
"I believe this initiative would succeed and play a pivotal role in encouraging women leadership," he added.
"I have been associated with AUW from the very beginning of its foundation," said Education Minister Dipu Moni in a video message.
"…(the school) will provide females in leadership role in multiple sectors. We will have 50 graduates in the next year through this school. They would play a pivotal role in the growth of our country," she said.
To empower women, there must be a change in mindset and that is the biggest challenge, said Kamal Ahmad, founder of AUW.
Mohibul Hasan Chowdhury, deputy minister for education, Faruque Hassan, president of the Bangladesh Garment Manufacturers and Exporters Association, Katrina Fotovat, a senior official to the US Department of State, and Mahfuz Anam, editor and publisher of The Daily Star, were also present.