Aluminium product prices go up
Prices of raw materials high in global markets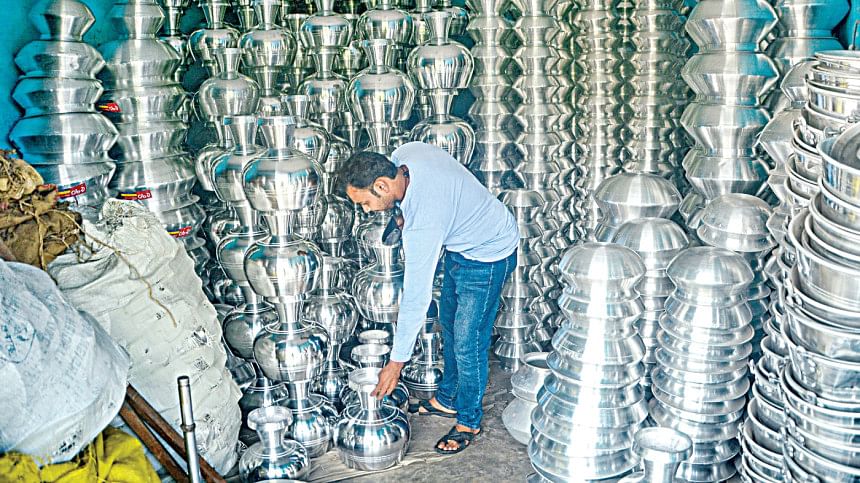 The price of aluminium products has increased significantly over the past year due to the rising cost of raw materials at the international level, according to industry insiders.
The price of aluminium kitchenware grew by about 46 per cent while construction-grade aluminium is around 32 per cent more expensive than before, they said.
As such, the price of finished aluminium kitchenware increased to an average of Tk 350 per kilogramme (kg) from Tk 240 per kg last year.
Similarly, construction-grade aluminium now costs Tk 450,000 per tonne while it was Tk 340,000 per tonne in December 2020.
This is mainly because the price of aluminium ingots, a major raw material for the industry, increased to $2,900 from $1,670 in the past one year, they said.
Bangladesh imports aluminium ingots from India, Singapore, Malaysia, Bahrain, Saudi Arabia, and Australia.
Md Mizber Rahman, managing director of Kiam Metal Industries Limited, said Bangladesh imports 1,000 tonnes of aluminium ingots each month against a total demand of 1,500 tonnes per month.
The remaining 500 tonnes is sourced from scrap aluminium collected from local markets, he added.
The managing director went on to say that even though there is no reliable data on the total market size for aluminium kitchenware, he believes that it is worth no less than Tk 3,000 crore.
Besides, the demand for aluminium products has been growing by about 8 per cent to 10 per cent annually for the past two decades, he said.
Now, there are 13 companies in Bangladesh, including Pran-RFL Group, Walton Group and Delhi Aluminium Factory Ltd, locally manufacture aluminium kitchenware, Rahman said.
Just 10 years ago, the domestic kitchenware market was almost completely dependent on imports but now, local manufacturers cater to as much as 98 per cent of the demand, he added.
Abdul Mannan, general manager of Bangladesh Thai Aluminum Ltd, said the price of construction-grade aluminium increased in four phases as commercial adjustments due to the rising cost of raw materials.
Bangladesh needs about 5,000 tonnes of finished construction-grade aluminium each month while the sector as a whole imports around 3,000 ingot bars per month, he said.
There are 11 companies in the country that manufacture construction-grade aluminium for local consumption, Mannan said.
The demand for aluminium kitchenware will remain steady as they are essential items for every household, said Tawsif Ahmed, director of Delhi Aluminium Factory Ltd.
People are now shifting away from traditional cookware to more modern products due to increased incomes and local manufacturers cater to around 98 per cent of the local demand, he added.