Transport strike called off
Ctg port operations resume after 35 hours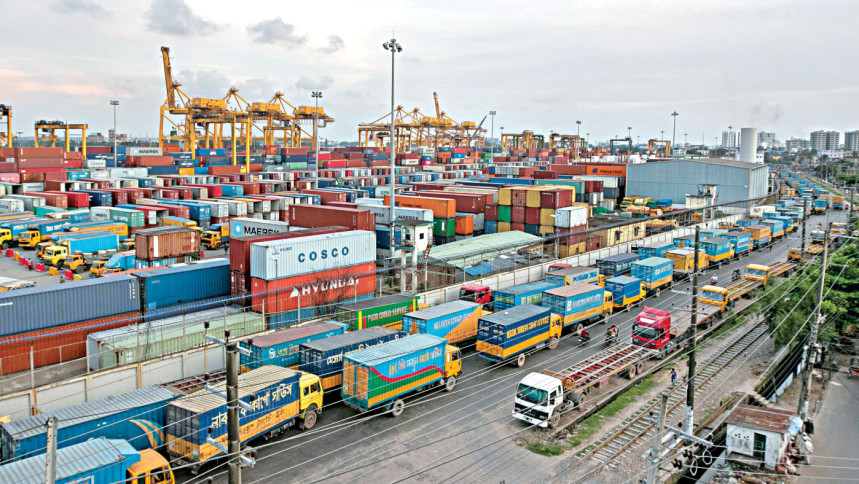 Operations at the country's premier Chattogram sea port have resumed after around 35 hours with a countrywide work abstention enforced by a section of logistics service providers being called off yesterday afternoon.
But the strike disrupted the port's recent developments in reducing vessels' waiting periods since August 8 following an acute container congestion in late July.
Bangladesh Covered-Van, Truck, Prime Mover Goods Transportation Owners Association and Bangladesh Truck Drivers Workers Federation jointly enforced the countrywide work abstention.
It aimed to realise a 15-point demand, including cancellation of a decision to hike advance income tax imposed on vehicle owners and addressing complications in issuing driving licences for heavy vehicles.
Leaders of the two platforms declared the withdrawal at 3:00pm after a fruitful meeting with the home minister, where assurances came on meeting their demand.
Eventually some trucks and covered vans started to enter the port.
But leaders of Chattogram Prime Mover Trailer Worker Union vowed to continue the strike, claiming their demands had not been addressed.
So the port's major activities, such as loading and unloading of container vessels, remained suspended.
After another meeting with State Minister for Shipping Khalid Mahmud Chowdhury, the union leaders declared to withdraw the strike at 4:30pm.
Loading and unloading of container vessels at Chittagong container terminal and new mooring container terminal started at 5:00pm after prime mover workers took to work, said Tanveer Hussain, COO of Saif Powertech, operator of the two terminals.
Two vessels MV AS Sicilia and MV Sahare, which were scheduled to leave the port yesterday morning, have deferred their departure for a lack of transportation.
A total of 929 TEUs (twenty equivalent units) of export-laden containers meant to be loaded onto Colombo-bound MV Sicilia could not be sent from different private inland container depots (ICDs).
Unloading of 1,217 TEUs of import-laden containers from MV Sahare could not be carried out.
Chittagong Port Authority (CPA) Secretary Md Omar Faruk admitted that this was the first time any vessel failed to make their departure from the port on time due to a strike.
Mohammad Zakirul Islam, deputy manager of Karnaphuli Group, the owning firm of MV Sahare, said despite work ongoing over the night, the vessel would not be able to make its departure in the morning today.
The vessel's operator will have to pay around $2000 as berth hire charge to the port authority for the additional two days' stay, he said.
Bangladesh Inland Container Depots Association (BICDA) Secretary Md Ruhul Amin Sikder said immediately after the strike withdrawal, ICDs started loading export-laden containers meant for MV Sicilia onto prime movers.
"Our priority now is to reach all the 929 TEUs export containers to the port during the night so that MV Sicilia can leave the port tomorrow (Thursday) morning," he told The Daily Star yesterday afternoon.
Like Sahare and Sicilia, eight more container vessels have remained idle at the jetties for the last 35 hours, since no loading and unloading could be done.
Meanwhile, two container vessels, HR Rea and MCC Cebu, were waiting at the outer anchorage for a scope to berth yesterday but failed as no ships could depart and the jetties were occupied.
Waiting time of these two vessels may prolong as their new schedule will be decided later, said sources.
Shipping agents feared that an improvement in vessels' waiting time achieved last month may again deteriorate due to the 35-hour stalemate.
However, a few industrial groups like BSRM and Confidence Cement managed to send some of their own trucks to the port during the strike.
Thus unloading of imported raw materials like cement clinkers and scraps and others from the bulk vessel continued on a limited scale, informed CPA Secretary Faruk.
But many of these vehicles got stuck inside the port after loading goods due to the strike till 3:00pm.
Mahbubul Alam, president of the Chittagong Chamber of Commerce and Industry, said it was frustrating for export and import activities to be affected.
The country's industrial sector is now trying hard to get over the huge loss generated for the pandemic in the past one and a half years, he said.
He urged all not to hamper activities of the port in future while observing any agitation programme for the sake of the country's economy.