Oceangoing ships now at record 80
Doubled in last two years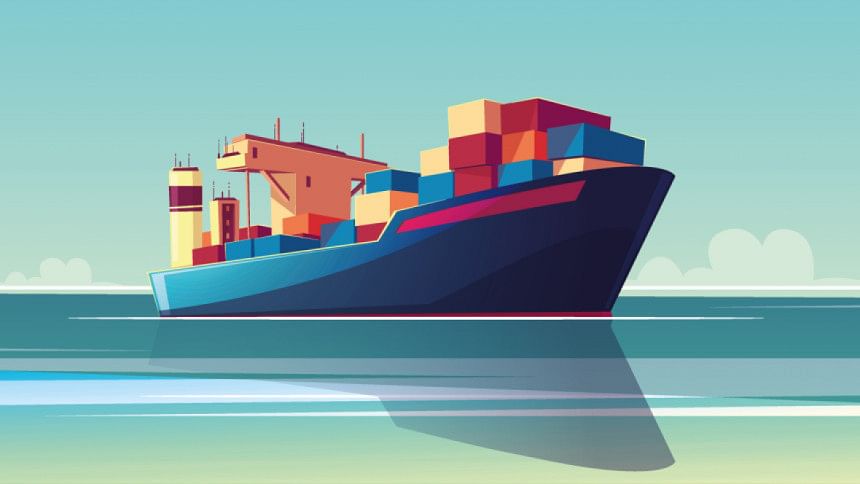 Bangladesh now has a fleet of 80 oceangoing vessels, a record high since the country's independence.
Till October 2019, there were only 43 Bangladeshi flagged oceangoing vessels and it almost doubled in the last two years at a time when most business sectors were badly hit by the pandemic.
Some policy support from the government as well as a global price fall of second-hand ships in the early stages of the pandemic encouraged local entrepreneurs to make investments and seize the opportunity.
Moreover, several leading industrialists and commodity importers went on to buy their own ships to reduce transport costs.
A total of 37 vessels got permanent or provisional registration in the last two years till November this year which is the highest in the span of such periods, according to Mercantile Marine Department (MMD).
In 2020, a total of 14 vessels got permanent registration whereas a total of 18 vessels has got permanent and provisional registration till date this year, according to data from the MMD.
The National Board of Revenue (NBR) has eased age rules for ships to make it easy to qualify for VAT exemptions during imports and also cut advance income tax.
The NBR brought down the advance income tax (AIT) on vessel imports to 1 per cent for fiscal 2021-22 from 2 per cent in fiscal 2020-21.
It also relaxed restrictions, allowing sale of vessels of over 5,000 deadweight tonnage (DWT) after three years. Previously they had to be kept for five years.
Chittagong Chamber of Commerce and Industry President Mahbubul Alam said it was really a positive sign for the country's economy.
The country's imports and exports are mostly depended on foreign vessels and the local businesses have to spend over $9 annually as freight charges for foreign trade, he said.
If the number of Bangladeshi flagged vessel increases, the local vessel owners can tap into a good amount of the foreign trade, he added.
Bangladesh Ocean Going Ship Owners' Association President Azam J Chowdhury said the growing number of registrations was for some local industrialists and commodity importers purchasing vessels to reduce cargo transport costs.
Besides, government policy supports like the VAT and AIT exemptions also encouraged entrepreneurs to go for making investments in the sector, he said.
Echoing the same, Meherul Karim, chief executive officer (CEO) of the country's largest ocean-going vessel owning company, SR Shipping, said many companies wanted to take opportunity of the price drop of second-hand, medium sized Supramax vessels in the wake of the pandemic last year.
Most of the Bangladeshi-flagged bulk carriers, which have all been bought, are Supramax vessels of 50,000 DWT to 60,000 DWT and these are 15 years to 20 years old, he said.
Previously price of such vessels ranged between $10 million and $12 million, which came down to $6 million to $7 million last year, said Karim, adding that his company bought two ships in 2020.
SR Shipping currently own 23 oceangoing vessels.
Overall, the 80 oceangoing vessels are owned by 15 Bangladeshi companies. Most are bulk carriers while there are oil tankers and six container vessels.
Karnaphuli Limited, country's lone container vessel owning company, purchased six container vessels since June last year.
The group last month also placed an order with a Chinese shipbuilder to construct four new container vessels.
Karnaphuli Limited Director Hamdan Hossain Chowdhury told The Daily Star that the government has created the right enabling environment and this has facilitated unprecedented expansion of the country's merchant fleet.
"We are a maritime nation and this sector has good potential," he said.
Currently 3,000 Bangladeshi mariners are employed in these 80 Bangladeshi-flagged vessels.
MMD Principal Officer Captain Md Giashuddin Ahamd said they brought ease to their services such as that on issuance of registration certificates and also directly sat with vessel owners to provide encouragement.