Raise funds in a way that fits the bill
Tanzim Alamgir, managing director of UCB Investments, urges companies in an interview with The Daily Star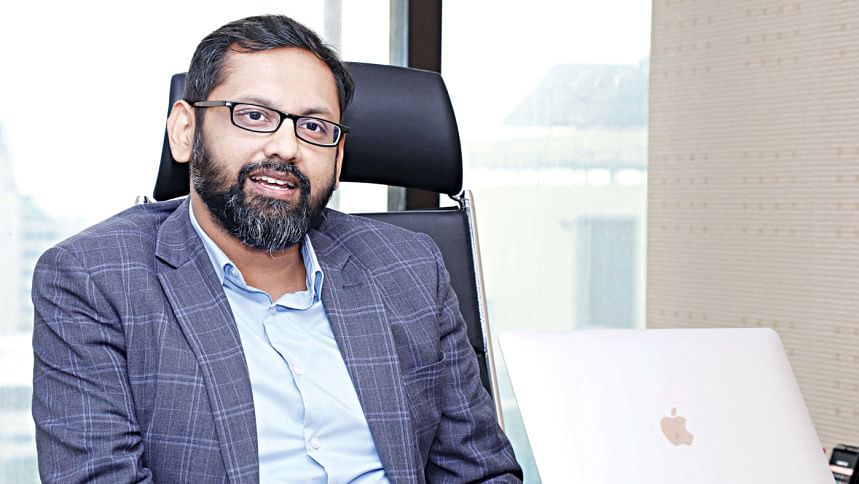 A company's way of raising funds should be determined by analysing its financial statements so that its sustainability does not face any threat, said Tanzim Alamgir, managing director of UCB Investments, a merchant bank.
"Only balance sheet can say whether a company needs share issuance, bond and syndicated loans," he told The Daily Star in an interview recently.
If a company needs equity but goes on to issue bonds or vice versa, the cash flow of the company would be hampered and its business will be impacted in the long run, he said.
Usually, merchant banks specialise in a specific area. Some manage initial public offerings (IPOs) while some help companies issue bonds and raise funds through syndicated loans.
In most cases, merchant banks will recommend clients go for the solutions where the investment banks have specialisation.
"However, a client's might have different requirements," said Alamgir.
With a promise to provide comprehensive advisory services to companies, UCB Investments, the merchant banking subsidiary of United Commercial Bank, began its journey on October 5 last year.
"Our target is to meet all the needs of the clients."
The merchant bank is providing services related to merger, acquisition, equity, syndication and bond issuance.
It has secured mandates to raise funds worth around Tk 5,000 crore under 15 deals since the inception of the company.
"We are already a trusted partner," Alamgir said.
Due to the coronavirus pandemic, many companies will suffer and will need advisory services. The banking industry is also growing so lenders will need more and more capital in the future where bonds will play an important role.
"Merchant banks may make a valuable contribution. So, there is a lot of potential to grow," said Alamgir.
The chief executive previously worked at City Bank Capital, Grameenphone, Industrial and Infrastructure Development Finance Company Ltd and many other financial institutions.
Investors in Bangladesh have a mindset to stick to bank deposits although there are many safe tools like bonds.
"So, we should navigate them."
"I am curious to know why people are depositing money in FDRs [fixed deposit receipts] in a bank where the coupon rate of the same bank's bond is generating almost double the return."
The weighted average rate on deposits stood at 4.13 per cent in June, according to data from Bangladesh Bank. As a result, depositors were facing a negative return on savings given the inflation rate of 5.64 per cent in June.
The coupon rate, or the interest rate, ranges from 8 to 9 per cent.
According to Alamgir, corporate and individual investors alike are not aware about bonds. As a result, their investment in the segment is low.
Some corporates, however, are coming forward to invest in the zero-coupon bond, an instrument that pays no interest and trades at a discount to its face value.
Bonds are also offering good coupon rates that are higher than the deposit rates offered by banks, allowing investors to make a good profit.
"Bonds can be a good savings instrument for fixed-income people. This is especially true for those who want to keep their retirement benefits in a safe place that produces higher returns," Alamgir said.
He says people should not put all the funds in a single instrument and suggests them adopt a blended investment approach.
"They can start with investing in top-rated banks."
UCB Investments is focused on sustainable business so it has a certain portion of its funds invested in fixed-income instruments.
The merchant bank is also cautious about selecting shares when it comes to investing in the stock market. "We are generating handsome return from them."
The Bangladesh Securities and Exchange Commission has made it mandatory for merchant banks and asset management companies to invest a part of their portfolio into fixed-income securities.
"I welcome the initiatives. The central bank should adopt a similar policy for the scheduled banks and non-bank financial institutions to create appetite for bonds."
Answering to a question about the coupon rate set by the central bank, Alamgir says it sometimes may create challenges.
As the regulator, the Bangladesh Bank prescribes the rate of the bonds issued by banks and non-bank financial institutions. Corporates also issue bonds but the rate is not regulated by the BB.
"I understand that the central bank has some criteria and reasons for setting the rate, and this rate is also profitable," he said, adding that he backed a floating rate if it was a long-term bond.
Many companies in Bangladesh don't want to go public as the listing brings them under more regulations.
"I think the main reason is misconception," said Alamgir.
"We want to show them that the perception is not true. Moreover, there are many benefits for the listed companies."
UCB Investments plans to bring good companies to the stock market through IPOs.
According to the CEO, banks should not be the single source of finance. "The stock market is vibrant so there are many ways to raise capital."
Investment banks don't know how a company will fare five years after the listing because a company can incur losses.
"We want to see the willingness and endeavour of a company and its sponsors. We will be selective in choosing companies and we will not compromise on quality."
He says UCB Investments is not rushing towards money but rather catering services to the companies and the society.
"If we can ensure good services, clients will come to us."
Managing IPOs is not much profitable, so many investment banks aren't interested in helping companies launch the stocks.
"But we will do it as it is a big service to the society. Besides, it will ensure a product mix to our business."
Alamgir thinks financial education is important for all so that investors don't expect any unusual return from any investment since such tendency spoils the whole investment.