'SBAC Bank chief flexed muscles to get loans'
Probe finds Tk 40cr taken resorting to irregularities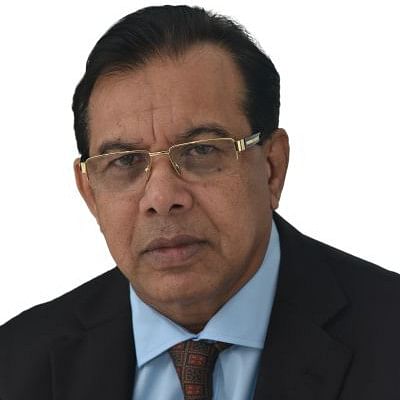 Amzad Hossain, chairman of South Bangla Agriculture and Commerce (SBAC) Bank, brought out Tk 40 crore from the private commercial bank misusing his powers and through forgery, according to an investigation into the alleged scam.
Of the amount, the bank gave a loan of Tk 20 crore to one Khulna Builders.
In its inspection, Bangladesh Financial Intelligence Unit (BFIU) has not found the organisation's existence in the place where it was supposed to be located, said sources aware of the investigation findings.
"Amzad had the loan approved abusing his power," one of the sources said.
Amzad also allegedly created and approved loan applications in the name of the organisation's staffers and then pocketed the money.
The Anti-Corruption Commission is currently probing the loan forgeries and the illegal wealth of the bank chairman, the sources said.
As a part of the investigation, ACC Deputy Director Gulshan Anowar Prodhan asked former SBAC managing director Rafiqul Islam and eight incumbent officials to appear at the graft watchdog's headquarters in the capital's Segunbagicha on September 26 morning. They will be quizzed there. 
The eight officials are: SBAC's Management Trainee Officer Topu Kumar Saha, Senior Officer Biddut Kumar Mandal, Operations Manager Manjurul Alam, Vice President SM Iqbal Mehedi, Senior Executive Officer Khaled Mosharraf, First Vice President Ziaul Latif, Senior Executive Vice President Mamunur Rashid Molla and Deputy Managing Director Shawkat Ali.
Sources said the ACC has already collected necessary documents and intelligence report on the alleged scam.
On August 22, an application was submitted to the governor of Bangladesh Bank detailing alleged loan forgeries by Amzad.
People aware of the investigation say that a client of SBAC's Motijheel branch, Al-Amin Construction's owner Masudur Rahman, had a Secured Over Draft with the bank.
The SOD allows a contractual firm to execute work awarded by the government, semi-government and autonomous bodies. It is one kind of loan in which disbursement is made with the progress of execution of the work given.
Amzad is also president and chief executive officer (CEO) of Lockpur Group, an exporter of frozen seafood.
Sources said Amzad produced one of his staffers from Lockpur Group as a supplier to the Al-Amin Construction and withdrew Tk 7.5 crore. The incident took place in June, 2019.
Amzad along with SBAC Director Capt M Moazzam Hossain approved a Tk 3 crore SOD to one Ador Enterprise.
Johirul Islam, a staffer of a brokerage house E-Securities owned by Moazzam, was shown as proprietor of Ador Enterprise.
About Tk 2 crore was transferred to Khulna Printing and Packaging owned by Amzad. Another Tk 1 crore payment order was issued to Fareast Social Foundation.
Both Amzad and Moazzam are members of Fareast Social Foundation.
SBAC also approved an SOD of Tk 3 crore to Rafi-Mahi Corporation owned by one AKM Asif Uddin. The SOD limit was gradually increased to Tk 9.15 crore.
Asif Uddin is also a staffer of Lockpur Group, investigators have found.
Besides, Amzad allegedly opened a letter of credit worth Tk 374 crore for his company Rupsha Fish and Allied Industries Ltd with the SBAC.
According to the decision of the SBAC board of directors, Amzad was supposed to keep cent percent collateral against the loan.
But he kept only 5 percent collateral. On top of that, the 5 percent margin was returned to Amzad within a few days of opening the letter of credit.
As a chairman of the bank, Amzad was supposed to take permission from the central bank for this, but he did not.
Preferring to be unnamed, an ACC official said they would soon submit an enquiry report before the commission in this regard.
On September 7, Amzad expressed his intention to resign from SBAC.
Citing illness, he wrote to the board of the private commercial lender expressing the intention to step down. He also requested the board to begin the process of selecting a new chairman by October.
On March 11, the BFIU had asked banks to freeze the accounts of Amzad, his wife Begum Sufia Amzad and their daughter for 30 days.
The agency also sought the details of their accounts.
On January 7, the ACC urged the Special Branch of police to impose a ban on Amzad's travel.
Amzad holds 3.21 percent share in the bank.
Despite repeated attempts, he could not be reached yesterday for comments on the matter. His mobile phone was found switched off.