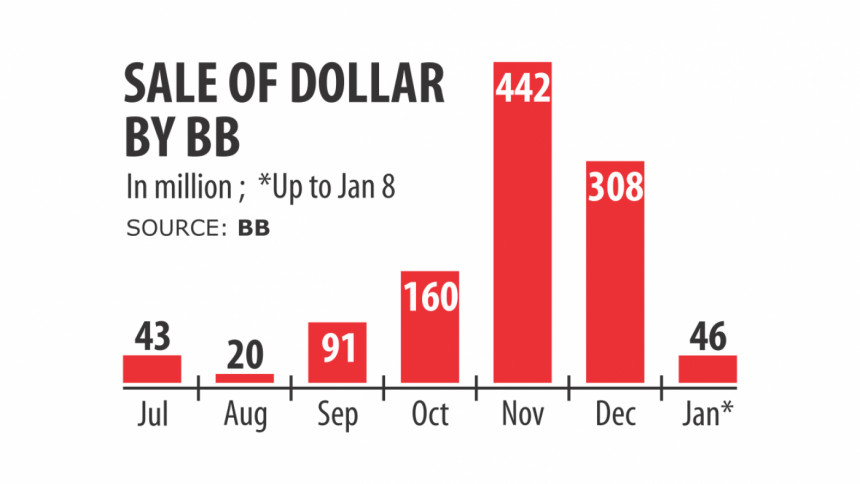 The US dollar continues to appreciate against the taka although the central bank injected more than $1.11 billion into the market so far in fiscal 2017-18 as it tries to keep the exchange rate stable.
Yesterday, the interbank exchange rate stood at Tk 82.75 per dollar, up from Tk 82.70 a week earlier and Tk 78.70 a year ago, according to the central bank.
The BB sold $46 million to banks in the first eight days of January and $308 million in December. In total, it sold $1.11 billion to banks from July 1 to January 8 this fiscal year.
"But it is not yielding desired result as the demand for the US dollar is on the rise," a BB official told The Daily Star yesterday.
The central bank sold $175 million and bought $1.93 billion in 2016-17.
The taka has been depreciating against the dollar since the middle of October mainly due to a mismatch between the demand and supply of the greenback, the central banker said.
Banks, however, reported to the central bank that their BC (Bill for Collection) selling rate, the rate at which banks make import payments, has been stable at Tk 83.20 for the last few days.
Between November and December last year, the central bank served show-cause notices to 26 banks in three phases, asking them to explain their positions on misreporting of foreign exchange rates, particularly through BC selling, to the BB.
The central bank has verbally instructed banks to fix the BC selling rate considering the actual demand and supply of the greenback, the BB official said.
An official of a commercial bank, however, said that the BC selling rate would increase if the ongoing demand for the dollar persists.
Export earnings, one of the major sources of foreign currency for Bangladesh, are in the slow lane, while imports have ballooned, he said. Bangladesh's import bills have significantly increased in the first five months of the current fiscal year and the existing trend indicates that the payments will swell further in the months to come.
 Between July and November, imports jumped 8.25 percent year-on-year to $20.59 billion, on the back of growing purchases of food grains, petroleum products and industrial raw materials from international markets, BB data showed.
Opening of letters of credit posted growth of 91 percent year-on-year to $35.75 billion in the July-November period.
The current account balance recorded a huge deficit in the first four months of 2017-18, reflecting the existing foreign currency shortage, said the BB official.
Between July and September, the current account deficit stood at $3.31 billion, up from $44 million a year earlier, according to data from the central bank.