Dividend worry creeps in
Number of firms offering cash dividends shrinks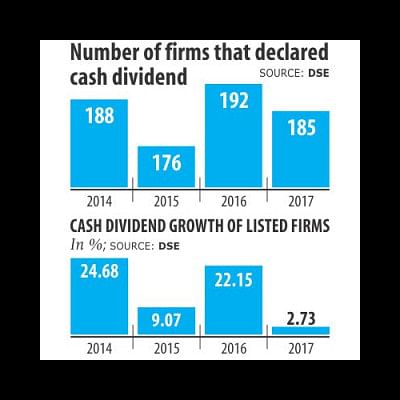 The number of listed companies offering cash dividend in 2017 declined from a year earlier, indicating a greater number of firms are falling into a liquidity crunch.
Cash dividend is a payment made by a company out of its earnings to investors in the form of cash. This transfers economic value from the company to the shareholders instead of the company using the money for operations.
In 2017, 185 listed companies announced cash dividend for the year, down from 192 in 2016.
"Listed companies are incurring profit but many of them do not want to pay out as their liquidity standing is very poor," said Abu Ahmed, a capital market expert.
Typically, when a company's availability of liquid cash is in short supply it may decide to announce stock dividend, which is an increase in the amount of shares of a company with the new shares being given to shareholders.
In 2017, 142 companies declared share dividends, up from 126 a year earlier.
Some Tk 2,807.66 crore worth of stock dividends were announced in 2017, up from Tk 2,508.5 crore in 2016.
Often, stock dividends are thought to be superior to cash dividends as the companies are giving their shareholders the choice of keeping their profit or turning it to cash whenever they so desire. With a cash dividend, no other option is given.
In Bangladesh most of the companies that declare stock dividends do not actually use the money not paid out in cash dividend for factory expansion or to earn a better rate of return, Ahmed said.
"What happens ultimately is that the companies' earnings per share decline," he added.
Although the number of companies announcing cash dividend dropped in 2017, the amount disbursed increased 2.73 percent year-on-year to Tk 9,884.64 crore, according to data from the Dhaka Stock Exchange.
One of the reasons for the decline in the number of companies offering cash dividend could be the lacklustre export growth in 2017, said AB Mirza Azizul Islam, a former chairman of the Bangladesh Securities and Exchange Commission.
Bangladesh's export growth in fiscal 2016-17 was 1.7 percent -- the lowest in 15 years -- against the target of 8 percent, according to data from the Export Promotion Bureau. Garment exports, which account for the lion's share of the earnings, rose only 0.2 percent.
"So the profit of the export-oriented companies fell in 2017. But still, the overall dividend payment could not fall as much as seen," said Islam, also a former adviser to a caretaker government.
Subsequently, he advised the Financial Reporting Council to look into the reasons behind the fall in dividends as some companies may manipulate their books to deceive the shareholders.
Usually, it is the banks and the textile companies that take charge in announcing cash dividends, according to Mohammed Rahmat Pasha, managing director and chief executive of UCB Capital Management.
But banks had a challenging year last year and so did the textile companies, he added.