Ctg port choked by container congestion
CPA mulls hiking rent on container storage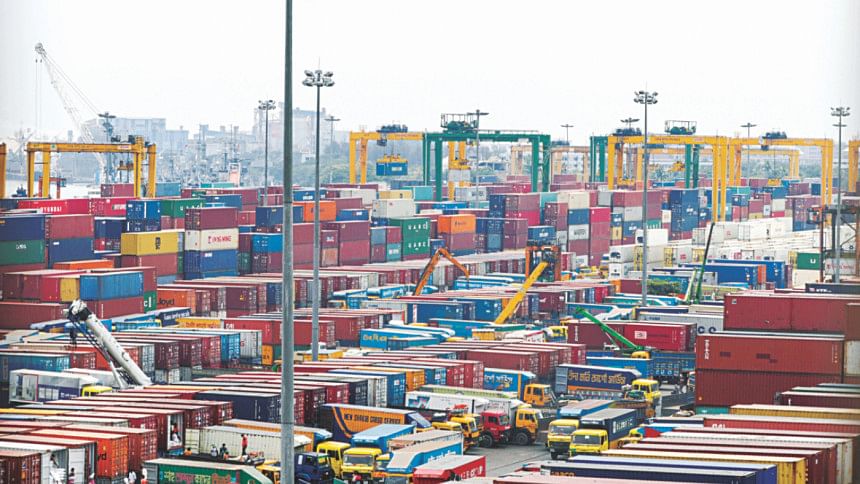 The Chittagong Port Authority plans to impose additional rents for container storage as it has been suffering from acute container congestion in the last few weeks because of a surge in imports ahead of Ramadan.
On Monday, the CPA in a meeting urged the port users to take steps to clear the congestion in seven days. Otherwise, it will impose additional charges for container storages along with the regular charges.
Every container enjoys four-day storage service for free once it reaches the port. After the period, the CPA daily charges $6 for a 20-foot container and $12 for a 40-foot container.
As of Monday, the port was burdened with 36,726 TEUs (twenty-foot equivalent units) of import-laden containers, much higher from its capacity of accommodating 26,857 TEUs.
Containers brought in through FCL (full container load) shipping have worsened the situation.
In FCL shipping, an importer can occupy the space of an entire container and does not need to share vacant space with other shippers.
As of Monday, a total of 28,362 TEUs of FCL shipping containers were waiting to be taken out of the port, which was much higher from the port's capacity of 22,485 TEUs.
The slow delivery of the FCL containers is worsening the congestion, said Md Golam Sarwar, director for traffic of the port authority.
"The Chittagong port and the Chittagong Customs House are always ready to provide round the clock service to ease the congestion."
At the meeting, port users blamed importers and clearing and forwarding agents for not taking timely delivery of containers and said imposing extra rents for storage will not solve the problem. Imports through the port grow 15 percent a year, said Mahfujul Hoque Shah, convener of the port and shipping sub-committee of the Chittagong Chamber of Commerce and Industry.
But the port authority does not expand its jetty, yard and equipment facilities on a regular basis to handle the spiraling imports, which is mainly causing the congestion, he said. He said imports start increasing one or two months before Ramadan which is happening now.
Shah also blamed the slow delivery of containers from the port on the lack of an adequate number of scanners at the exit gates.
"No importer wants to keep their imports lying at port yards and they usually try to take away their goods within the four-day free storage service."
The authority should enhance the port's storage capacity by taking different expansion plans at this particular period, he said.
The CPA should develop new delivery points outside the port to ease container congestion inside, said Khairul Alam Sujan, director of the Bangladesh Freight Forwarders Association.