Favourable policy needed for economic zones to deliver
Entrepreneurs say at Bangladesh Business Summit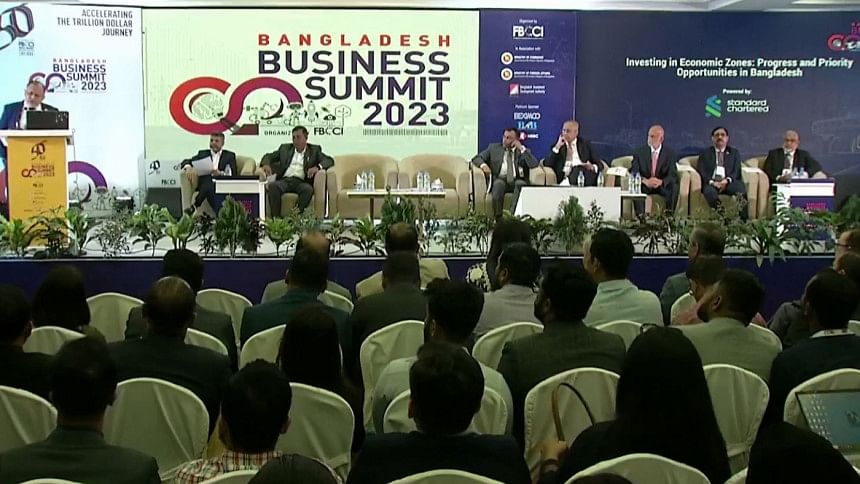 The government needs to ensure favourable policies regarding energy, taxes and others for special economic zones to meet expectations, said entrepreneurs at Bangladesh Business Summit 2023 today.
They also urged for government policies to be predictable alongside proper logistics and efficient one-stop service (OSS) platforms to cater to all their needs.
They were addressing a plenary session titled "Investing in Economic Zones Progress and Priority Opportunities in Bangladesh" on the closing day of the three-day summit at Bangabandhu International Conference Centre in Dhaka.
The Federation of Bangladesh Chambers of Commerce and Industry (FBCCI) in association with the government organised the summit to showcase the country's progress and potentials to local and global investors.
The panellists focused on raising skills of people, launch a new bankruptcy act and introduce advanced technology in logistics.
Dedicated laws have to be formulated to ensure seamless power in the zones and delivery of services of the bureaucracy without any delay, emphasised ASM Mainuddin Monem, managing director of Abdul Monem Economic Zone.
"Still, I have not seen any dedicated policy for seamless power and gas supply to the economic zones. We have no choice but to make the services seamless," he said.
The entrepreneurs need long-term and low-cost financing to make investments. Land is also necessary for industries, so the laws should be streamlined for more public land to be leased out to economic zones, he said.
A functional one-stop service platform is also needed, he added.
The government aims to establish 100 economic zones within 2030 and approvals for 97 have already been provided of which 10 are already in operation and 30 are under construction, according to Bangladesh Economic Zones Authority (Beza).
The investment process for economic zones is easier and there is adequate land and uninterrupted utility services, for which investors should choose those areas, said Shaikh Yusuf Harun, executive chairman of Beza.
Financial and policy incentives meant for the zones are also better, he said, adding that its OSS was offering 125 types of services under one roof, of which 50 could be availed online.
However, Suresh, an entrepreneur from India, spoke out, saying that he had failed to avail Beza's services online to set up a company. He then came over to meet associated officials and found that it would take 6 months or more to complete all formalities.
Export processing zones are ensured energy even when the rest of the country faces shortages, said Maj Gen Abul Kalam Mohammad Ziaur Rahman, executive chairman of Bangladesh Export Processing Zones Authority (Bepza).
Similar policies should be ensured for economic zones while infrastructure and logistics improvements should focus on reducing the lead time of industries, he said.
A strong supply chain is necessary to meet the target of one trillion dollar-worth trade and in this regard, small and medium enterprises can be integrated to ensure backward linkage, he added.
The logistics industry needs to use advanced technology, said Syed Ershad Ahmed, president of the American Chamber of Commerce in Bangladesh.
But the local companies are not equipped to use big data, AI, cloud computing and others although the government has imposed tough conditions to prevent the entry of foreign logistics companies, he said.
The condition is that they have to have 51 per cent equity share with local businesses which is a real barrier, he added.
If port facilities do not improve, it will be really difficult for the economy to grow, said Ahmed.
Bangladesh has two outdated laws -- custom act 1969 and warehousing ordinance act 1959 -- that need immediate amendments. "These two acts are good enough to put us behind," he said.
Businesses running in export processing zones are turning out to be very much successful because the entrepreneurs do not face any hassles from customs, he said.
All the businesses are facing hassles from customs but nobody is speaking out, he said, adding that customs should focus on being polite and friendly towards businesses.
He praised Prime Minister Sheikh Hasina for taking the initiative of launching the deep-sea port of Matarbari. If a rail link can be opened from the economic zones with port linkages, it would change the country's whole scenario, he said.
The session was moderated and chaired by Hossain Khaled, managing director of the Anwar Group of Industries, while Kazi Akram Uddin Ahmed, former president of the FBCCI, spoke as a guest of honour.
Enamul Huque, managing director of Standard Chartered Bangladesh, Naquib Khan, founder and chief executive officer of Bangladesh Supply Chain Management Society, and Rajesh Mirchandani, chief executive officer of the Dun & Bradstreet (South Asia and Middle East), also spoke at the event.