Bump up infrastructure spending
Business community urges govt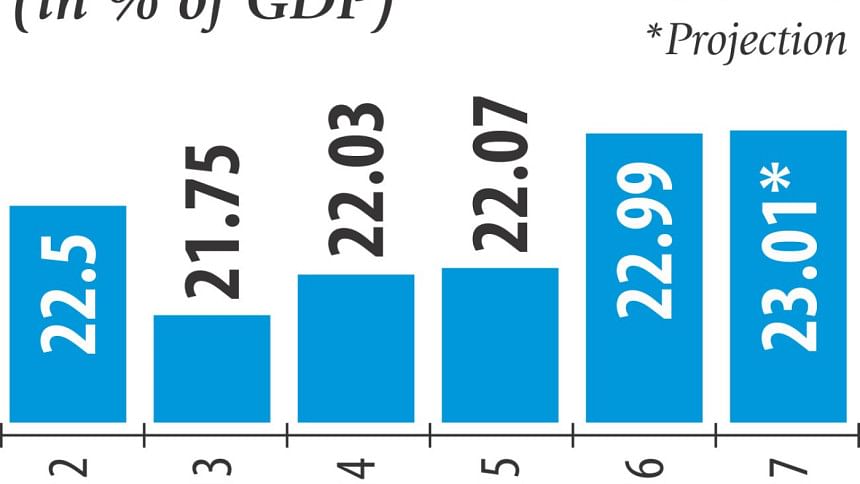 The perennial energy crisis, infrastructure bottlenecks and volatile global economy have sent the private investment scenario in Bangladesh into a lull over the last few years.
In this backdrop, the business community demanded the government increase its infrastructure spending to 6 percent of GDP from existing 2.87 percent in fiscal 2017-18.
"Our main expectation from the upcoming budget is that the government spends at least 6 percent of GDP on infrastructure development to attract investment," said Abul Kashem Khan, president of Dhaka Chamber of Commerce and Industry.
The contribution of private investment will need to be raised to 34 percent of GDP from the almost stagnant 23 percent for increasing the GDP growth rate to 8 percent in a year, he said.
In 2016-17, private investment to GDP ratio is expected to be 23.01 percent -- only 0.02 percentage point higher than the previous year, according to provisional data from the Bangladesh Bureau of Statistics.
 Infrastructure development means not only improvement of roads and highways but also ensuring adequate supply of energy and power to the industrial sector and enhancement of port facilities for smooth movement of export and import goods.
For example, South Korea invested 10 percent of its GDP in 1990s to improve infrastructure; now Vietnam is doing the same.
"Many Asian nations are increasing infrastructure spending and reaping benefits," Khan said, adding that the Bangladesh government has also raised the GDP spending for infrastructure development from 2.87 percent to 3 percent in fiscal 2011-12.
But it could not ensure sufficient development, he said.
"If we can improve our infrastructure we can easily catch foreign investment, even under the Chinese initiative of 'One Belt and One Road'. This is a big opportunity for us for attracting FDI," Khan said.
Fresh investment to the country's main export earning sector, apparel, has also been stagnant over the last few years due to the uncertain global economic outlook and shrinking profits, said Siddiqur Rahman, president of Bangladesh Garment Manufacturers and Exporters Association.
In fiscal 2015-16, BGMEA had a total of 4,328 member factories, up from 4,296 in fiscal 2014-15.
"So, the number of new factories is very modest," he said, adding that the number of new factories this year is also very small.
If the existing projects are implemented timely there will be a positive impact on the investment scenario, both in quality and quantity, said Zahid Hussain, lead economist of the World Bank's Dhaka office.
Projects like the construction of LNG terminals, development of port, power plants, Padma bridge and the other big ones should be implemented as soon as possible for attracting more local and foreign investment, he said.
The government needs to prioritise the industrial sector for attracting investment, said Shafiul Islam Mohiuddin, president of the Federation of Bangladesh Chambers of Commerce and Industry.
The special economic zones should be ready at the earliest as the land price is very high in the country, he said, adding that the government should also give a clear picture of utility prices to investors for the next six years at least so that they can take a decision.
The frequent changes in the prices of utility discourage investment, Mohiuddin said.
Bangladesh received $1.71 billion in FDI in the first six months of the fiscal year, up 7.8 percent year-on-year, according to central bank data.
The FDI received last fiscal year was more than $2 billion, which was 9.34 percent higher than the previous year.