Brighter days await ceramics
New entrepreneurs are coming with funds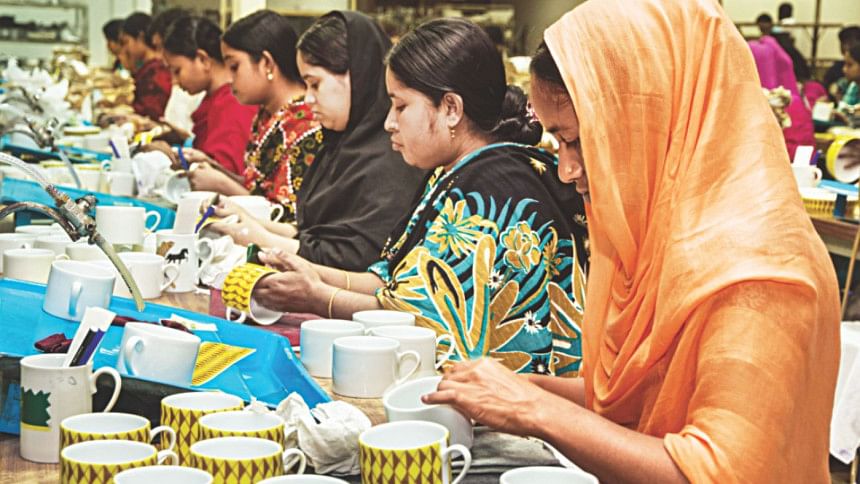 The spiralling growth of the ceramics industry is encouraging entrepreneurs to invest more in the sector, experts said.
Twenty new entrepreneurs are getting ready to enter the sector, said Shirajul Islam Mollah, president of the Bangladesh Ceramic Manufacturers and Exporters Association (BCMEA).
Local ceramics makers are also planning to expand their business in the field, he said.
China-Bangla Ceramic Industries Ltd, which started production in 2009, plans to invest Tk 200 crore to increase production capacity, said Mollah, who is also the managing director of the company.
Islami Bank Bangladesh is providing finance to set up the second unit of
the joint venture between Bangladesh and China that was incorporated in 2001, he said.
China-Bangla currently employs 750 people and the new factory will need 800 more, said Mollah, also a lawmaker.
The new unit will annually produce 3.60 lakh square feet of tiles, he said.
The demand for ceramics in Bangladesh is increasing by 20 percent on an average every year, according to data from the BCMEA.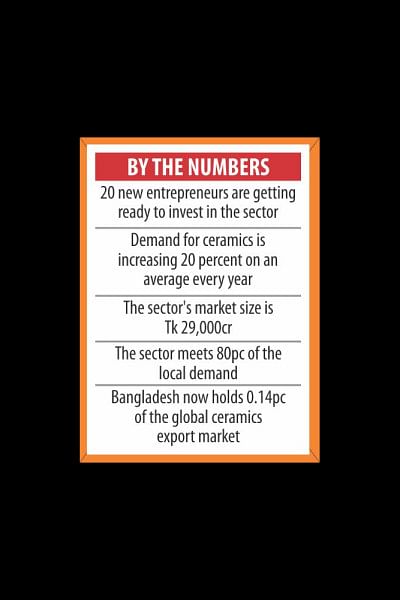 The sector, with a market size of around Tk 29,000 crore, has experienced a 200 percent growth in production in the last 10 years, and Bangladesh now holds 0.14 percent of the global export market, it said.
The sector caters to 80 percent of the local demand, Mollah said.
Ceramic makers in Bangladesh mainly produce three items: tiles, tableware and sanitaryware, he said.
Presently there are 62 ceramic manufacturers in Bangladesh. Of them, 20 produce tableware, 25 tiles and 16 sanitaryware.
Businesses have so far invested Tk 9,000 crore in the sector and provided jobs to five lakh workers, two lakh of whom are women, the BCMEA said.
In 2016-17, local ceramic makers exported $41.82 million worth of products to over 50 countries, including the USA, UK, Canada and some European and Latin American countries, according to the National Board of Revenue and the Export Promotion Bureau.