Brand Forum honours ad campaigns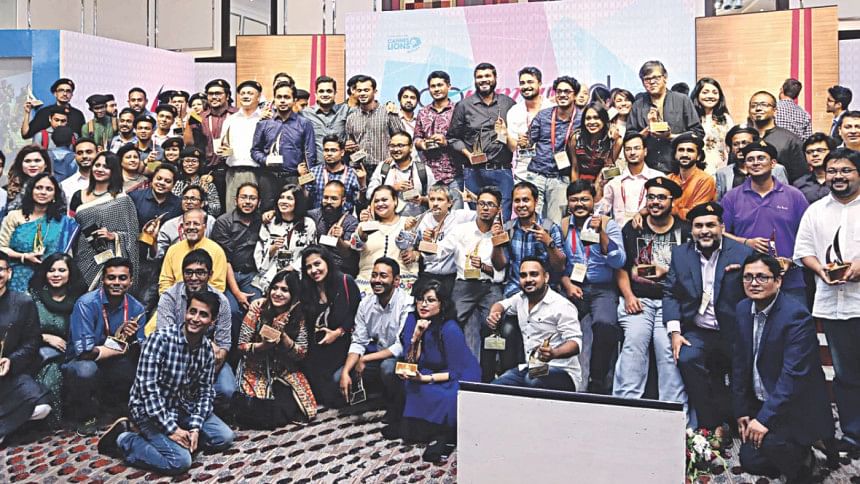 Some 93 advertising campaigns won this year's communication awards -- COMMWARD -- in recognition of their creative communication in marketing and business.
Bangladesh Brand Forum (BBF) honoured the winners across 25 categories at the sixth edition of COMMWARD: Excellence in Creative Communication, at Le Méridien in Dhaka on Saturday.
The winning campaigns were recognised in three categories: Grand Prix, Gold and Silver.
This year, a total of 467 nominations were received from 41 advertising agencies, production houses and creative departments of various organisations, BBF said in a statement yesterday. 
Though many small and new agencies were recognised for their outstanding creative campaigns, large and established agencies dominated the awards.
Among the campaigns, Prothom Alo ICC Cricket World Cup 2015 and Closeup Kache Ashar Shahoshi Golpo (the bold story of getting closer) won the highest number of awards in the three ranks.  Closeup Kache Ashar Shahoshi Golpo won two Grand Prix in the best use of content and video in web categories.
In the integrated campaign category, which is regarded as the comprehensive category, the campaign Grameenphone Prothom Bijoyollash (the first exultation) -- conceived and executed by Grey Advertising Bangladesh -- won Grand Prix.
The winning advertising agencies include Mindshare Bangladesh of Asiatic 3Sixty, Adcomm, Bitopi Leo Burnett, Strategeek Digital, Outbox, Sun Communications, Magnito Digital, Webable Digital, Analyzen Bangladesh, BagherBachcha Digital, Protishabda Communications, Mighty Byte, Dope Productions, YOLO, Half Stop Down and Facecard.
About 500 professionals from business organisations and marketing and creative agencies attended the award giving ceremony which took place at the end of the daylong Communication Summit at the same venue.
COMMWARD is an initiative of BBF which has been recognising advertising in business and marketing since 2009.
Organised in association with Cannes Lions and The Daily Star, this year's award was supported by Le Méridien Dhaka, Marketers Society of Bangladesh, television channel GTV, IT firm Aamra, Masthead PR, digital and social media marketing agency WebAble Digital, and photography agency Aatosh.