Banks weighed down by bad loans, lack of quality manpower
Dhaka Bank MD says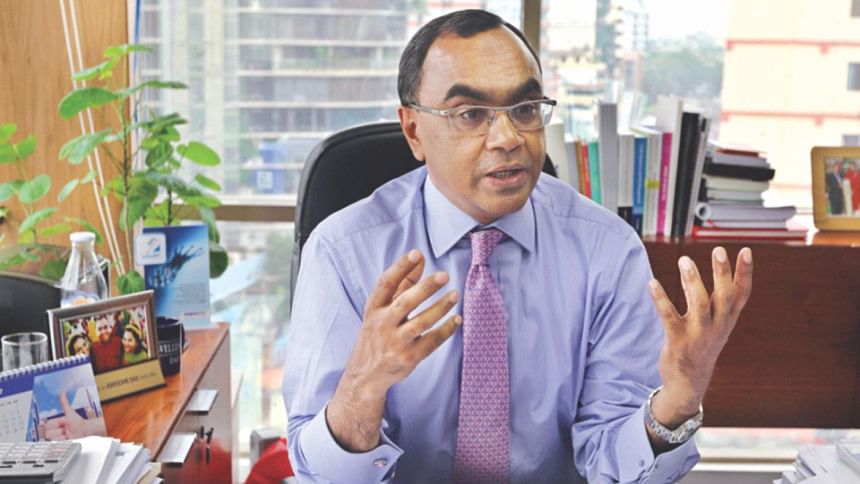 Rising non-performing loans (NPL) and the dearth of quality personnel are the major challenges facing the banking sector, said a top banker.
The number of banks in the country is more or less proportionate to the size of the economy, Syed Mahbubur Rahman, managing director and chief executive officer of Dhaka Bank, told The Daily Star in an interview on Monday.
"But the quality manpower size did not grow."
Educational institutions and commercial institutions should work in tandem to develop quality manpower by giving students practical knowledge, he said. "Such practice is rare in Bangladesh."
As a result, students cannot perform well in a professional setting once they graduate, even with high scores.
The sector is suffering severely for shortage of experienced people in the mid- and top-level positions, he said.
Rahman, who has been in this line of work for three decades now, elaborated on the overall business of the banking sector.
Expressing concern about the rising default loans, he said the banks' tendency to reschedule and restructure loans to show inflated profits ultimately cost them.
The loans eventually become default, raising the industry's NPL ratio. Bangladesh Bank data shows, classified loans to total outstanding of the banking sector reached 10.53 percent at the end of March this year, up from 9.23 percent a quarter ago.
"Loan rescheduling is necessary but recovery will have to be good," said Rahman, who joined Dhaka Bank in November 2015.
Dhaka Bank maintains a higher provision from profits to keep its book clean, he said. As of March, the bank's default loan ratio was 4.34 percent, according to data from the central bank.
The banking sector may face a little liquidity crunch if the existing credit growth continues and the government takes Tk 20,000 crore for the power sector, he said.
"The power sector is a good sector for investment," he said, adding that the risk factor lies in project implementation.
The bank's total deposits stand at Tk 15,716 crore against the loan portfolio of Tk 13,468 crore. The bank made net profit of Tk 146 crore last year.
Dhaka Bank, which will step into its 22nd year of operation on July 5, is gradually switching its focus to retail banking from wholesale banking. It is re-vamping its consumer banking platform to make it more convenient for its customers.
The bank has also adopted a cost-cutting strategy to make it more agile going forward. It plans to reduce its fixed deposit portion and bump up current account, savings accounts.
Dhaka Bank is also planning to introduce agent banking to take its service to remote areas. "We have applied for permission for agent banking."
It is also expanding its SME loan portfolio to diversify the business. The SME growth was 10 percent when Rahman joined with the bank and now it increased to 16 percent.
"We have plan to take the SME loan growth to above 20 percent within the next one or two years."
The interest rate on SME loans is high as the business is risky, he said.
"The SME entrepreneurs cannot recover their business even if they are affected just once."
Moreover, they do not have adequate collateral and business experience.
"It's not just Bangladesh, the interest rate on SME loans is high worldwide," he added.