UCB now on strong footing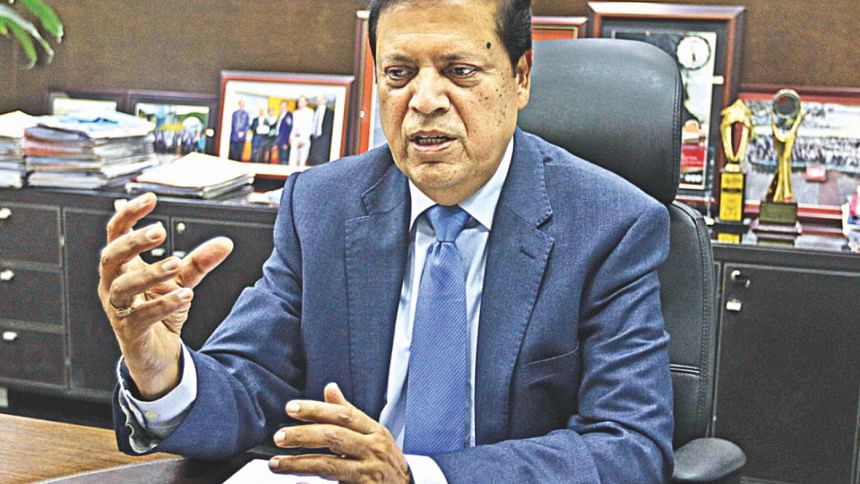 When Muhammed Ali took the reins of United Commercial Bank in late 2012 the lender's standing in the industry was not of note.
But in the last four years it has grown in leaps and bounds and now can be spoken of in the same breath with the best of them.
"We are now a very strong bank and on a very strong footing," Ali told The Daily Star in an interview recently.
Under Ali's stewardship, the bank rose to the pole position in all indicators save for profit in a ranking of local private commercial banks.
Its net profit more than doubled in the last four years: from Tk 158.61 crore to Tk 397.73 crore in 2015.
Deposits grew more than 50 percent to Tk 25,570 crore in 2016, from Tk 17,053 crore in 2012. UCB's import and export businesses more than doubled during the period, boosting the bank's income in the forms of fees and exchange gains.
High-cost deposit came down to 45 percent from 70 percent over the period.
"As the cost of deposit has gone down, the bank is able to lend at lower interest rates," Ali said, adding that the spread is within the limit of Bangladesh Bank.
The bank has consciously shifted from corporate-centric portfolio to garment, small- and medium-sized enterprises and agriculture.
In 2016, SMEs accounted for 38 percent of all loans and advances, while corporate clients made up 30 percent of the loans and advances -- down from 34 percent in 2012.
"My observation is, so-called corporate clients default on their loans. On the other hand, the small borrowers do not default."
When a large borrower defaults it comes as a major shock because thousands of crores of taka are normally involved.
On the other hand, even if the small borrowers default, the amount is to the tune of Tk 10 lakh or Tk 50 lakh, which is not strong enough to shake a bank, Ali said.
Employment generation is a challenge for many countries, but in Bangladesh SMEs play a vital role on this front.
"Bangladesh cannot set up large industries overnight, but it can definitely promote SMEs."         
Ali went on to praise his fellow countrymen for keeping the wheels of the economy moving, saying the entrepreneurs and even small traders take upon myriads of risks to advance respective ventures despite facing infrastructure bottlenecks such as energy shortage.
UCB has always aligned its plan with the national strategies, he said.
For instance, it is now providing a guarantee of Tk 5,200 crore for the Padma Multipurpose Bridge without any commission.
"We have given priority to the national interest although we have had to incur capital cost and maintain provisioning," Ali said, adding that UCB has played an important role in case of economic growth, employment generation and remittance income.
Remittance, which is credited for the country's healthy foreign currency reserves, can be doubled to $30 billion a year if the right steps are taken, and the first generation bank wants to do something on this issue.
UCB plans to set up a dedicated foundation for the welfare of migrant workers.
Under the plan, prospective migrant workers will be imparted vocational training on various trades such as electrical works and plumbing and enhance their communication skills.
Some 100 workers would be sent abroad every year, with UCB bearing all costs. The only requirement for the migrant workers would be to maintain an account with the bank and send their remittance through it.
"If we can do this, our people will be equipped with the right skills, which will help them earn more compared to unskilled workers. Then we will be able to double our remittance income easily."
Ali will step down as the CEO of the bank in May 14, when he would turn 65, which is the retirement age for MDs.
Evaluating his tenure, Ali said with the wholehearted support of the board, he has been able to bring in positive changes to the bank.
At present, UCB is a very compliant bank, which is reflected on its CAMELS (capital adequacy, asset quality, management, earnings and liquidity) rating.
It meets all five regulatory requirements on liquidity, maintaining sound liquidity ratios.
Ali, who is also credited for turning the fortunes of Shahjalal Islami Bank and Social Islami Bank, said the bank's acceptability has enhanced. Many multinational lenders give cheap funds to UCB for it to lend.
The bank's business network has expanded in the last four years: it now has 168 branches and 165 ATMs, up from 130 and 81 respectively. The bank employed 4,152 people as of 2016.
Its global network has also expanded sizably through exchange houses and correspondent banking relations. It has 547 foreign correspondent relationships.
During his time, the bank has introduced reliable computer software to make its network real-time, real time gross settlement, vulnerability assessment and penetration testing.
It has also revamped the anti-money laundering system, anti-scheming solutions and call centres.
UCB's performance has not gone unrecognised. The bank received national awards for best presented annual reports and corporate governance excellence for a number of times. It received "Best Emerging Markets Bank 2014" by Global Finance, an internationally recognised finance magazine.
Ali himself was awarded as "CEO of the Year" at Global Brand Excellence Awards.
Going forward, Ali said the non-performing loan is the main headache for the banking sector.
"This can be termed as cancer. So, we have to be alert in client selection, and maintain distance from the delinquent clients."
Good governance is a must for banks, he said.
"Only pressure from the central bank will not work. Banks must also have the same level of guts to establish governance with their organisations."