ICB seeks Tk 1,000cr from BB
The fund will be injected into stocks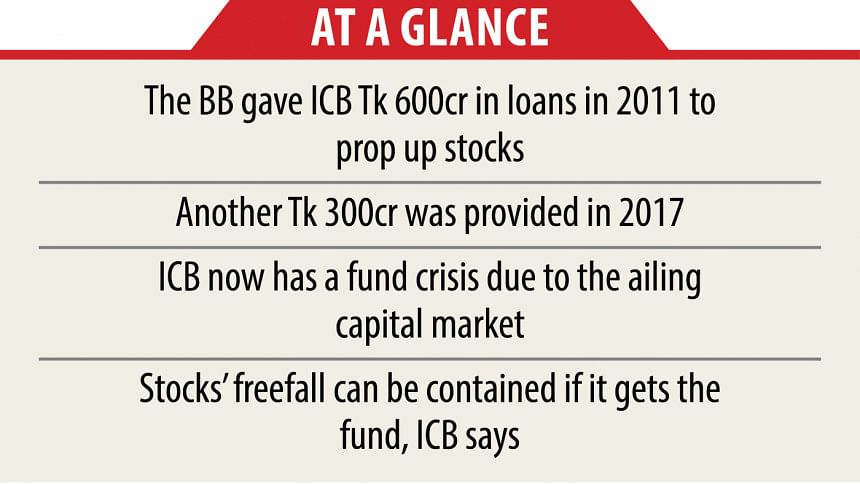 The Investment Corporation of Bangladesh has sought Tk 1,000 crore in financial support from Bangladesh Bank on an "emergency basis" to inject liquidity into the ailing capital market as part of its concerted efforts to bring back investor confidence.
The largest financial investor in the capital market sent a letter to Governor Fazle Kabir on September 19 seeking his cooperation in the form of either credit or financial support.
Between June 27 and September 26, the DSEX, the Dhaka Stock Exchange's benchmark index, shed 461 points or 9.29 percent to reach 4,968, which is below the psychological mark of 5,000, while investors lost Tk 23,925 crore.
The government has recently instructed the ICB to provide required support to the market amid the ongoing volatility which has dampened investor confidence, according to the letter signed by ICB Managing Director Md Abul Hossain.
"The state-owned financial institution has been investing a large amount of fund in the market to contain the freefall of stock prices. Long-term credit or financial support will now be required to prop up the market," it read.
There is no scope for the ICB to mobilise funds through sale of shares as the ongoing situation of the capital market is highly fragile, it added.
The ICB has also expressed gratitude for the central bank's strong efforts to perk up the capital market, especially the two instances it provided credit support which were invested on time.
 "In spite of these, the stock market is yet to reach the expected level."
The first instance was in 2011 when short-term loans worth Tk 600 crore were provided in three phases in line with Bangladesh Bank Order 1972.
The ICB successfully arrested the heavy price fall during the period, protecting marginal investors from further losses. The credit, including interest, was paid back within 90 days.
The second was in 2017 when Tk 300 crore was provided and which was now being returned.
"The central bank has taken the ICB's proposal positively. However, it has yet to take any decision on how the fund will be given or when the ICB will receive the support," said a Bangladesh Bank official wishing not to be named.
On September 22, the BB announced liquidity support for banks to ramp up their capacity to invest in the capital market.
The support will be in the form of repurchase agreement (repo), a form of short-term borrowing by banks from the central bank through the placement of their government securities as collateral.
This effort pushed stock prices up only for one day and the bear run resumed on September 24.