Eastern Bank's profits rise on higher loan recovery, low NPL
The bank's CEO says
Eastern Bank's profits grew at a handsome rate in 2019 thanks to a higher recovery from written-off and classified loans, new client acquisition and deeper penetration both in retail and SME segments despite it being a challenging year for almost every financial institution.
The profit after tax of the lender, which started operations in 1992, rose 30.1 per cent year-on-year to Tk 400 crore last year.
"The main reason of our profit rise in the challenging year was the higher recovery rate and we were able to keep the NPL ratio low," said Ali Reza Iftekhar, managing director and chief executive officer.
The lender recovered Tk 63.6 crore from its written-off loans last year which was Tk 42.3 crore and Tk 50.1 crore in 2018 and 2017 respectively. Meanwhile its recovery from classified loans were Tk 94.7 crore, Tk 70 crore and Tk 85.8 crore respectively.
Its non-performing loan (NPL) ratio was 3.35 per cent last year whereas the industry average was 9.32 per cent, according to its annual report.
"If the NPL remains high, profits are mostly hit with provisioning, from which we had relief as the quality of our assets is good and the NPL remains low," the CEO told The Daily Star yesterday.
Though the NPL ratio was low compared to others in the industry last year, it was higher than 2.35 per cent in 2018 which was preceded by 2.50 per cent, 2.69 per cent and 3.27 per cent in the past successive years.
This rise was mainly caused by a single account from the textile industry, according to the annual report.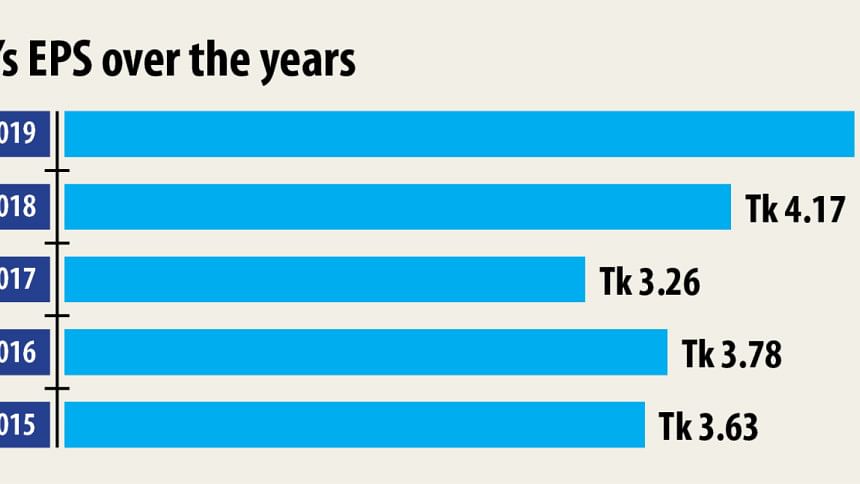 A big contributor to the profit of 2019 was net interest income, which rose by 8.69 per cent to Tk 827.7 crore riding on a 10.87 per cent portfolio expansion in the retail and SME sectors, according the financial report of 2019.
"We hope to further expand our network as well as reach unbanked people and we will leverage our network and digital strategy to drive deeper penetration in the retail and SME sectors," he said.
Eastern Bank has also found success in supply chain financing where it explored various industries and facilitated over 300 dealers and suppliers of several large corporate houses.
Its credit card portfolio hit almost Tk 600 crore in 2019, which is a 9 per cent growth from that the previous year.
Responding to a question, the managing director said the government set the lending rate at 9 per cent and his bank's interest rate was not higher than that of many other banks, for which net interest income growth was lower than that of the previous year.
The net interest income growth was 8.69 per cent last year which was 31 per cent in 2018.
Non-interest income increased by 14 per cent in 2019 mainly due to an increase in investment income, fees and service charges.
The bank's deposit base swelled 20.5 per cent year-on-year to Tk 23,998 crore.
"This high growth in a challenging year is a testament to the bank's brand strength."
The bank's advance to deposit ratio was at 77.2 per cent in 2019, a reduction from 83.08 per cent the previous year. The question was whether the bank reduced its lending to keep the ratio low.
Iftekhar said liquidity was the safety net for a bank so Eastern Bank always maintained a low advance to deposit ratio.
"Historically, we are much meticulous on the liquidity issue," he said, adding that they preferred to be very much liquid.
Returns on asset and equity of the lender stood at 1.30 per cent and 16.52 per cent respectively.
However, it declared 25 per cent cash dividend for shareholders whereas it was 20 per cent cash and 10 per cent stock dividends in 2018.
Its stocks traded at Tk 31 on Dhaka Stock Exchange yesterday.