3 new banks get nod amid outcry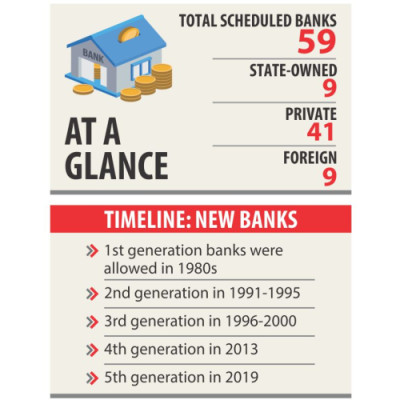 The central bank yesterday gave nod to three new banks -- at a time when the sector is saturated and stressed for rising nonperforming loans and declining corporate governance.
Bengal Bank, People's Bank and Citizen Bank will soon set up shop, taking the total number of banks to 62.
But the new banks will have to pull up paid-up capital of Tk 500 crore each, which is Tk 100 crore more than what the last batch of new entrants had to cough up in 2013.
"We have increased the amount of paid-up capital considering the size of the economy," said Abu Farah Md. Naser, executive director of the central bank.
All three new banks have connections to the Awami League government. The Bengal Group of Industries is the sponsor of Bengal Bank. AL lawmaker Morshed Alam is the chairman of the group and his younger brother Jashim Uddin is the chairman of the proposed bank.
MA Kashem, an AL leader in the US, is the chairman of the proposed People's Bank, while Jahanara Huq, mother of Law Minister Anisul Huq, is the chairman of Citizen Bank.
Earlier in 2013, the Bangladesh Bank provided licences to nine banks and many of their sponsors have direct links either with the AL or its allies.
The health of the nine new banks also deteriorated in recent times.
Last year, the BB had turned down the proposals for licences to new banks despite pressure from the finance ministry.
But the BB's resistance did not last long as it faced mounting pressure from government high-ups, including then Finance Minister AMA Muhith.
"New banks are not needed at all," AB Mirza Azizul Islam, a former finance adviser to a caretaker government, told The Daily Star recently.
At the end of September last year, total non-performing loans stood at Tk 99,370 crore, which was 11.45 percent of all outstanding loans.