Banglalink's revenue falls for 7th quarter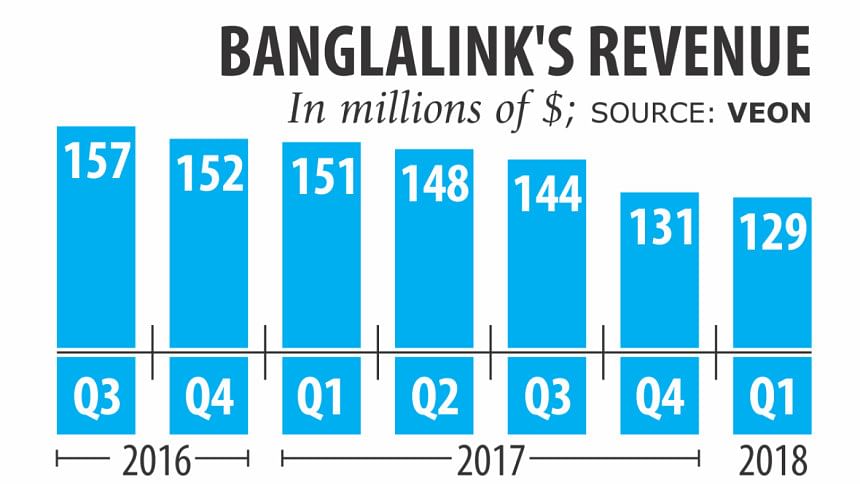 Once a spirited mobile operator, Banglalink is progressively becoming a bit-part player, with its revenues declining for the seventh consecutive quarter now.
At the end of March, Banglalink's revenue stood at $129 million, in contrast to $157 million at the end of September 2016, according to Veon, the operator's parent company.
Its average revenue per customer a month now stands at Tk 109, down from Tk 133 in the third quarter of 2016.
The operator's customer growth has been declining in the last few quarters too, according to the report, which was published last week.
At present, the operator's market share is about 22.17 percent, which was 24.75 percent at the end of the third quarter of 2016.
Banglalink entered the market in 2005 as the fourth player and within a few years' time jumped to the second riding on its aggressive marketing.
Now, it is languishing in the third spot with some distance between the first and second positions.
Banglalink's struggles coincidentally comes at a time when the industry observed the big merger of Robi and Airtel, the third and fourth largest operator at that time. Besides, the telecom regulator also shut down the country's oldest operator's operations.
When a nimble response was needed, Banglalink was caught napping.
"It is true that we have had some challenging few quarters," said Taimur Rahman, chief corporate and regulatory affairs officer of Banglalink.
He went on to blame the intense competition for Banglalink's present state.
But to come back as a strong competitor Banglalink said it has made huge investments, such as the acquisition of 10.6 MHz of spectrum in February along with 4G licence and conversion of its entire spectrum to technology neutral.
"Through this, we have nearly doubled our capacity in terms of spectrum. Furthermore, through these activities, we reconfirm our commitment to provide better service to our customers."
Market analysts said the operator might face new challenge with the introduction of the mobile number portability service, which will enable customers to switch to any operator while keeping their existing 11-digit number.
The service will be launched at the end of July, according to the telecom regulator's plan. After the launch of MNP service, mobile users might be interested in joining large networks such that they can enjoy on-net benefit with a wider pool of people.
At the end of March, Grameenphone's active connections stood at 6.75 crore, Robi's 4.56 crore and Banglalink's 3.33 crore.
Banglalink said some regulatory changes are required before the MNP service is launched.
To make MNP successful, the issue of the difference between on-net and off-net price floors need to be addressed, Rahman said.
There could be a confusion among users on whether they are making an off-net or an on-net call as they would not be able to tell by looking at the 11-digit number, as they can now.
"This may further help the dominant players. We have requested the regulator and the government to look into this matter."
Rahman though remains optimistic about Banglalink's future.
"There is an indication that our turnaround plans for this market is on track and are likely to show operational improvements towards the back end of the financial year," he added.
In its long journey in Bangladesh, the operator or its parent company never disclosed if they are making any profit from the market or not.