Banglalink starts investing $500m in 4G network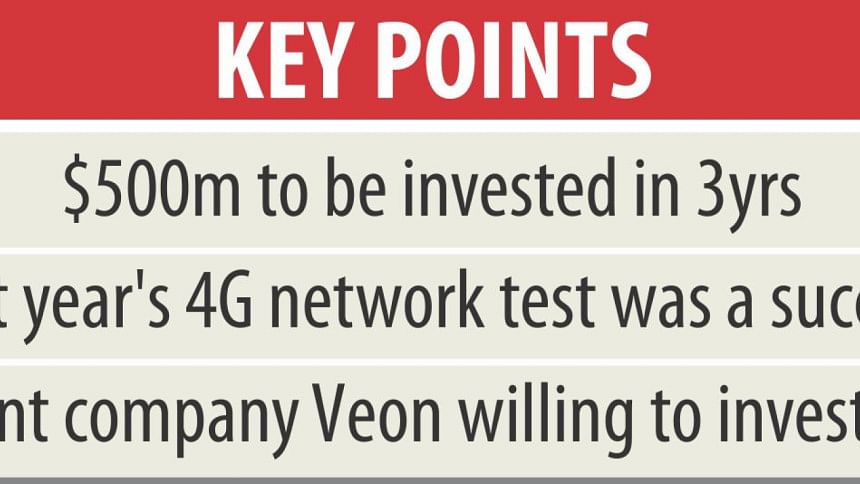 Banglalink has started investing a significant amount of money to upgrade its network to offer 4G services and provide seamless connectivity to its customers.
Over the next three years, the country's third largest mobile operator will invest around $500 million for this segment, it said in a statement yesterday.
The operator is all set to launch its 4G network and it has already started converting its existing SIMs to make those compatible with the fourth generation data services.
"We look forward to launch 4G as we continue to transform our network to make it affordable for our customers and help in reducing digital divide," said Pierre Boutros Obeid, chief technology officer of the operator.
There has been successful testing of Banglalink's network for 4G a year back by one of the partners of the operator, according to the statement.
"Banglalink has been in the forefront in terms of introducing the latest technologies when it comes to serving the needs of our customers," Obeid said.
"We believe offering digital services is the path to the future and 4G technology is the key to enabling us to offer the services. We are committed to offer the best in 4G to ensure a digital life for all," he added.
Earlier in July, Jean-Yves Charlier, chief executive officer of Veon, parent company of Banglalink, expressed his willingness to invest $1 billion over the next three years. More than half of the amount will be used exclusively for network upgrade, Charlier said.
Nevertheless, Banglalink continues to invest in efficient and high-speed data networks with an aim to substantially improve 3G coverage as well.
The operator has already brought 90 percent of its coverage under 3G and the rest will be upgraded within this year, the operator said.