Asian nations must do more to create decent jobs: ILO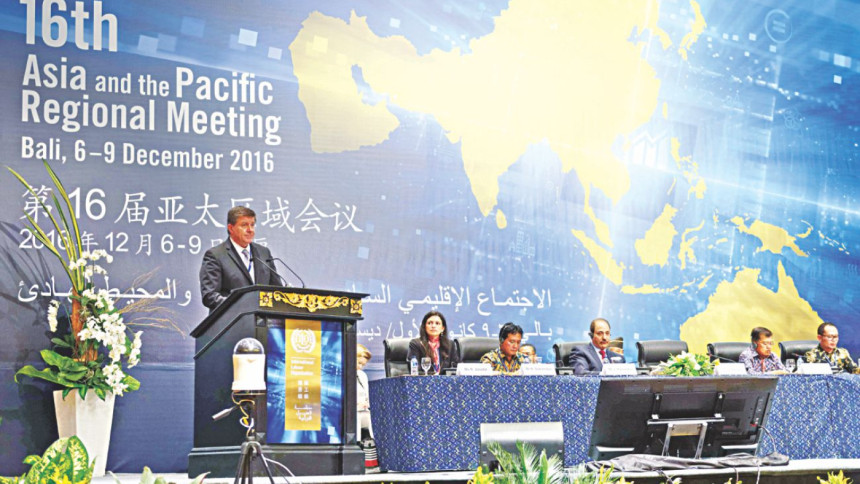 The policymakers of the Asia-Pacific region should respond effectively to the implementation of sustainable development goals to reduce poverty and create decent employment, Guy Ryder, director general of the International Labour Organisation, said yesterday.
"There is considerable doubt and uncertainty in the world, with people questioning the capacity of policymakers to deliver credible answers to the key problems in their lives," Ryder said at the opening session of the ILO's 16th Asia-Pacific Regional Meeting, currently taking place in Bali.
Top government functionaries, employers, diplomats and trade union leaders from the Asia-Pacific and the Gulf countries attended the opening session at the Bali Nusa-Dua Convention Centre.
Indonesia's Vice-President Jusuf Kalla inaugurated this year's APRM, which will come to an end on December 9.
The APRM takes place every four years to discuss issues like labour and employment, workplace safety and migration. The last APRM was held in Japan.
Just over a year ago, the nations of the world adopted the 17 SDGs that make up the UN 2030 Sustainable Development Agenda, Ryder said. The SDGs' overall aim is to eliminate poverty and reduce inequality by 2030.
Decent work is woven into the fabric of all 17 SDGs and their indicators.
"One goal, SDG 8, specifically focuses on the ILO's mission of decent work for all. We have succeeded in having the right agenda adopted, and now, we must turn to the task of its implementation."
More than a billion workers are in vulnerable employment, often without access to social and legal protection, Ryder said.
Despite impressive poverty reduction, nearly 192 million workers or one in ten still live in extreme poverty in the region.
"What is more of a concern is that some groups are in particular danger of being excluded from progress," he said, citing the youth as an example.
One in eight youths in the Asia-Pacific and one in four in the Arab states are unemployed, according to Ryder.
The migrant workers, who are frequently excluded from legal protection and prone to exploitation, also deserve decent work.
Ryder said tens of millions of children are trapped in child or forced labour and millions of refugees and displaced people are living in the most difficult conditions.
"It is striking that the region's economic dynamism has not been fully translated into social progress. Advances have been made in extending social protection but the region still spends comparatively little on it,"
The ILO DG said education and skills will increasingly be felt as a constraint on future success as the region's economies attain middle-income status.
"It is clear that our work remains unfinished. The challenge now is not only to build on the progress so far but also to ensure that it is inclusive and reaches all women and men."
Across the region, women have a different and usually worse experience when looking for decent work. They are more likely to be concentrated in vulnerable employment, particularly unpaid care work.
Women are frequently paid less for work of equal value and are less likely to be in leadership and decision-making roles. 
And particularly worrying is the fact that there seems to be no decisive movement to narrow the gender pay and gender discrimination gaps in the region's labour markets, Ryder said.
"No doubt, the region will want to remain the engine of global economic growth that it has become, and certainly that is something the rest of the world shares an interest in as it struggles to escape the slow growth trap in which it has remained caught since the crisis which struck in 2008," Ryder said.
"But things are changing. China has, by a deliberate decision entered a "new normal" of slower growth."
Important initiatives for regional integration -- notably the Asean economic community -- are underway precisely at a moment when inter-regional initiatives are called into question, he said.
Demographics vary considerably across the region but will have a major impact. The effects of ageing are being ever more acutely felt in some societies, and that situation co-exists with the over-riding challenge of youth unemployment everywhere.
"And that means that migration for work will be a key feature of our future," he said.
"And let me add my recognition that, at a moment when the international community is struggling to address a global refugee crisis, it is this region that has long hosted some of the largest refugee populations, with countries making enormous efforts which make a strong claim on international shared responsibility."
Ryder went on to point out that ratification of the ILO's eight core conventions is low in the region: only 14 of the 47 member states have done so.
He also highlighted the achievements of the countries of the region over the last decade, which accounts for 60 per cent of the global labour force.
The average wages and incomes have risen significantly, and almost doubled for the middle and upper classes, while the number of extreme poor has dropped rapidly from 21 percent of total employment in 2006 to 10 percent in 2015.
Around half of the region's workers and their families are now classified as middle-class or above and the labour productivity has grown annually at around twice the global rate, Ryder added.
Hanif Dhakiri, minister of manpower of Indonesia, said the global economy is facing more complex challenges, due to which representatives from about 35 countries from the Asia-Pacific and the Gulf regions met in Bali.
"Challenges like climate change, fast information development, population demography have made us to collectively discuss to find joint solutions for these employment problems."
The Asia-Pacific countries as well as the Arab states have a crucial role in accelerating decent work inclusively at the global level, Dhakiri added.
Felix Anthony, National Secretary of Fiji Trade Union Congress, said: "We demand the respect of labour rights and trade union rights."
The Bangladesh delegation includes Mujubul Haque, state minister for labour and employment; Mikail Shipar, labour and employment secretary; Salahuddin Kashem Khan, president of Bangladesh Employers' Federation; and Wajedul Islam Khan, general secretary of Bangladesh Trade Union Centre. 
Srinivas B Reddy, country director of ILO in Bangladesh, also attended the meeting.