AC market hots up as mercury climbs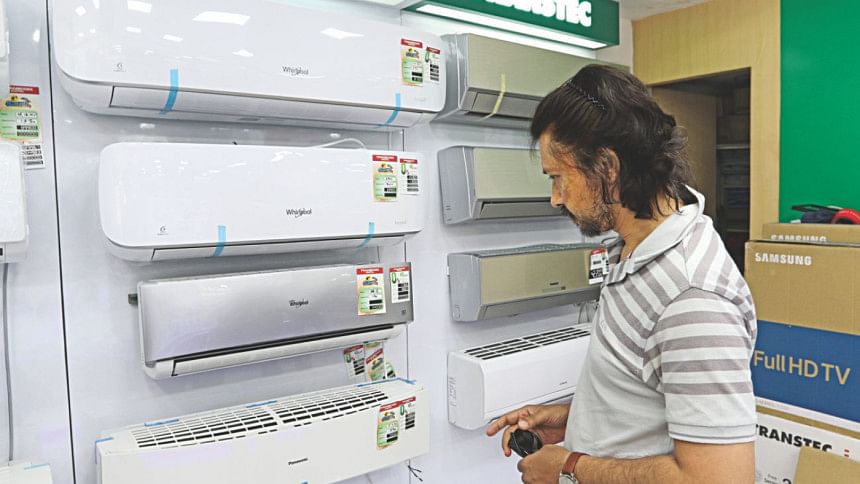 Kamrul Islam Sharif, a private job holder who lives in Mohammadpur, bought two air-conditioners by lending money from a friend, as the scorching summer heat has become unbearable this week.
"I was not prepared to spend Tk 1.35 lakh at the moment, but the unrelenting heat forced me to borrow some money to buy two air conditioners -- one of the ACs has a one-tonne capacity and the other has a 1.5 tonne capacity," said Sharif on Monday.
He also saw a crowd of people buying air conditioners at the store he went to.
"My next festival bonus will not be enough to pay back the money in full. It will take a few more months to payback," added Sharif.
As the heat wave reaches new heights across the country, the sale of air conditioners and air coolers has seen a sharp rise among the city dwellers. In the last two years, traders have seen a boom in the sale of air conditioners during the hot summer months.
"Air-conditioners are no longer a luxury product and as prices have also come down over the years, even the middle class people can afford it for some comfort," said SM Darajul Islam, category sales officer of Transcom Electronics.
Sales have increased at least 15 percent from last year, while prices of air conditioners have dropped 10 percent, added Islam.
Transcom Electronics sells five leading brands of air-conditioners and they have good sales all year round for their corporate customers.
However, traders target the home-use customers in April and May, when 80 percent of cooling appliances are usually sold, said industry insiders.
Most shops fulfilled their sales target last week, when the temperature became extreme.
Bangabandhu National Stadium Market, the biggest marketplace for electronic appliances in Dhaka, is now buzzing with buyers looking at air-conditioners and other cooling appliances.
"The summer heat has become unbearable and we cannot sleep at night," Sanjamul Kadir, a shopper at the Bangabandhu Stadium Market in Gulistan.
He came all the way from the city's Sukrabad area to buy a 1.5-tonne air-conditioner for his bedroom.
According to estimates, around three lakh pieces of air conditioners are sold every year, while most are global brands like Singer, Sony-Rangs, LG-Butterfly, General and Gree.
Buyers are mostly looking for 1.5-tonne to 2-tonne air conditioners, said a trader at Bangabandhu Stadium Market. Currently, people are able to buy an air-conditioner starting from Tk 30,000 to more than Tk 1 lakh.
Md Mahabubul Wahid, general manager of marketing at Pran-RFL Group that assembles the Vision brand of air-conditioners, said a supply of electricity is the main challenge to the sale of this product.
They receive a good response in Dhaka and Chittagong, but people in other towns are suffering from load shedding, he said. That is why they prefer rechargeable fans, he added.
The price of air coolers is much cheaper than air conditioners, but customers feel cheated later when an air cooler does not provide relief from the heat, he said.
Targeting the summer months, companies are also offering zero-interest, six to twelve months instalment schemes, along with cash-back offers, special discounts and gifts.
This year, Singer Bangladesh is offering zero-interest for six-months out of a 15 instalment scheme, by depositing only Tk 10,000.
Singer is selling air conditioners at a price range of Tk 39,990 to Tk 69,990.  Local electronics brand Walton has set a target to achieve 57 percent sales growth for air conditioners this year.