Abrar raises benchmark for Bangladeshi bankers
The outgoing CEO of StanChart Bangladesh talks about risks and potential of the sector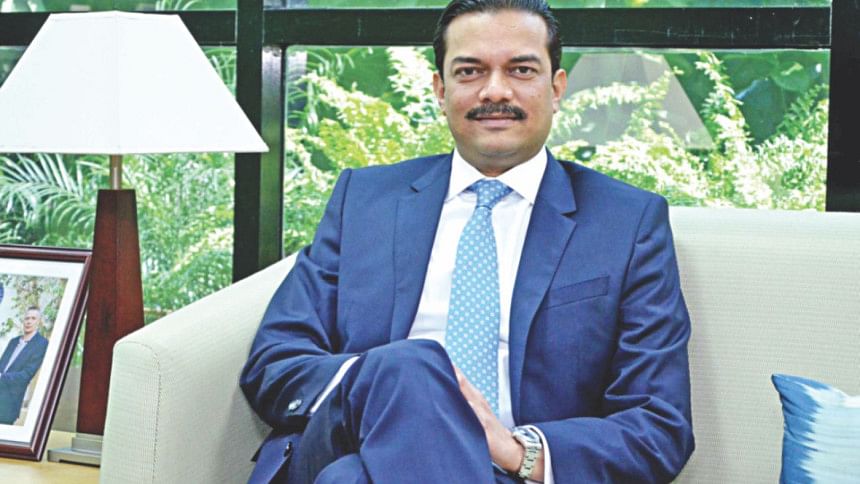 Banks will have to put in place the right strategies, IT infrastructure and skilled employees to protect themselves from cyber and money laundering risks, said the outgoing head of Standard Chartered Bangladesh.
"Cyber, money laundering and terrorist financing risks pose greater challenges for banks," said Abrar A Anwar, the chief executive officer for the Bangladesh operations of the London-based bank.
The risks take a toll on credibility and dent the customers' confidence in banks.
"If a bank can't get US dollar clearing in New York or loses the correspondence banking relationship, it will be quite devastating. Then the bank will lose its ability to participate in international trade."
Banks need to ensure that there is proper governance, anti-money laundering policies, procedures and training, and right resources in place.
Anwar's comments came in an interview with The Daily Star last week -- a fortnight before he sets off for his new posting in Kuala Lumpur as the head of Standard Chartered's Malaysian operations. He will join his new office on November 1.
"It's a privilege and a great opportunity for me to explore a more developed and competitive market. So, it is going to be a different kind of challenge for me."
Standard Chartered is the oldest bank in Malaysia, starting operations in the southeast Asian nation 142 years ago. Like Bangladesh, Malaysia is also a major market for the British bank.  
Anwar started his banking career with ANZ Grindlays Bank in 1991. He joined Standard Chartered as the managing director of its wholesale banking arm in January 2011, after nine years in the country office of Citibank NA.
In January 2015, he took over the reins from Jim McCabe, becoming the second Bangladeshi to lead Standard Chartered Bangladesh.
Bangladesh has huge potential thanks to its young population and sustained growth of about 7 percent, he said.
The country will have to find ways to employ the young people. "Otherwise, there is a risk of breeding frustration among the youth. We don't want frustrated youth."
During his recent visit to Malaysia, a lot of entrepreneurs, who are also the bank's customers, showered praise on Bangladesh's migrant workers there, Anwar said.
"I was proud to hear such a good account of our people."
Standard Chartered is the largest foreign bank in Bangladesh. It mobilised funds for 23 percent of installed power generation capacity and helped the country acquire all Boeing aircraft.
It, directly and indirectly, handles 13 percent of Bangladesh's global trade and 35 percent of the US dollar clearing. 
It has been the leading bank in terms of profitability and the highest return on equity for the last three years.
"That's coincidental to the good job we do. Our biggest pursuit is: are our customers happy? Are they finding value in the bank? Are you adding value to our customers by bringing global capabilities that we are good at to them?"
He said, when he took over, his key mission was to ensure that the bank has a very cohesive team that is focused on customers.
"I am going with huge satisfaction that I am leaving behind a fantastic team and a strong client base. During my journey I also have been hugely supported by the regulators."
The bank employs 2,200 people, including four foreign nationals.
"We have so many talented people in Bangladesh. We hire the best talents in the market, we groom them and they become world-class products."
Today, 18 CEOs and additional CEOs in the banking sector had once worked for Standard Chartered. "They are so proud and we are so proud to see them running different banks."
He also talked about the economy, which has shown resilience amid global headwinds.
Exports and remittance are under pressure but it has not reached a critical state.
"However, forward-looking risks need to be looked at whether we can appropriately sustain the exports and remittance flow and we can keep on supporting infrastructure investment."
The per capita remittance will increase if Bangladesh can develop the skills of the outgoing workers, he said.
Once per capita income crosses the $2,000 mark, Bangladesh would see a surge in domestic demand for various white goods such as fridges, televisions and home appliances.
"When it hits the inflection point you will see a boom. I think it is a very exciting period for Bangladesh. We just need to ensure that it is steered in that direction with all the other ingredients that are required to support such growth."
His advice for the young generation: "Career is not a 100-metre race. It is like a marathon, so you will have to move step by step. Don't get frustrated. You will have to keep on learning every day."
"Youngsters have more opportunities than us and they are smarter than us. They can access the world. They can actually operate at much higher level than we have done."
Anwar starts to work at 9am and continues until 10pm. Still, he manages to set aside time for his family, friends, gym, golf and TV.
"It is well-balanced. I enjoy every day of my life," said the father of two.
He said he always starts internal meetings with a joke to disarm his staff.
Anwar has already told the team in Malaysia that he will work hand-in-hand to help them thrive in their roles. "Because, your individual success will amount to collective success."
"I am going to positively contribute to the Malaysian franchise and take it forward as per the strategies of the bank. That is the thing I am looking forward to."