Buddhist monk U Pannya Jota Mahathera passes away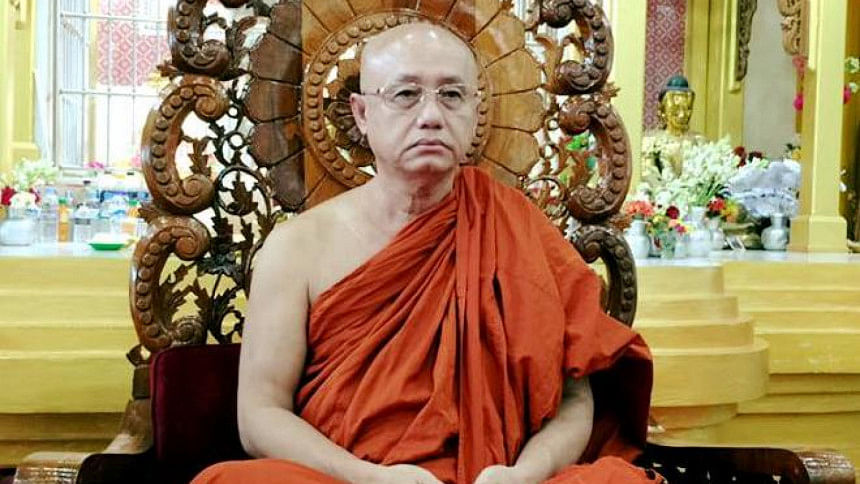 U Pannya Jota Mahathera, one of the foremost Buddhist religious leaders in Bangladesh, breathed his last at a private hospital in Chattogram city today.
Mahathera, also chief of "The World Buddha Sasana Sevaka Sangha", was the founder of the Golden Temple, a famous tourist spot in Bandarban.
The 65-year-old Buddhist monk was admitted to Max Hospital after suffering a cardiac arrest.
He leaves behind a large number of disciples and a host of relatives to mourn his death.
Born to the Bohmong royal family in 1955, he graduated from Dhaka University (DU), soon joining as a Munsif and Magistrate of the Bangladesh Government in 1983. He served successfully for around eight years.
Later, he resigned from the job and was ordained as a novice monk in 1990 at Ching Mrong Temple Bihara in Parbatya Chattogram. 
Since then, he became known as U Pannya Jota Mahathera. He worked for Buddhism and mostly for the deprived children of Chattogram Hill Tracts.
He also composed the famous Marma song "Shangraima", which he composed in 1975. The title still remains the most sung during the Marma community's "Sangrain" festival, which marks the end of the year.
He also formed a music band named The Royal Artists Group.
U Pannya Jota Mahathera established "Be Happy Learning Centre (Orphanage and Free school)" in Bandarban, where around 317 children are currently studying.
He founded the Golden Temple also known as Buddha Dhatu Jadi, Rama Jadee and Kiokmolong Jadee in Bandarban among others, while he also established the Bangladesh Buddhist Temple in Myanmar in 1997.
He authored six books.
The monk's body will be kept in a casket before a cremation ceremony to be held at a convenient time.
His devotees prayed for the salvation of the departed soul and conveyed sympathy to the bereaved Buddhist community.