Stranded Bangladeshi expatriates distressed over inability to return to Italy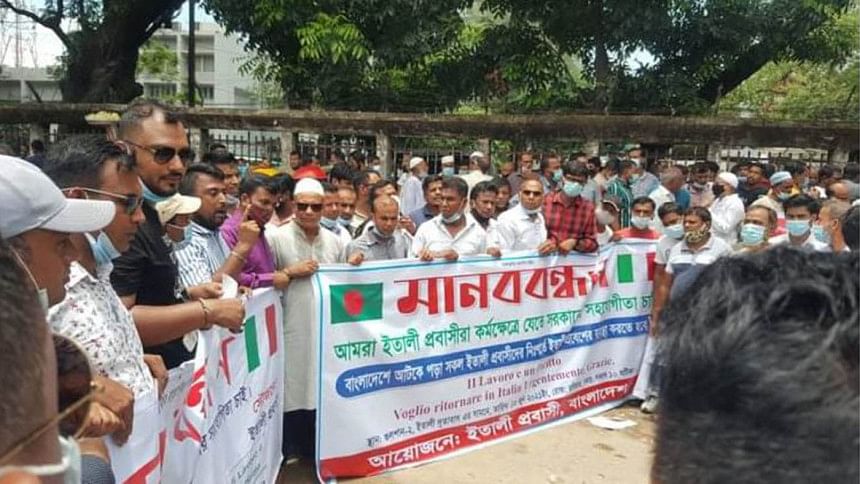 Over 3,000 stranded Bangladeshi expatriates today urged the Italian government to withdraw the entry ban for travellers from Bangladesh.
They said many Italy returnees have been fearing loss of jobs due to the entry ban amid the worsening coronavirus situation.
Italy on April 30 banned travellers from Bangladesh, India and Sri Lanka amid worsening coronavirus situation. On May 30, Italy extended the entry ban for people coming from the three countries till June 21. With this, the country has extended the entry ban four times. 
The demand came at a human chain programme by stranded Bangladeshi expatriates in front of Jatiya Press Club in Dhaka around 11am.
During the programme, they said they urged the Italian government to withdraw the ban considering humanitarian reasons.
They said they are emotionally distressed and financially at a loss for not being able to return to Italy. Many of them will have to face problems in their jobs if they are unable to return on time. The worries of their employers are increasing as well.
"We arranged the human chain programme to convey our sufferings and request to the Italian government through the Italian embassy in Dhaka. We expect that they will take the initiative," Shahjahan Mollah of Madaripur, who joined the programme, told The Daily Star.
Mahbub Alam Babu, hailing from Shariatpur, said "He was an expatriate in Venice of Italy. The restaurants were allowed to reopen in the last month after a long lockdown end in Italy. The restaurants' owners will have to incur big losses due to our absence. The owner told me he would look for alternative way if it was too late to return."
According to Bangladesh Embassy in Italy, they are making efforts to find a solution with a sincere understanding of the concerns and anxieties of stranded Bangladeshi expatriate workers.
Bangladesh Ambassador to Italy Md Shamim Ahsan said "We have emphasised the humanitarian issues, including the difficulty of the Bangladeshi expatriates stranded in the country to the Italian government and requested it for special arrangements for the return of the expatriates."
The writer is a freelance journalist