Over 3,000kms of roads poor, bad or very bad
Finds RHD survey on roads condition; overall state improved a little
Although road conditions under Roads and Highways Department network have improved a little compared to the last year, over 3,000km surveyed roads -- 16.26 percent -- are still in "poor, bad or very bad" condition, says an RHD survey.
Around Tk 15,606.6 crore would be required to repair those in the current fiscal year, according to the Maintenance and Rehabilitation Needs Report 2021-22.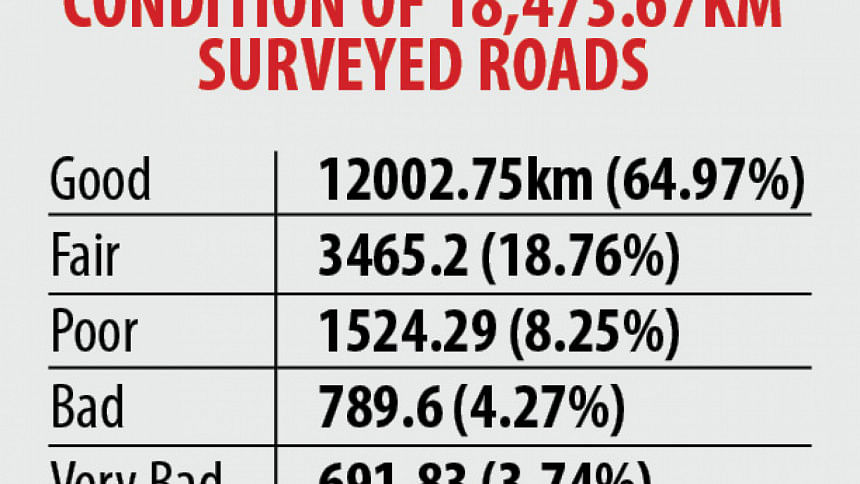 But the government has allocated Tk 3,011 crore -- almost one fifth of the required amount -- in the budget and that too is for repair and maintenance of all roads and bridges across the country.
It means that the condition of the dilapidated roads, especially those in the districts, is likely to worsen as they might not get priority for repair due to the fund crunch, said experts, including RHD engineers.
Experts have blamed overloading, waterlogging and poor construction work for the bad condition of roads, which is considered one of the major reasons behind road accidents.
The RHD authorities, however, did not accept poor construction work as one of the main reasons behind it. They have blamed lack of budgetary allocation, along with overloading and waterlogging, for this condition.
SURVEY FINDINGS
According to the RHD, there are 22,428km of national and regional highways and district roads under the department across the country.
The RHD carries out the survey every year to project the total maintenance costs for its road network and also to prioritise the roads for maintenance, as it does not get enough allocation.
The latest survey was conducted between November last year and March this year.
According to the report, released on the RHD website on Sunday, a total of 18,473.67km (82.36 percent) of road was surveyed this year. The survey excluded the roads under rehabilitation or reconstruction work.
The survey found some 1524.29km (8.25 percent) of the roads in "poor", 789.6km in "bad" and 691.83km in "very bad" conditions, totalling  3,006km.
The rest are in "good" or "fair" condition, according to the survey.
RHD officials classified the roads in five categories on the basis of roughness of roads, said a RHD engineer, who has knowledge of the survey.
Once a road is classified as very bad, the road needs immediate attention. While a bad road also needs attention and if not given, it would turn into a very bad one next year, he said.
If anyone travels on a "poor road", he or she would take relatively more time and get less comfort during travel, he added.
The previous survey report in July last year found some 3,590km (18.61 percent) of road was in "poor, bad or very bad" condition.
Total 4,247km (24.34 percent) road was found in the same condition in 2019's survey.
REASONS BEHIND POOR ROADS
Prominent transport expert Prof Shamsul Hoque said overloading, waterlogging, poor construction work and lack of timely maintenance are the main reasons behind the poor road condition.
He said the government, in a suicidal decision, was allowing overloaded trucks that were destroying roads long before the service life.
He said a two-axle truck is supposed to carry 16 tonnes, but the government is permitting it to carry 22 tonnes. Similarly, larger truckers are carrying more load against the approved load capacity set by the manufacture.
Prof Shamsul said most of the roads do not have proper drainage system, causing waterlogging which damages roads.
Poor construction work and lack of timely maintenance are also major reasons, he said, adding that, "RHD men do not actually maintain roads; rather they rehabilitate roads after roads are damaged."
Contacted, RHD's Chief Engineer Abdus Sabur, however, blamed inadequate budgetary allocation for poor condition of roads.
"We don't get our required amount of money for road maintenance. However, we try to maintain roads with the limited allocation," he told The Daily Star last night.
The budgetary allocation was Tk 2,645 crore in the outgoing fiscal year, against RHD's demand of Tk 14,622, shows RHD document.
He also admitted that overloading and lack of proper drainage system in some cases for bad condition of roads. He, however, turned down poor road construction work as a reason for this.