Hefajat mayhem in Brahmanbaria: 5 more arrested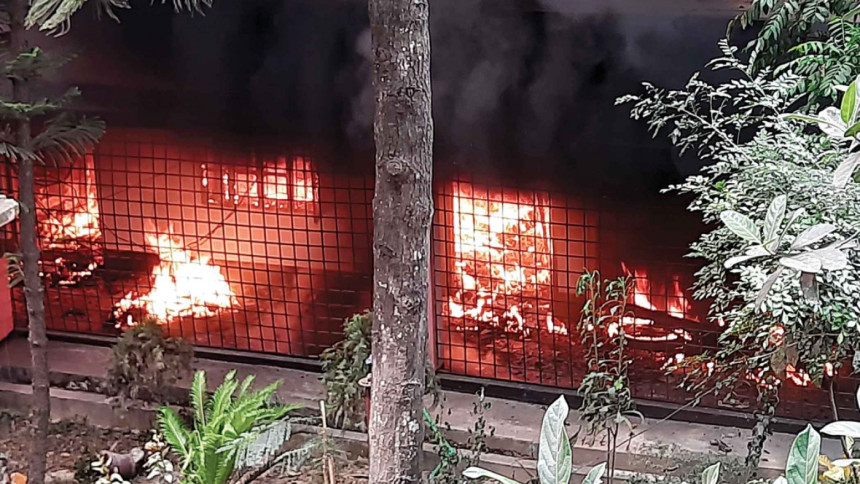 Police have arrested five more people in the last 24 hours from different parts of Brahmanbaria in connection with the violence and arson carried out by Hefajat-e-Islam activists last month.
With the latest arrests, the total number of arrestees over the mayhem now stands at 394.
They were arrested during raids in different areas from yesterday morning to this morning, according to a media statement issued by the Special Branch of Brahmanbaria police.
Md Roish Uddin, additional superintendent of police in Brahmanbaria, told The Daily Star that 56 cases have been lodged so far over the incident. Of these, 49 were filed with Sadar Police Station, four with Ashuganj Police Station, two with Sarail Police Station, and one with Akhaura Railway Police Station.
Some 414 people have been named and more than 39,000 unknown people were made accused in these cases, our local correspondent reports.
On March 26, Hefajat activists vandalised and torched Brahmanbaria railway station, halting Dhaka's railway links with Chattogram and Sylhet. The demonstrators first set fire to the control panel of the station and torched seven rooms of the railway station.
On March 27, at least five people were killed and around 50 others, including 25 policemen, were injured in clashes between members of law enforcement agencies and locals during Hefajat demonstrations at Nandanpur in Sadar upazila. They were demonstrating against Indian Prime Minister Narendra Modi's visit to Bangladesh.
The next day, during a countrywide dawn-to-dusk general strike, Hefazat activists vandalised and set fire to Brahmanbaria Sadar land office, Sur Samrat Ustad Alauddin Music Academy, Government Public Library, Zila Parishad building, municipal building, Police Lines, Khatihata Highway Police Station, Industrial School and Shilpakola Academy.