Hefajat leader Mamunul arrested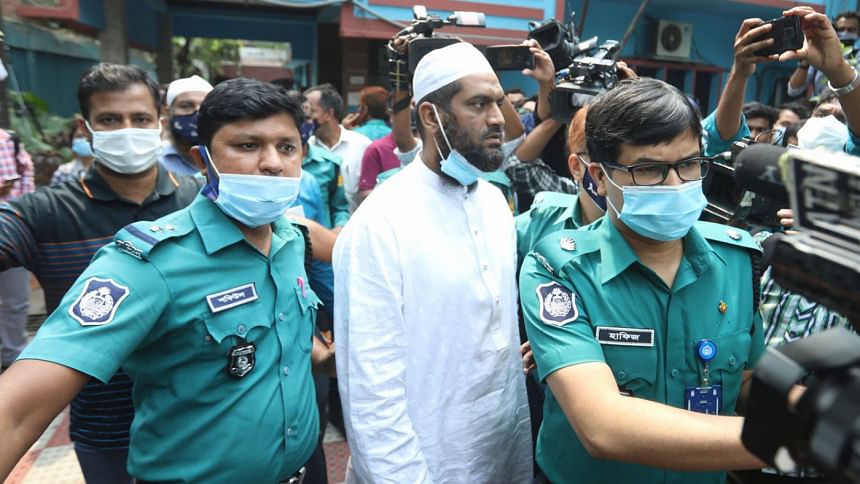 Joint Secretary General of Hefajat-e-Islam Mamunul Haque was arrested from a madrasa in Dhaka's Mohammadpur area around 12pm today.
Mrityunjoy Dey Sajal, additional deputy commissioner of DMP's Tejgaon division (Mohammadpur Zone) confirmed the development.
He was arrested in a case filed against him and 16 others with Paltan Model Police Station on April 6, said Mahbub Alam, joint commissioner of Detective Branch of Police under DMP.
Khandaker Arif-uz-Zaman, a businessman of Wari area and also the deputy office secretary of Dhaka South Jubo League, lodged the case for allegedly torching vehicles, vandalising shops and looting valuables near the Baitul Mukarram National Mosque during Hefajat's demonstrations on March 26, according to police.
Mamunul is also an accused in a case filed in connection with the 2013 mayhem in Dhaka, Joint Commissioner Mahbub Alam said.
Harun-or-Rashid, deputy commissioner of Tejgaon Division Police, said, "We are investigating a case filed with Mohammadpur Police Station in 2020 following vandalism by Hefajat. We found evidence that Mamunul was involved in the incident."
The DC said that Mamunul was under watch following recent attacks across the country by Hefajat men.
Mamunul gave inciting speech during Hefajat's mayhem in 2013. At several programmes recently, he also instigated people, who attacked police stations, police outposts and other establishment across the country, the DC said while replying to a query at his office.
Mamunul will be produced before the court tomorrow.
Asked whether police will seek remand for him, the DC said that they will first consult with senior officers in this regard and take all legal measures.