3 killed in Hefajat-police clashes in Brahmanbaria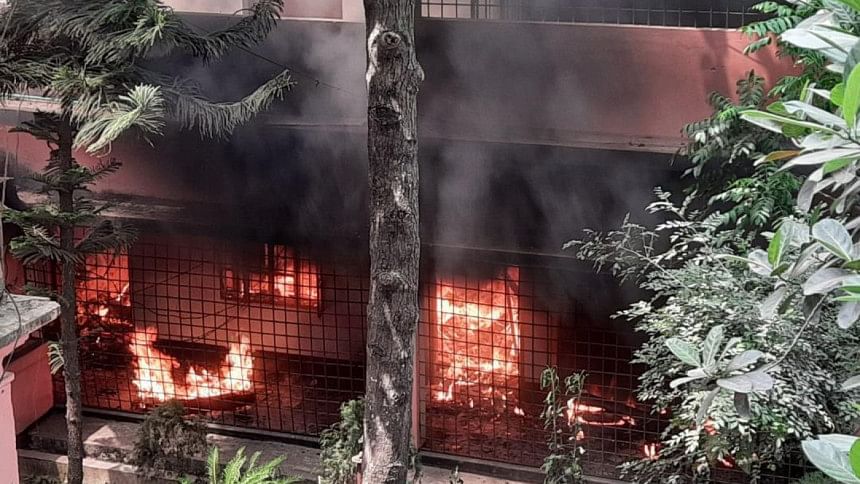 Three people were killed in two separate clashes between Hefajat-e-Islam activists and police in Sarail upazila and Brahmanbaria district town today.
Police and witnesses said Hefajat supporters vandalised Khantihata Highway Police Station at Sarail Bishwa Road intersection on the Dhaka-Sylhet highway around 11:45am.
At one point, members of the law enforcement opened fire as the agitating Hefajat activists set the police station on fire, reports our correspondent quoting witnesses and police.
At least two people sustained bullet wounds during the clash, they said.
Syed Ariful Islam, a doctor on duty at the emergency department of Brahmanbaria General Hospital, said that two people died after they were brought to the hospital with bullet wounds.
The bodies were taken home by their relatives, he added.
Anisur Rahman, senior assistant superintendent of police at Sarail Circle in Brahmanbaria, said several policemen were injured in the attack on the highway police station.
Details are yet to be known, he added.
The deceased have been identified as Hadis Mia alias Kalon Mia (23), of Khantihata village under Budhal union of Brahmanbaria Sadar upazila, and Al Amin (20), of Kuttapara village under Sarail upazila.
After the incident, thousands of madrasa students and others were seen holding sticks at ​​Sarail Bishwa Road intersection, Kuttapara intersection, Bariura, Shahbazpur, Bertala and Uchaliapara intersections on Sarail-Nasirnagar-Lakhai regional highway.
Vehicular movement was suspended as Hefajat men blocked those roads with tree trunks, electric poles, plants and burning tyres.
Meanwhile, an unidentified man was killed in another clash between police and Hefajat activists in Police Line area of the district town this noon.
Around 1:00pm, a group of the Hefajat supporters suddenly attacked Brahmanbaria district police line and threw brick chips at policemen, said witnesses.
At one stage, police opened fire at the agitating Hefajat activists to protect themselves, leaving the unidentified man injured.
He was taken to the Brahmanbaria General Hospital, added our correspondent quoting witnesses and police.
Syed Ariful Islam, an on-duty officer of the hospital emergency unit, told our correspondent that an unidentified man, who suffered bullet injuries, was declared dead after he was taken to the hospital.