64 Bangladeshi migrants agree to return home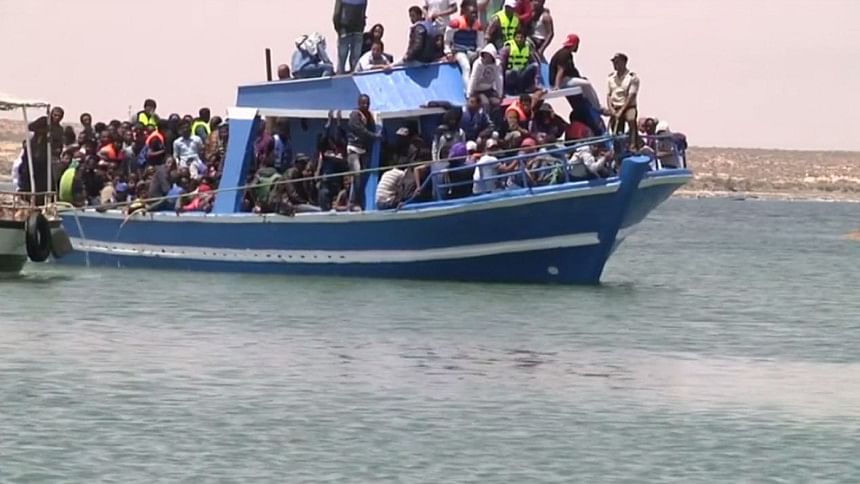 The 64 Bangladeshi migrants stranded on Mediterranean Sea have agreed to return home, Chiranjib Sarker, director general (DG) of the consular wing at the Ministry of Foreign Affairs said today.
The Bangladesh Ambassador to Libya, Sheikh Sekander Ali convinced them to come back to Bangladesh after he made a journey around 10 kilometres off the Tunisian coast of Zarzis, to the Egyptian boat that rescued the migrants, Chiranjib told The Daily Star over phone.
"The Bangladeshi migrants will be brought to the Tunisian land first, and will be flown to Bangladesh subsequently," the foreign affairs ministry official said.
The International Organization for Migration (IOM) will provide the air tickets for the individuals after the logistics are fixed, Chiranjib added.
Sekander flew from Libya to Tunisia last Thursday and held a meeting with Tunisian officials the next day. The officials refused to allow the migrant boat to come to its shore, arguing that their migrant centres were overcrowded.
However, they allowed the Bangladesh ambassador to go to the boat.
The migrants were rescued by an Egyptian boat on Tunisian waters on May 31. Neither Tunisia nor any European country agreed to accept them.
Meanwhile, the Tunisian Red Crescent has been providing them food and medicine since then.
Earlier, the migrants were not willing to return to Tunisia. Instead, they wanted to go to Europe -- a proposition that's not possible given Europe's strong stance against illegal migration, which has seen a sharp rise since Libya plunged into civil war after the ouster of Muammar Gaddafi in 2011.