Almost 82 percent of the lawmakers for the 11th parliament have assets worth more than Tk 1 crore, civil society platform Shushashoner Jonno Nagorik (Shujan) said in a report yesterday.
Of those MPs, 32 percent have assets worth more than Tk 5 crore, according to the report unveiled at the Dhaka Reporters Unity in the capital.
According to finance ministry sources, only 0.06 percent of the total population of Bangladesh was valued at more than Tk 1 crore in 2016.     
"The wealthier candidates were elected," Dilip Kumar Sarkar, Shujan's central coordinator, said while presenting the report.
In terms of income, 27 percent of the MPs have an income of over Tk 1 crore, 18 percent between Tk 50 lakh and 1 crore, 29 percent between Tk 25 lakh and 50 lakh and 17 percent between Tk 5 lakh and Tk 25 lakh.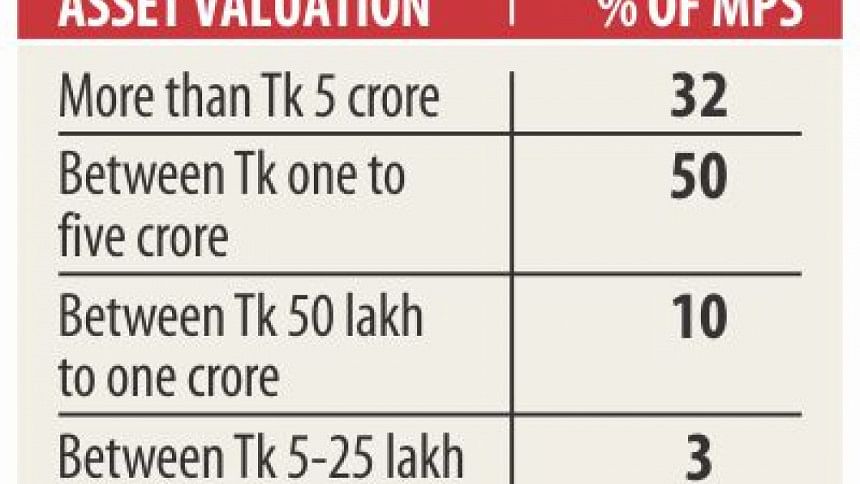 Only five percent of the lawmakers had an income between Tk 2 and Tk 5 lakh while 1.34 percent of them had an income of less than Tk 2 lakh.
The report also mentioned that 1.34 percent of the MPs had not submitted their wealth statements in their affidavits.
It further showed that 61 percent of the next parliament is made up of businessmen and their number in the Jatiya Sangsad was increasing.
Additionally, 13 percent are lawyers, five percent servicemen, four percent farmers and the rest belonged to different professions.
It is a dangerous sign that the county's politics is going into the hands of businessmen and wealthy people, Shujan Secretary Badiul Alam Majumdar said at the programme.
Political analysts have said the major political parties' dependency on businessmen had effectively turned the politics into a business.
Lawyers, businessmen and farmers were the three most common occupations of the lawmakers elected to the country's first parliament in 1973.
Of the MPs in that parliament, 31 percent were lawyers and only 18 percent were businessmen.
However, in the fifth parliament, constituted through the election of 1991, businessmen outnumbered lawyers, with 38 percent being businessmen and 15 percent lawyers.
After the 2008 polls, 57 percent of the lawmakers elected were businessmen, which rose to 59 percent by 2014.
On a more positive note, Badiul Alam said it was a good sign that educated and taxpaying citizens were being elected as MPs.
The Shujan report shows that 43 percent of the new MPs hold post graduate degrees, 38 percent hold graduate degrees, 12 percent have passed the HSC exams and three percent were SSC graduates.
Only four percent did not pass the SSC exam.
It also said that seven percent of the lawmakers were now facing at least one case, while 45 percent had cases filed against them in the past.