A tale of turkeys
Tangail man's success in novel poultry industry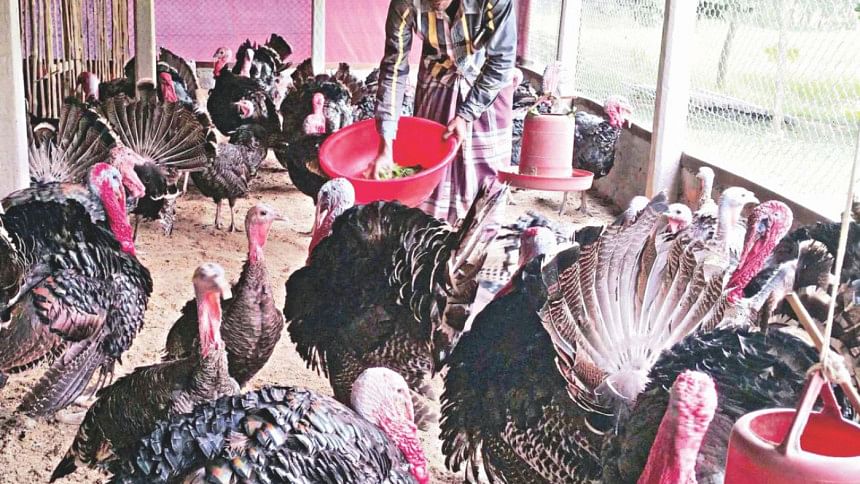 When North Americans celebrate Thanksgiving, of all the festival dishes none is more significant than roast turkey. In the United Kingdom and elsewhere, turkey is the most traditional fare for Christmas dinner. There is something in its rich but delicate flavour that befits celebration. But in Bangladesh this largest of poultry retains novelty. Turkey farming is yet a nascent industry.
Farmer's son Md Alauddin, now 44, from Tangail, first left for Singapore to seek his fortune in 1991, when he was just 18. While in the city-state he first heard of turkeys. "Since childhood I loved birds," he recalls, "so when I saw television news reports of turkey farming I started to dream of establishing a turkey farm at our house."
In 2015, partly disillusioned with the results of years of hard labour in the construction industry, Alauddin made the decision to return home, to Paschim Boali village in Sakhipur upazila. 
"I used my savings to construct a shed on 20 decimals adjacent to our house," he says. "I bought 200 turkey chicks in Sylhet, through the owner of a farm in Dhaka."
Within 18 months, Alauddin's turkey flock had doubled in number, with most birds aged between five days and six months.
"Around 100 of them are layers," he says. "From their eggs I breed more chicks. Turkeys grow fast; they like to eat green vegetables including cabbage, varieties of spinach and hyacinth. I also give them poultry feed to increase their weight."
Native to the Americas, a one-year-old turkey can weigh up to 15 kilograms. The male is larger and more colourful than the female. Turkey meat has high protein value with a lower fat content than other poultry. As long as the meat is not overcooked and dry, the flavour is a little stronger and creamier than chicken. 
"Turkeys can adapt to almost all environments," says Alauddin, "and the Bangladeshi climate is certainly favourable."
Without an established market for the bird, he currently sells most of his turkeys to another farmer in Dhaka. He also sells turkeys to various restaurants. "The eggs and chicks I can sell to other small landholder farmers too," he says.
At the current time, Alauddin is able to sell each kilogram of turkey meat for Tk 600, while four eggs will fetch a similar amount. A pair of one-month-old chicks will sell for Tk 1,500 while at the age of six months a pair can sell for Tk 8,000.
"Turkey farming is easy and profitable," says the upazila agriculture officer in Sakhipur, Oakil Uddin. "Production costs are low and turkeys are hardy birds, with low susceptibility to disease. Many unemployed people in this area are showing great interest in Alauddin's farm."
Yet despite an increasing demand for turkey meat, the industry is growing slowly, in particular due to the lack of established markets and loan facilities. "I went to the bank for a loan to expand my farm," says Alauddin, "I was really surprised at the long list of conditions they impose."
Nonetheless Alauddin is pleased with his farm, with which he supports his wife, two school-going sons and his parents. He also farms guinea fowl, pigeons, cattle, fish and various crops.