Pay hike for judges
Effective from July last year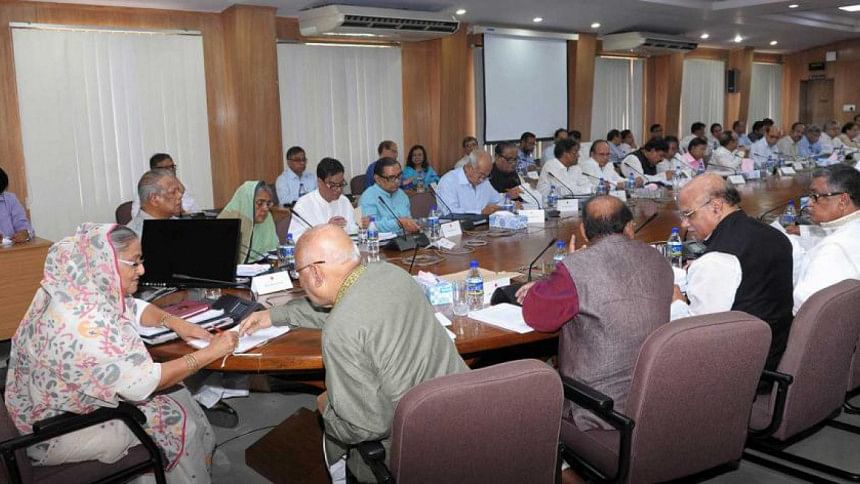 The cabinet yesterday approved a proposal to increase the salaries of judges in line with the Eighth National Pay Scale.
The salary hike will be effective from July 1, 2015, while the increased allowances and other benefits from July 1 this year, said Cabinet Secretary Mohammad Shafiul Alam at the secretariat after the cabinet meeting, chaired by Prime Minister Sheikh Hasina.
According to the new pay scale, the salary of a senior district judge will be Tk 78,000 (fixed), which is equivalent to that of a secretary. In 2009, their salary was Tk 40,000.
District judges' salary will be Tk 70,925 to 76,350. It was Tk 36,000-39,600 in the last pay scale.
Besides, additional sessions judges will get between Tk 62,350 and 75,880, up from Tk 32,000-37,000. Salary of joint district and sessions judges will be Tk 54,370 to 74,460, up from Tk 28,000 to 37,000.
Salary of senior assistant judges and those who are in equivalent rank was Tk 23,000-34,200 under the pay scale of 2009. Now they will draw Tk 44,450 to 72,210.
Salary of assistant judges will be Tk 30,935 to 64,430 against the previous salary of between Tk 16,000 and 25,600.
The cabinet secretary said the pay scale for the judicial service members has been fixed, bringing little changes in the recommendations by the national pay commission.
He said the judges' salaries were hiked proportionately with what they has been awarded in the pay scale of 2009.
The secretary added that their pension facilities had gone up from 80 percent to 90 percent. 
The cabinet also gave the nod to the drafts of Tree Conservation Act-2016 and Tea Act-2016.
The main objective of the Tree Conservation Act is to conserve the century-old trees, said the cabinet secretary.
The new law proposed conservation of the old trees in the reserve forests and other forests of the country in the interest of environment protection, he added.