Two ships collide at Ctg port
Operations in port channel stopped for 2.5 hours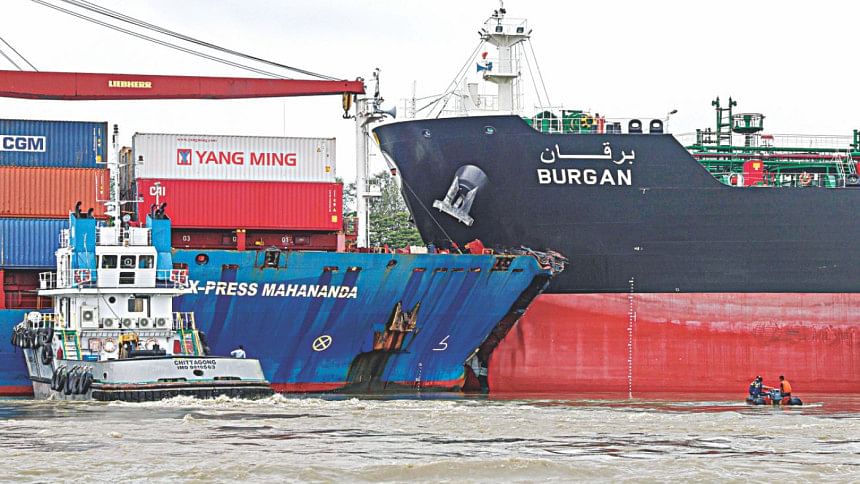 Vessel operations on Chattogram Port channel remained suspended for two and a half hours yesterday following a tanker-container ship collision.
However, none was hurt.
A three-member committee was formed to investigate the incident with Deputy Conservator of Chattogram Port Authority (CPA) Capt Faridul Alam as head, and asked to submit the report within three working days.
Talking to The Daily Star, Capt Alam said the Kharnaphuli channel, the country's main export-import gateway, could collapse if it were a major accident and one of the vessels caught fire, sank or ran aground.
The accident occurred around 8:24am when an empty oil tanker, MT Burgan, was sailing off the port and container vessel Express Mahananda was coming from the opposite direction, said CPA Secretary Md Omar Faruk.
Another vessel, Shakti Sanchar, which carries equipment for construction of Patenga Container Terminal, was also leaving the port at the time without prior information, he said. The container vessel ended up ramming the tanker head-on, while trying leave space for Shakti Sanchar to pass, he added.
Capt Alam said, "Our pilots in both the foreign vessels, who were engaged in guiding them through the channel, repeatedly gave instructions to the master of the equipment-carrying ship to keep a safe distance but he was not responsive."
The S-shaped channel is only 280-metre wide and does not leave much space for a third vessel to pass. Moreover, the incident took place at Gupta Bend, where the channel has an almost 180-degree curve, the official said.
Six CPA tug boats, ambulance ships, and rescue ships rushed in and cleared the channel for navigation by 11:00am.
Capt Alam said the two foreign vessels were stuck with each other, and the CPA marine department team had difficulty bringing them apart.
Though the channel was cleared within less than three hours, no vessel could use it immediately because the morning high tide was gone by then, he said.
Vessel operations resumed during the evening tide.
Ships need to cross the port channel because Chattogram Port is located in the Karnaphuli estuary, 16km from the outer anchorage in the sea.