Sangram office vandalised
Police take editor into safe custody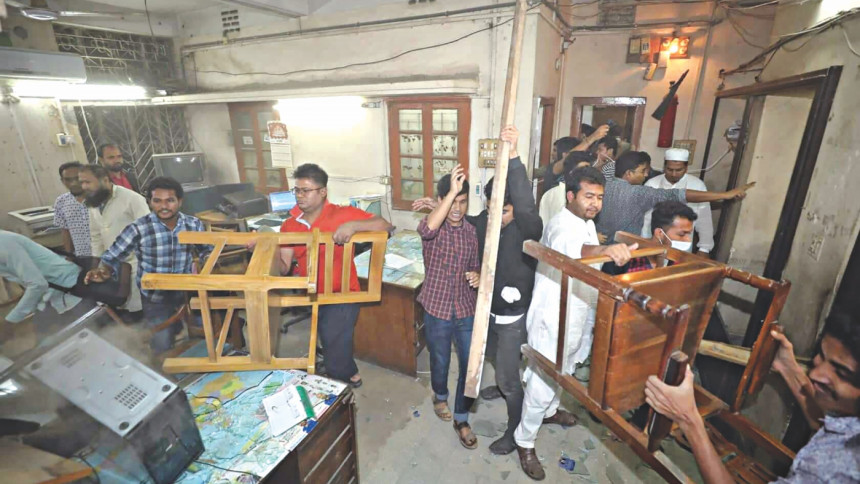 A mob yesterday vandalised the office of The Daily Sangram in the capital's Boro Moghbazar over running a report which termed executed war criminal Abdul Quader Molla a "martyr".
Police took its Editor Abul Asad into safe custody, said Sub-Inspector Tamij Uddin of Hatirjheel police station.
Quader Molla, former assistant secretary general of Jamaat-e-Islami, was hanged at the old Dhaka central jail in 2013 in a case over committing crimes against humanity during the Liberation War.
On Thursday, the newspaper ran a report under the headline "Today is the sixth martyrdom anniversary of Shaheed Abdul Quader Molla".
Angered by the report, Muktijuddho Mancha announced that it would lay seize to the newspaper office at 5:00pm yesterday.
In the afternoon, they staged the protest and issued a 24-hour ultimatum to the government to shut down the newspaper and arrest those who were involved in running the report.
Speaking to this correspondent on condition of anonymity, a staff of the Bangla daily alleged that some 50 members of Muktijuddho Mancha vandalised the newspaper office and padlocked its main gate during the protest.
However, Muktijuddho Mancha leaders denied the allegations.
Mohammad Al Mamun, general secretary of the platform, said Quader Molla was a notorious Razakar and he was hanged through a legal process for committing crimes against humanity.
"How could they [the newspaper] term him a martyr?" he questioned.