RMG workers take to streets demanding pay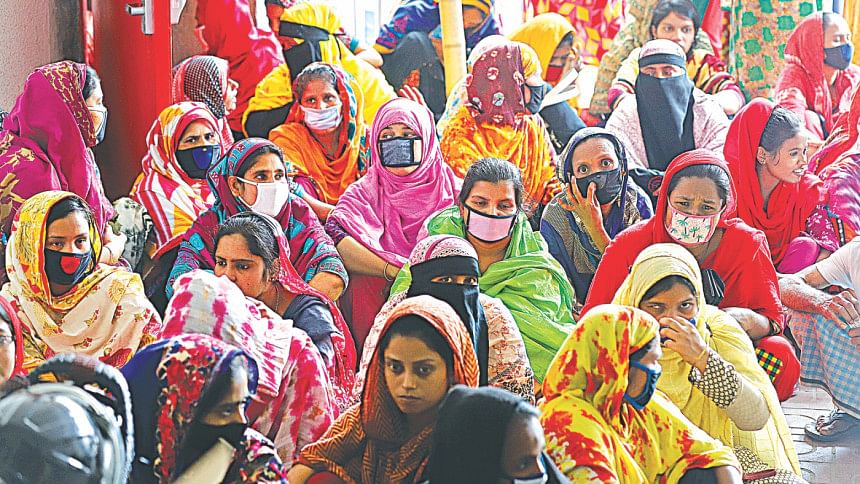 Hundreds of readymade garment factory workers in Savar, Narayanganj and Gazipur took to the streets yesterday demanding wages of the previous month and arrears.
In Savar, hundreds of workers of at least 11 factories demonstrated in front factories in Hemayetpur, Olail, Fulbaria, Rajason and different areas of Ashulia since morning.
Later, many of them stopped the agitation after the authorities of some of the factories assured them of payment of wages within a short time, said Khairul Mamun Mintu, organising secretary of Garment Workers Trade Union Kendra.
The workers were forced to take to the streets amid the countrywide shutdown as some of the garment workers were not paid their wages for the last month, which is supposed to be cleared by the 10th day of the following month, he added.
Many workers are in wretched condition as they are neither getting food assistance nor their wages, the workers' leader said.
The workers agitated in front of some of the garment factories demanding wages, said inspector Javed Masud of Ashulia Police Station.
"The managers of some of the smaller factories have gone into hiding, but we are looking into the matter", he said.
Our Savar correspondent could not reach the superintendent of police (SP) and ASP of Industrial Police-1 at their mobile phones.
In Narayanganj, the workers of Abloom Knit Design Limited staged a demonstration from morning till 2:00pm yesterday, protesting unpaid wages.
The workers started the agitation after they came to the factory in the morning to receive their wages but found the gate locked, the workers said.
They were supposed to be paid yesterday, they said.
"We have been put under hardship as we have no money to pay house rent, for groceries due and there is no food in our houses, said Bokul Mia, a worker of the factory.
MA Shaheen, president of Garment Workers Trade Union Kendra, said they could not contact the owners of the factory.
However, they asked the workers to go back to their homes and be patient until April 16, the date fixed by the government to pay the wages of garment workers.
Meanwhile, workers of Fakir Knitwear demonstrated from morning till afternoon, protesting the sacking of workers.
The factory authorities took their ID cards and signatures while paying the wages, sparking protest among the workers, said Ainul Haque, assistant superintendent of Industrial Police-4 in Narayanganj.
Tensions cooled down after the authorities returned their ID cards and withdrew the decision to sack them, he said.
In Gazipur, hundreds of workers of East West Group, Newway Fashion and Florent Garments Ltd barricaded the Dhaka- Mymensingh road, demanding three months' arrears.
They dispersed around 10:00am, one hour after the agitation started when the authorities of those factories assured the payment of arrears on April 16.
( Our correspondent from Savar, Narayanganj and Gazipur contributed to the report)