Pilot Without Passport: Immigration SI suspended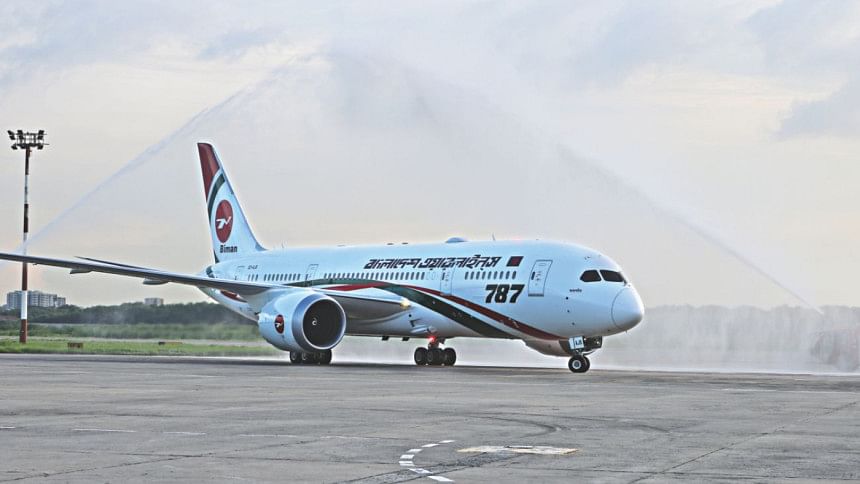 An immigration official has been suspended for negligence in duty as a Biman Bangladesh pilot crossed the immigration of Hazrat Shahjalal International Airport without his passport on June 5.
The official is Sub-inspector Kamruzzaman, Additional Superintendent of Police (immigration) Mohammed Ismail Hossain told The Daily Star yesterday.
"He [the SI] should have checked the passport of Biman pilot Capt Fazal Mahmud before giving him immigration clearance," Ismail said.
Fazal was the lead pilot of Doha-bound Dreamliner 787-8 (Flight number BG-125) that took off from the airport around 4:30pm that day. He was supposed to fly an aircraft that would carry Prime Minister Sheikh Hasina back to the country.
However, Fazal was detained at Hamad International Airport in Doha by the immigration authorities for not carrying his passport, according to the cabinet division.
Hasina returned home yesterday following her tri-nation visit, including to Finland and Saudi Arabia.
"The immigration official [in Dhaka] had asked the pilot to show his passport. In response, the pilot said his passport was in his luggage. Since he was a senior pilot and operated flights regularly, the official gave him clearance after checking his general declaration," Ismail said.
"Usually, immigration procedures of pilots are completed with their general declaration [GD-Crew ID], and the passports are checked for proof as part of the procedures," he said.
"However, both the persons should be held responsible in this case," he added.
As per the rules of the International Civil Aviation Organisation (ICAO), pilots carry copies of general declaration while operating international flights. They also have to keep their passports with them.
Home Minister Asaduzzaman Khan Kamal yesterday said they came to know that the pilot did not carry his passport by mistake.
But he should not have made such a mistake as it was a prime minister's flight, he told reporters at the Rab headquarters in the capital.
Kamal said immigration police also should have checked his passport. "We are investigating the incident. We will know the details following completion of the investigation," he added.
Meanwhile, the Biman Bangladesh Airlines and the cabinet division yesterday issued contradictory statements on whether the pilot was detained in Qatar.
The national flag carrier in a statement said Capt Fazal, who flew a 787 Dreamliner to Qatar on Wednesday from Dhaka, was neither detained nor arrested.
The cabinet division, however, in a gazette mentioned that Capt Fazal was detained at Hamad International Airport in Doha by the immigration authorities for not carrying his passport.
On Friday, the cabinet division and the home ministry formed two separate probe bodies to investigate the incident.