Education Budget: Yawning digital gap glossed over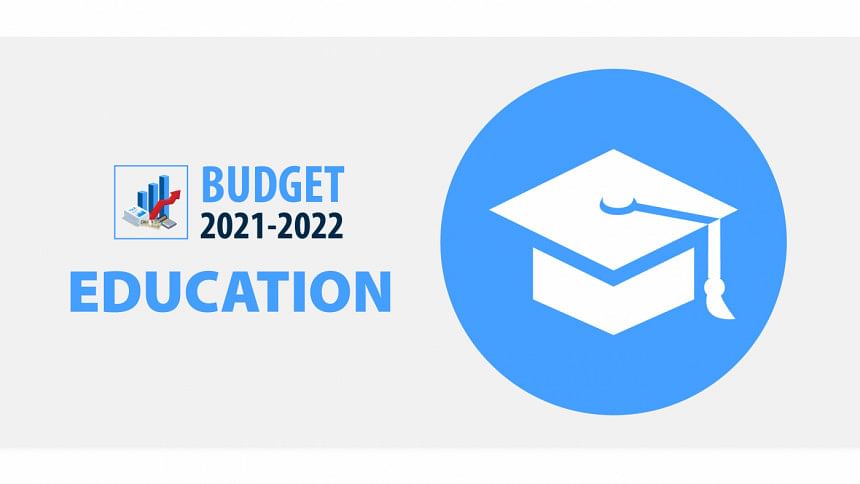 Amidst a clamour to ensure digitalisation of all educational institutions and to get digital devices in the hands of all students, yesterday's proposed budget for a Covid-battered education sector appeared to have glossed over those needs.
The allocation for the education sector in the proposed budget for the 2021-22 fiscal year remains almost unchanged in terms of size and percentage of gross domestic product (GDP) compared to the current budget.
With traditional classroom learning coming to a complete halt since March 17, 2020 due to the pandemic, the government and the educational institutions took measures like introducing TV and online education to make up for educational losses.
These efforts have achieved more success in urban areas but a lack of digital devices and poor internet connectivity disrupted the learning process of a large number of rural students.
In a memorandum submitted to Finance Minister AHM Mustafa Kamal on May 24, Campaign for Popular Education (CAMPE) demanded that digital devices be ensured for each mainstream primary and secondary students.
"There is a severe digital divide between urban and rural students. In our country, many things remain in slogans only. But we could not see the implementation," Founder-director of Institute of Educational Development of Brac University Prof Manzoor Ahmed said.
He added that an increased education budget this year is badly needed to face the threats that the Covid-19 pandemic poses to the education sector.
Finance Minister AHM Mustafa Kamal allocated a total of Tk 71,951 crore to the education sector for the 2020-21 fiscal -- Tk 26,311 crore for the primary and mass education ministry, Tk 36,486 crore for secondary and higher education division and Tk 9,154 crore for technical and madrasa education division.
The amount makes up 11.91 percent of the total outlay and its share in the GDP stands at 2.08 percent.
In the current budget, the allocation for the education sector is Tk 66,400 crore, which makes up 11.69 percent of the total outlay and its share in the GDP stands at 2.09 percent, according to budget documents.
Kamal in his budget speech at parliament yesterday said since the onset of the pandemic, the government has taken various steps to keep students involved in academic activities.
To maintain the continuity of the course curriculum, classes on important subjects have been launched through Bangladesh Television and teaching activities have been continuing online, and through Bangladesh Betar and Community Radio.
"We will give the highest priority to ensure the continuity in teaching activities by restoring normalcy in the academic environment," he told parliament.
Kamal said the government will give priority to launching the "internship programme" in both public and private sectors ensure that new graduates can easily get jobs in their respective fields.
DIGITAL DIVIDE
The finance minister proposed the budget at a time when many students from rural and poor families are not able to access the distance learning adopted by schools due to the pandemic, said academics.
Nazmul Haider, head teacher of Dharmapasha Govt Primary School in Sunamganj, said in class 5 there are 80 students but only 14 were able to attend online classes.
Parents of the other students do not have the capability to buy smartphones. Moreover, teachers were not equipped or trained to take online classes.
"In the budget, the government should properly address these matters," he said.
Only 44 percent of the children aged between five and 11 in rural areas have a TV at home. In urban areas, it is 75 percent, according to the government's Covid-19 Response Plan for Education Sector, prepared in May 2020.
In the richest and poorest quintiles, just six percent and 90 percent of children have a TV at home, it said.
Similarly, only three percent of children in rural areas and close to none from the poorest quintile have a computer at home, it said.
Only 30 percent of children aged five to 11 in rural areas have internet access and just seven percent in the poorest wealth quintile -- generally through mobile phones.
Ninety-two percent of that age group in the poorest quintile do have a mobile phone at home, but these are generally low-cost feature phones, which may have internet connectivity but with limited capabilities, according to the Covid-19 Response Plan.
A report in March this year of Groupe Special Mobile Association, which represents mobile operators worldwide, said 41 percent of mobile phone users had smartphones in Bangladesh.
"Reaching children in rural areas and especially the poorest household requires special consideration and alternative delivery mechanisms," says the response plan.
It added that when schools reopen, children from remote areas and disadvantaged children -- including those from households which cannot afford such modern and costly facilities -- will find themselves even further behind their peers.
Prof Siddiqur Rahman, a former director of the Institute of Education and Research at Dhaka University said rural students also lag behind their urban counterparts in public exams, and the Covid-19 pandemic will aggravate the problem.
"To make up for losses of education, there should be short-term and long-term planning. In another case, we should also focus on mental health issues of students. We will have to get digital devices and internet connection to all. For all these, an increased education budget was a must," said Siddiqur, also a member of the 2010 education policy framing committee.
Siddiqur also said most teachers were not habituated to conducting digital classes. So, there should be focus on increasing their capacities to take online classes and that will also need more allocation for the education sector in the budget.
Against this backdrop, price of computers and IT accessories has shot up 20 percent in the last 14 months as pandemic-induced restrictions prompted educational institutions and businesses to heighten focus on home-based schooling and work, said importers and businesspeople.
Importer Muzahid Al Beruni Suzon, general manager at Smart Technologies (BD), said they used to sell a Core i3 laptop for Tk 40,000-Tk 42,000. Now it is being sold at Tk 47,000 to Tk 48,000.
The price of laptop hard disks, random access memory (RAM) sticks, routers, motherboards, and processors has increased, said Mahfizur Rahman, in-charge of Ryans Computers at Multiplan Center on Elephant Road.
Kamal in his budget speech proposed to offer tax exemption  to providers of cloud services, system integration, e-learning platforms, e-book publications, mobile application development services and IT freelancing until 2024.
He also proposed VAT exemptions on local manufacturing of laptops, desktops, notebooks, notepads, tabs, keyboards and other accessories.
Many teachers as well as CAMPE called for providing stimulus packages for teachers who are not under monthly pay orders (MPOs) as they were not getting the full salaries regularly. School authorities said they could not pay salaries as they are quickly running out of funds and that they desperately need the money to continue disbursing salaries to teachers and other staff.
In the proposed budget, Kamal did not say anything about the matter.