Have faith in you
Tulip shares her experience to inspire female students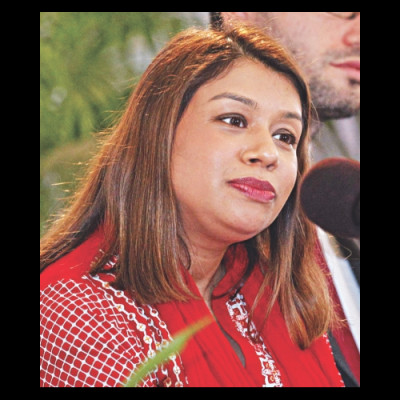 A hall room of Scholastica was abuzz with excitement as students were waiting yesterday to meet Bangladesh-origin British lawmaker Tulip Siddiq, a former student of the school.
More than 200 female students from nine schools gathered there to hear from her.
Then with a big smile on her face, Tulip, granddaughter of Bangabandhu Sheikh Mujibur Rahman, walked in. She shared with them her thoughts and advised them on how they should pursue the career of their choice. 
The event titled "Inspiring Women", first of its kind in Bangladesh, was hosted by the private school in Dhaka, and supported by Tulip and her husband Christian Percy.
Modelled on a long-running campaign in the UK, the programme brought together some successful women from different sectors to talk to the female students to broaden their horizons and inspire them.
"I knew it from my childhood that I would join politics, become an MP. But you need not do politics.
"Do whatever you like to do. Be focused on your career and study the subject you like," Tulip said.
In the UK, Inspiring Women campaign is part of the broader "Inspiring the Future" service that aims to empower schools to coordinate volunteering opportunities for boys and girls of all ages and backgrounds.
The campaign reaches out to students of different countries and holds discussions with young girls about career, aspirations and choice, Tulip said.
In Bangladesh, the prime minister, Speaker of the parliament, and opposition leader of the House are all women, but Britain has men in all those positions, she said, telling the female students that they too could become one of them in Bangladesh. 
"For that you have to have faith in you," said Tulip, a niece of Prime Minister Sheikh Hasina.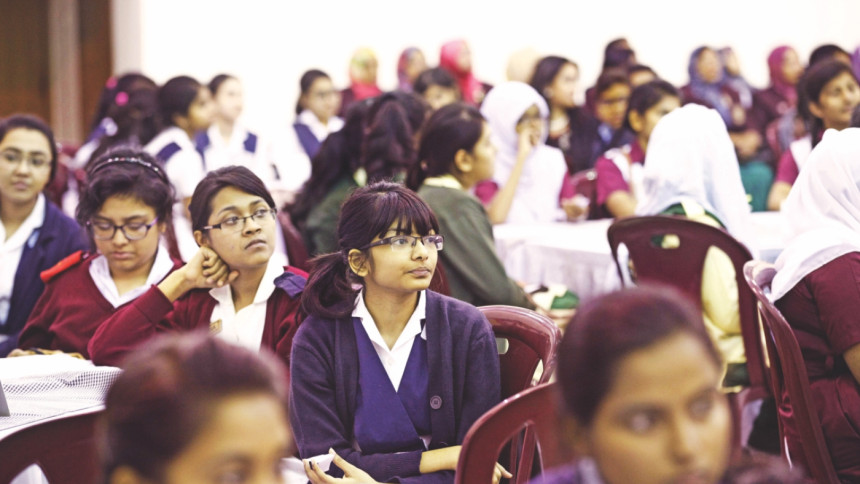 After the brief speech, she attended a press conference accompanied by her husband and Madiha Murshed, managing director of Scholastica.
Asked if she wants to do politics in Bangladesh, she said, "It is not possible to say what will happen in future and whether I'll return. I have become a lawmaker a few months ago and let's see what I'll do."
Then she added, "If you want to help, you can do that from anywhere in the world. I can help Bangladesh from Britain."
Regarding child marriage in Bangladesh, the British MP said enforcement of relevant laws was necessary to stop it. "Our country will not develop much unless we educate our girls."
Asked about her doing politics, Tulip said she had grown up hearing stories of her maternal grandfather, his work and the 1971 Liberation War.
Besides, she heard her mother and aunty talking about welfare of the people of Bangladesh.
"I do politics to help people," she said.
Dubbing her aunty Sheikh Hasina as her role model, she said the Speaker of the parliament and Wasfia Nazreen, the first Bangladeshi to climb seven summits in the world, were also inspiring women for her.
Tulip also shared the challenges she had faced during the elections in the UK in May.
Even some Bangalis in the UK had campaigned that if she won she would speak about the Awami League only, she said.
About the female leadership in Bangladesh, she said it did not matter to her whether a man was ruling the country or a woman.
"What is more important to me is whether the person loves the country, works for the poor and takes the country forward."
She said she envisaged a prosperous Bangladesh in future.
Bangladesh has already been known as an emerging economy, she said, adding, "I want Bangladesh to do better."