Bangladeshi youth wins Forbes award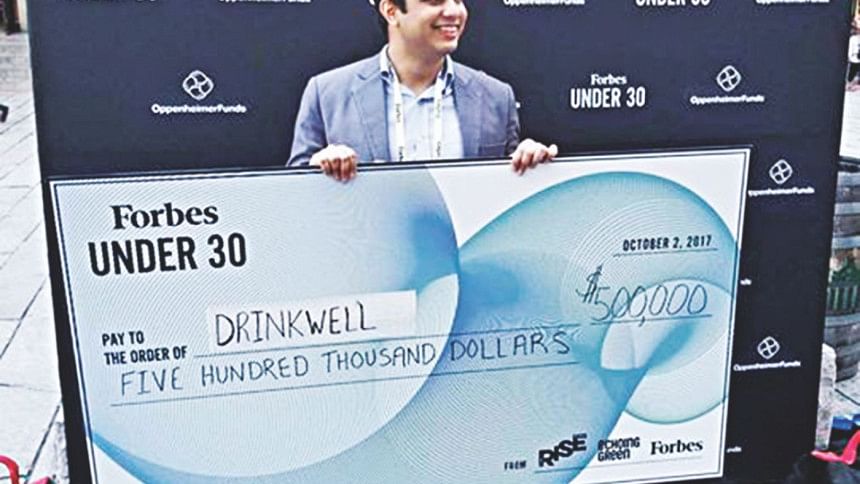 Bangladeshi youth icon and social entrepreneur Minhaj Chowdhury has won the first-ever "Under 30 Impact Challenge" at the Forbes Under 30 Summit in Boston in the US.
Minhaj, cofounder and CEO of Drinkwell, aspires to bring positive changes to the world and is doing just that, as his firm offers a lifeline to a quarter million people by providing them with more than a million litres of safe drinking water in Bangladesh and India, a region where drinking water supply is often contaminated with arsenic, fluoride and iron.
"Let me tell you about my day. Flew into Boston straight from Dhaka last night to participate in the Forbes Under 30 $500,000 Impact Challenge this morning while still jetlagged," he wrote in a Facebook post.
"20 minutes after the pitch I learn that WE WON! We'll be receiving a growth investment from TPG Rise Fund, a $2 billion fund co-managed by Bono of U2 whose funders include Richard Branson of the Virgin Group!
"What a way to start the next stage of growth for Drinkwell -- SO PROUD OF MY AMAZING TEAM!!!"
Drinkwell has also created employment for 500 people, and in 2015 Minhaj was selected in Forbes' 30 Under 30 list, Forbes said in a report on Monday.
Drinkwell is a market-leading water technology company operating in India and Bangladesh that is combating the arsenic, fluoride and iron water contamination in the region.
As the winner of the "Under 30 Impact Challenge", Minhaj's Drinkwell on Monday received a sum of $500,000 of which $250,000 is in investment from The Rise Fund, and $250,000 from Forbes as a media grant. It will also receive consulting from The Bridgespan Group, a non-profit which works with social entrepreneurs.
On the way to achieve the feat, Drinkwell faced some tough challenges as it contested with Chakr Innovation, an Indian firm which converts soot into ink and paint, thus making a significant impact in preventing air pollution, and Farmerline, an Amazon-like platform for farmers in Africa to boost their incomes by providing access to information, products and services, both online and offline, Forbes said in the report.
Cheryl Dorsey, president of Echoing Green, and Bill McGlashan, founder and managing partner of TPG Growth as well as founder and CEO of The Rise Fund, were judges for the competition.