India's Covid cases top 3.2m
Myanmar expands Rakhine virus lockdown to cover one million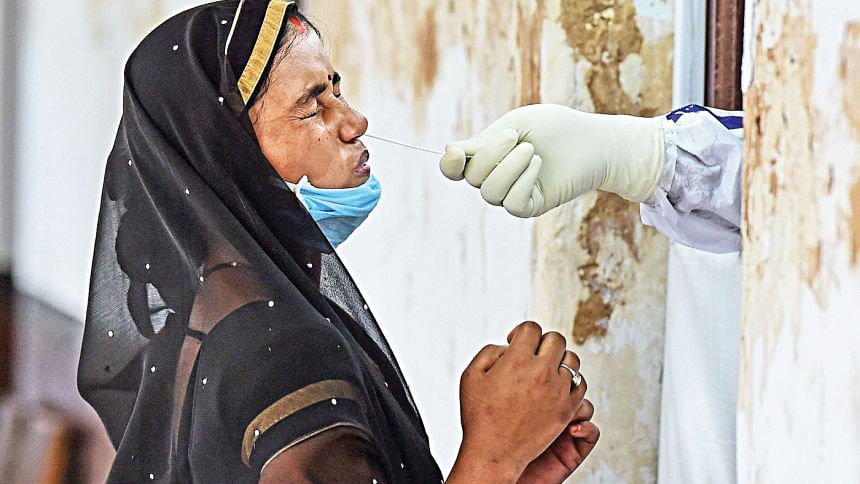 India recorded more than 60,000 cases of Covid-19 for the eighth day in a row yesterday, as total cases crossed 3.2 million, data from the federal health ministry showed.
The world's second-most populous country is third behind the United States and Brazil in terms of total caseload, and has recorded the world's highest single-day caseload consistently since August 7, a Reuters tally showed.
Deaths in the last 24 hours stood at 1,059, taking the total number of fatalities from the infection to 59,449 in the country.
West Bengal will be under total lockdown on September 7, 11 and 12 in view of rising number of coronavirus cases in many areas of the state, Chief Minister Mamata Banerjee said yesterday. Mamata said schools and colleges would remain closed till September 20 and the decision would be reviewed later.
The pandemic has killed at least 820,180 people worldwide since surfacing in China late last year, according to a tally from official sources compiled by AFP yesterday. More than 23.9 million cases have been registered in 196 countries and territories.
Meanwhile, Myanmar expanded a lockdown in conflict-wracked Rakhine state to cover four more townships yesterday, halting the movement of about 1 million people as the number of coronavirus cases climbs steadily.
One hundred new infections were confirmed across Myanmar in the last 24 hours -- bringing the total to 574 -- with the northwestern state registering the bulk.
Rakhine is home to about 130,000 Rohingyas displaced by conflict and confined to camps under what Amnesty International describes as "apartheid" conditions. Another 150,000 displaced ethnic Rakhine are scattered across the state h.
Meanwhile, Britain yesterday reversed its policy on wearing facemasks in schools in England, prompting fresh criticism about its handling of the pandemic.
Ministers had insisted face coverings were not necessary when children go back to school next week, but in new guidance the government advised secondary school students and staff should wear face coverings in corridors and communal areas.