The off-course task force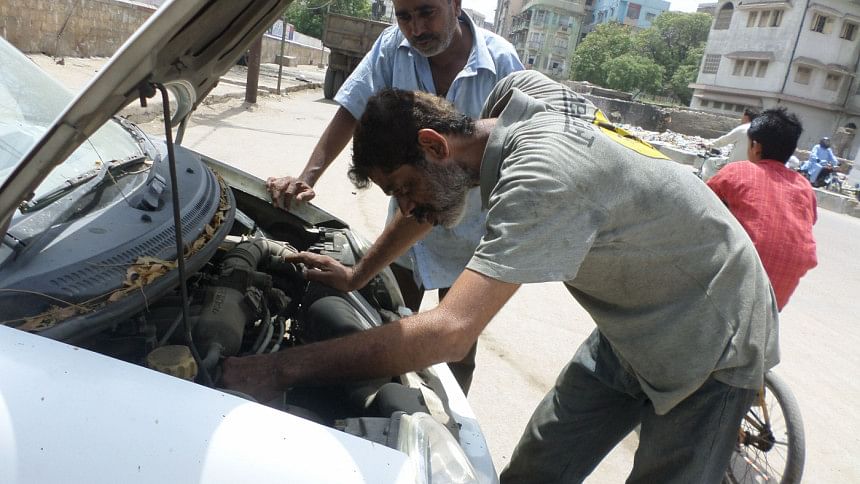 Taj Mohammad Baloch, a motor mechanic from Karachi town of Lyari, has worked in Oman, Iran and the United Arab Emiraes and speaks highly of his experiences there.
"In all these places, workers' safety is given utmost importance. The workers are provided with working gear such as boots, goggles, gloves, hard hats, etc. Every month there is a labour check carried out, too, to make sure that everything is in order," Taj shares.
He also talks highly about maintaining of 8am to 1pm and 3pm to 7pm work shifts, dayoff on Fridays and no work after 1pm during the holy month of Ramadan.  Also, they were provided with living quarters, he adds.
"While in Iran, I cut three fingers of my right hand during some engine repairs. I just couldn't work for at least 15 days. After that, with my hand bandaged, I did come to work but was told not to worry and rather help by supervising others instead of getting my own hands dirty," he remembers.
Taj also shares that while working in Oman and Iran, he had the privilege of dual nationality, too.
Just last year, he was working at a garage in Dubai. "My visa came through my employers and everything was fine until I got over ambitious and applied for a job at another garage that was offering higher pay. When my employers found out about this they sent me back to Pakistan with a six-month ban on my travelling to UAE again."
Now that the six months' ban is over and the garage he had applied to are calling him again. "My new work visa will arrive any day."
Taj is one of the lucky ones. He is also the holder of several diplomas in his field of expertise. "The employers abroad hold regular training workshops and after completing the training we receive certificates, which add to our worth," he says.
Meanwhile, other not so lucky ones queue up outside recruiting agencies for the positions of driver, mechanic, electrician etc and end up paying hundreds of thousands in the process while not always getting the right deal.
"The naïve people sometimes don't even realise that they are being sent abroad to work on a visit visa," points out Ali Shaikh, who helps migrant workers sort out their papers. He has his little roadside notary public office in Defence Phase-V area in Karachi.
"First comes the job, and then the visa and work permit, after they are satisfied with your medical and other paperwork. But here recruitment agencies sell you the forms and visas for 12,000 rupees to 15,000 rupees. What good do you expect coming out of a foreign job which starts this way?" Ali asks.
"Sometimes after spending as much as 250,000 rupees to 300,000 rupees, the poor persons, on reaching their destination, find out that they pay isn't what was promised," he adds.
"There have been so many police raids at various recruitment agencies but they reopen after a while due to the demand. To make up for its war losses, Saudi Arabia, now after Yemen, would no doubt take it out on their foreign recruits by paying them smaller wages. If they refuse to work for little money, they would be deported of course and this will have an impact on Pakistan's economy too," he points out. 
Last year, several men promised jobs in Saudi Arabia became victims of human trafficking. They had answered a newspaper advertisement by a recruitment agency that put them on a plane to Dubai first on a visit visa. Though they had been told that they would be boarding a connecting flight to Jeddah after proper recruiting procedure in Dubai, they found themselves on a plane to Berbera, Somaliland where they were taken in as slaves.
The person getting them out of that mess was human rights activist and advocate Ansar Burney. His office in Karachi's Aram Bagh area has seen many such cases and worse.
"People don't think too much when faced with the prospects of good money aboard. We have men being fooled by recruitment agencies all the time, women too," says Shagufta Burney, advocate and director, Ansar Burney Trust. Women are particularly vulnerable to falling into the wrong hands, she adds.
Pointing out that there are cases where relatives lure women abroad with promises of getting them a good job there.
"One brother-in-law arranged for the travel of his wife's younger sister abroad and, once there, forced her into all kinds of weird things such as prostitution. Stuck in a foreign land with no one she could trust, the woman said she was left with no choice but to comply," says the advocate.
"Women go abroad to work there as factory workers, maids, nurses, teachers and even doctors. The sad part is that even educated MBBS doctors fall into the trap. But they are adults and cannot be forced against their wishes like this. They can always find help there by informing the police or contacting the embassy," she points out.
*US$1 = 101 Pakistani rupees
*Copyright: Dawn/Asia News Network