GUEST COLUMN
Rizwan brought back audience to theatre halls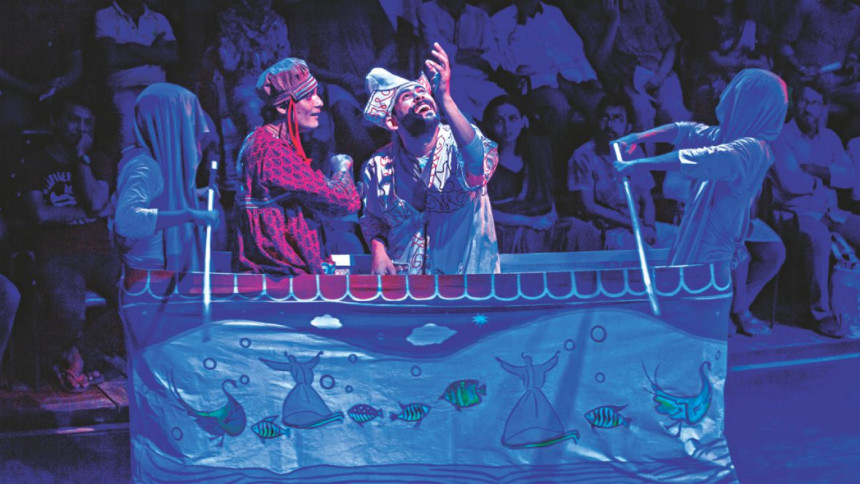 "Rizwan", a short film, scripted and directed by Deepti Khurana, is based on "The Country without a Post Office" by Agha Shahid Ali, and adapted into a play by Abhisheikh Majumder. The entirety of the short film lasted 15 minutes; within that time frame, the director was able to aptly portray Rizwan's story, through which a lot of people were already familiar with the narrative. The same story was brought to the stage recently by Syed Jamil Ahmed, noted theatre personality. It was staged 19 times between September 2-10 at the Experimental Theatre Hall of Bangladesh Shilpakala Academy, and the proceeds from the tickets went to those affected by the recent floods. 
My excitement and anxiety were immeasurable. The thronging crowd fighting over tickets, trying to get the best seats, standing in a queue before the gates even open -- was a wonderful hit of nostalgia. As a theatre actor myself, hearing words such as "Why should only cinema tickets be sold out? Why not theatre tickets?" or "If we can watch cinemas during Eid, why not come to the theatre?" were music to my ears.
As I entered, my anticipation grew. It was, after all, Jamil sir's play. It was perhaps this high level of anticipation, which caused the pain I experienced during the play. The first thing I had noticed was the weak musical arrangement. The tracks used were much too simple. I was reminded of the rhythm tracks we used in our Yamaha PSR Keyboards as students. Some of the music was familiar -- used in many a stage play.  Why was there room for such a weak ingredient in such a grand play? Some of the more important scenes, such as the hospital scene, or when we get to witness the boatman for the first time -- seemed to have fallen short of accuracy and expectation. I felt like we were back in a shooting spot in Pubail, filming a cheap comedic scene. I was deflated. But at that very moment, a particular dialogue brought a smile back to my face, when Fatema, the character that is Rizwan's sister, said, "I raped this soldier back." It called for applause, but it was against the rules to do so according to the hall management. Why it was against the rules is beyond me-- as both audience, and theatre performer.
When I had the opportunity to speak to "Komolarani Shagordighi" actor Sayeedur Rahman Lipon or Jon Martin of "Bishad Shindhu", they had told me that Jamil sir is a perfectionist, and never compromises on quality. But what had me confused was why he had selected inexperienced actors for such a grandiose play. Where was the energy? Where was the strength in the delivery of dialogues? Where was the proper use of the props? Many of the dialogues were inaudible -- they just sounded like screaming. And it was this screaming that took away the haunting silence that comes with a story of death. Rizwan's age -- when was he a child, a teenager, or an adult -- was missing throughout the play.
One thing that will strike anyone while watching "Rizwan" is the visual aesthetics. The boat moving through thick fog, the moments of speechlessness, and some other particulars were praiseworthy, even though borderline repetitive.
The play on lights was fantastic. The choreography and blocking that were done with the use of the lights felt like a proscenium stage. But alas, I was not in front a proscenium stage. The use of the arena of some plays such as "Bishad Shindhu", "Khona" and "Kotha '71" left an eternal impression. Debashish Ghosh's "Kotha '71" was one such play that used the Experimental Hall to its fullest potential.
The biggest confusion for me, though, was despite the title, the play urged me to ask whether this was Rizwan's story, or his sister Fatema's. Why was the priority given to Fatema almost equal to that of Rizwan's? And most importantly, the story needed not be told for almost two hours. It is not as complicated as it was played out to be.
What this play did achieve was bring audience back to the theatre halls. For many of who were present, this was the first stage play they had witnessed, and for that I want to thank Natbangla and Jamil sir. I want the audience to know that there are many great works being done on stage. Come watch more stage shows, take more selfies there, discuss them, and bring them to the trend.
Let us help theatre thrive, let us help theatre win.
Shahadat Hossain is a popular theatre, television and film actor.