Celebrating Mostofa Sawar Farooki's cinematic brilliance on his birthday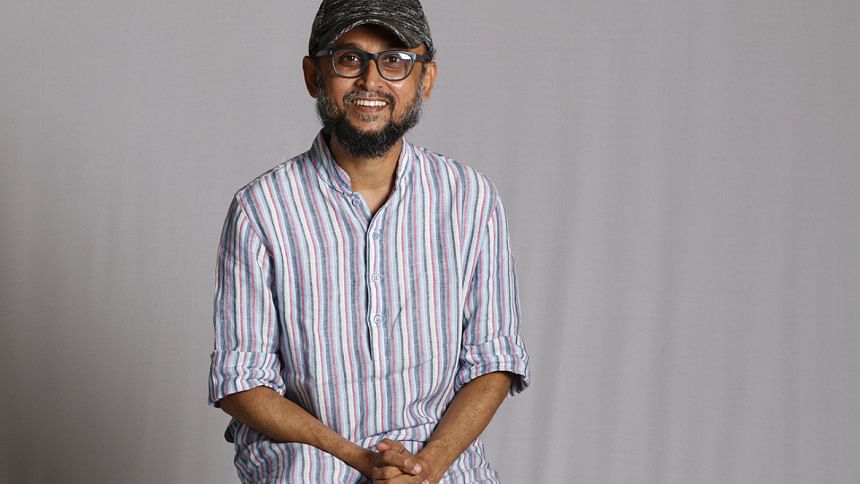 Today marks the 47th birthday of internationally acclaimed filmmaker Mostofa Sarwar Farooki. The founder of the production house, Chabial, has carved a space for himself in the world of cinema over the years, connecting with audiences across the globe with his unique and brilliant stories.  Brought up in Nakhalpara, the people he grew up with, the tea stalls, the alleys, the orange sunlight and the rain in his neighbourhood have all inspired Farooki's filmmaking. From Bachelor to the upcoming No Land's Man, he has truly shown his versatility as a filmmaker. Commemorating the trendsetter's birthday, we take a look at his journey in films so far.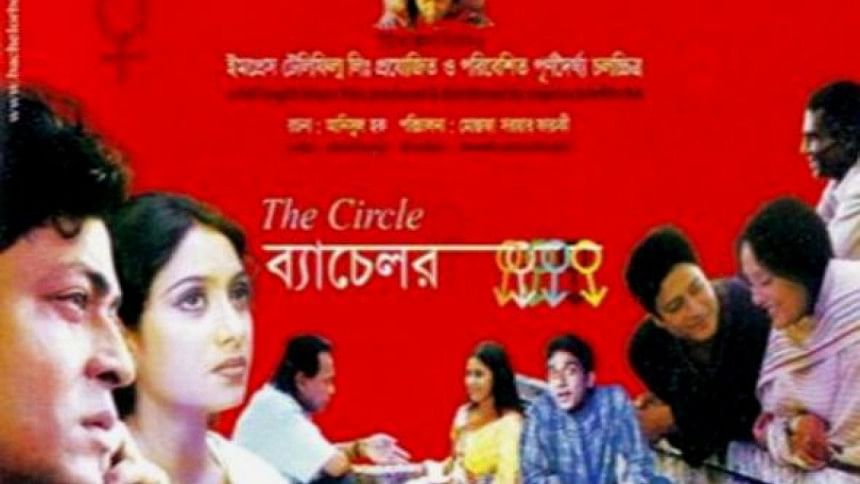 Bachelor (2004): Farooki made his directorial debut with Bachelor, an Impress Telefilm production, released on January 31, 2004. Starring Humayun Faridee, Jaya Ahsan, Shabnur, Ferdous Ahmed, Aupee Karim, Marzuk Russell, Sumaiya Shimu, and Hasan Masood among others, the movie created quite a buzz among the youth. The screenplay of Bachelor is written by Anisul Hoque. The film, revolving around how the urban youth deals with the complications in relationships in a conservative society, is set in Dhaka. The soundtrack of the film includes hit numbers such as SI Tutul's Keu Prem Kore, Keu Preme Pore and Ayub Bachchu's Ami To Preme Porini. Bachelor also marked celebrated actor Jaya Ahsan's debut in films and is  Aupee Karim's first and only feature film. Bachelor made it to the official selection round in New Jersey Independent South Asian Cine Fest, Third Eye IFF Mumbai and Asiatica filmmediale, Rome. The film was also in the official selection round in New Jersey Independent South Asian Cine Fest, Third Eye IFF Mumbai, and Asiatica filmmediale, Rome.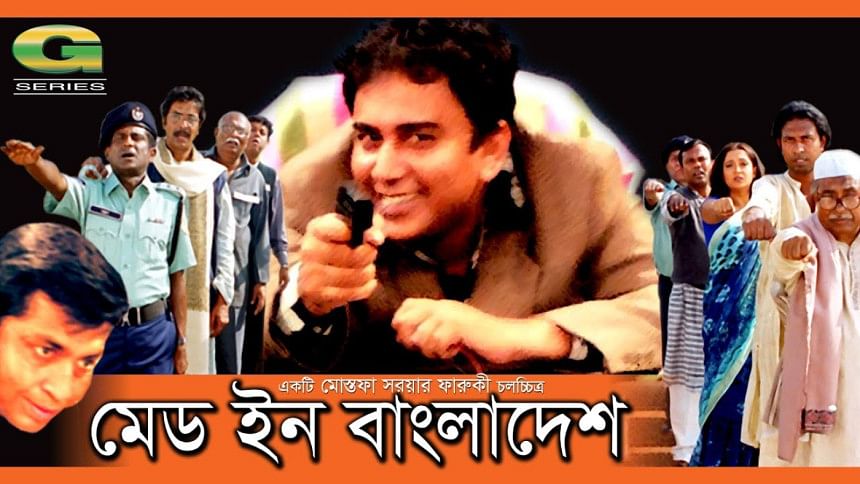 Made in Bangladesh (2007): Farooki's second feature film is a political satire, with Zahid Hasan as the protagonist. An unemployed crack-headed man takes few political leaders under hostage, demanding to fix the laws in support of the general population. The film also features Sahiduzzaman Selim, Tariq Anam Khan, Srabosti Dutta Tinni, Dilara Zaman, Fazlur Rahman Babu, and Tania Ahmed among others in pivotal roles. The film won the Special Mention (Best Film) award at Dhaka International Film Festival 2008.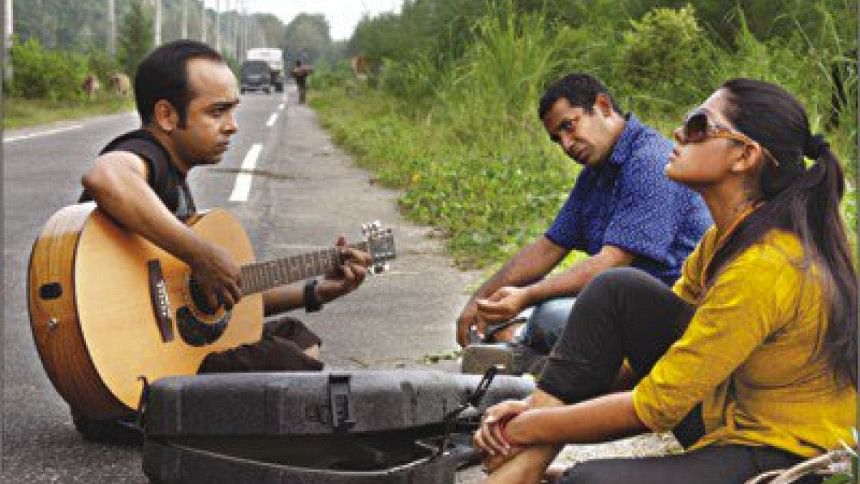 Third Person Singular Number (2009): This film, another Impress Telefilm production, features National Award-winning actor Nusrat Imrose Tisha, Mosharraf Karim, Abul Hayat, and musician Topu. Set in the capital, Third Person Singular Number revolves around a girl (Tisha) who struggles to live alone and faces discrimination and harassment in a conservative society. The hit track from the movie Bahir Bole Durey Thakuk is composed by Habib Wahid and sung by Nancy. The screenplay is jointly written by Farooki and Anisul Hoque. Third Person Singular Number also marked Tisha's debut in films.  It won several accolades, including the Best Director award in Dhaka International Film Festival 2010, and several awards at the Meril Prothom Alo Awards 2010. Third Person Singular Number was also Bangladesh's official submission to the 83rd Academy Awards for Best Foreign Language Film. It was in the official selection round in Pusan (now Busan) International Film Festival 2009, as well as some other international festivals. It was also in the official competition round in Jogja-NETPAC Asian Film Festival 2010 and Tiburon International Film Festival 2010 among others.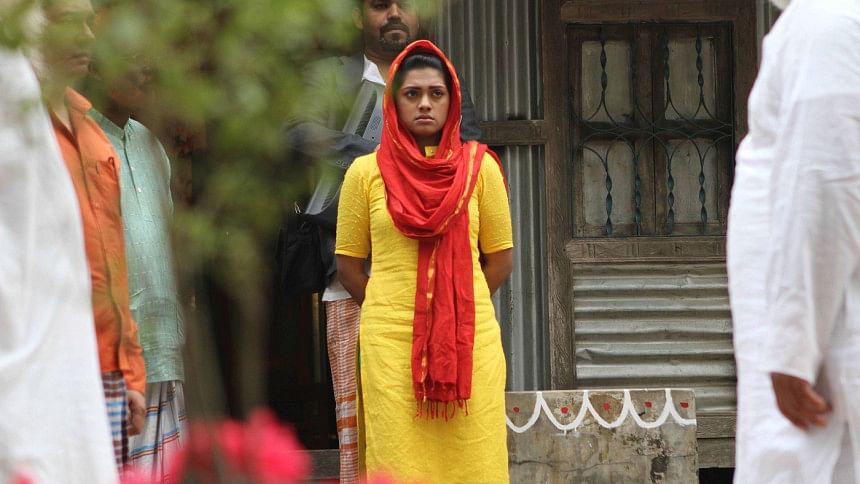 Television (2013): Mosharraf Karim, Chanchal Chowdhury, Nusrat Imrose Tisha, and Kazi Shahir Huda Rumi star in Television, a story set in a village. The film deals with the tensions between conservatives and modern minds and also features a love triangle. Television is a delightful watch, focusing on the emotional bond between a father and son and their spiritual connection with the creator. The movie is produced by Chabial, Mogador Film and Star Cineplex. It had its world premiere in October 2012 at the 17th Busan International Film Festival, as the closing film. The music of the film is composed by Ayub Bachchu. Television was Bangladesh's submission to the 86th Academy Awards, in the foreign language category. The film was the first one from Bangladesh to win the Jury Grand Prize at the 7th Asia Pacific Screen Award (2013). The film also won the City of Rome Award (jury) for Best Asian Feature Film and the Audience Award, Asiatica, in 2013, Rome-Italy, among numerous other awards. The script of the film also won international funds.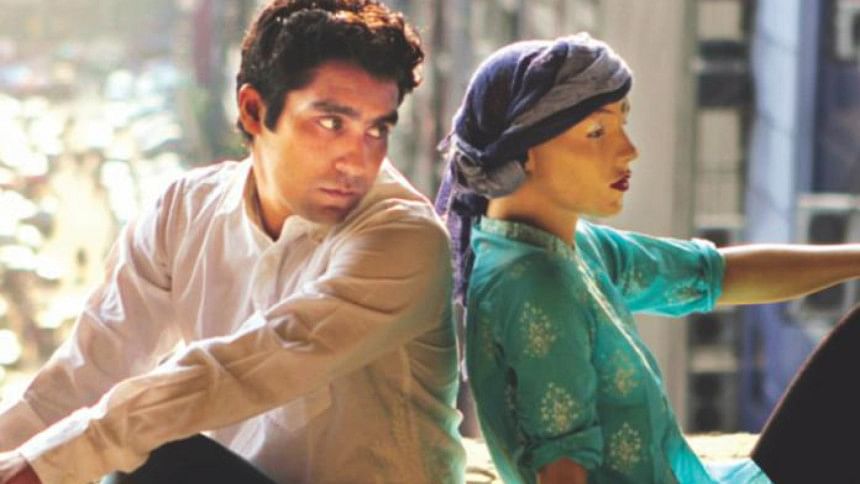 Pipra Bidya or Ant Story (2013): The film features Indian actor Sheena Chohan and Noor Imran Mithu in the lead roles. The plot revolves around a desperate young man, who lives in a suburban area, believing that Dhaka will provide great opportunities for him. When he realises that it is not his cup of tea, he starts fantasising about a new world of lies and gets involved in unethical deeds. At one point, he intends to deceive a model, played by Sheena, but falls into the trap of his own lies. The film carries an important message for the desperate and depressed, who find unethical ways to execute their desires. Along with competing in official selection round in international platforms, Pipra Bidya was declared as the Best Film Director (Critics Choice) at Meril Prothom Alo Awards in 2014. It went to several official competitions, including Shanghai Film Festival, and Asia Pacific Screen Award, 2014. It was also in the official selection round in Busan International Film Festival 2014 and Melbourne IFF (sub continental films), among others.
Doob or No Bed of Roses (2017): Doob or No Bed of Roses was jointly produced by Farooki and internationally acclaimed actor Irrfan Khan, alongside Abdul Aziz, and Himanshu Dhanuka, under the banners of Jaaz Multimedia, Eskay Movies and Irrfan Khan Films. The film features Irrfan Khan, Nusrat Imrose Tisha, Rokeya Prachi and Parno Mittra. It was selected as the Bangladeshi entry for the Best Foreign Language Film at the 91st Academy Awards. The music of Doob was arranged by the popular band Chirkut. The song Ahare Jibon, sung by Sharmin Sultana Sumi, was a smash hit. Doob reflects on the bond between a father and daughter and the complicated relationship between a married couple. The film won several awards, including the Dubai Film Market Award at Film Bazar India and Kommersant Jury Prize at Moscow International Film Festival in 2017. It was screened as the closing film at South Asian Film Festival, Paris, in 2017. It went into numerous international competition and selection round, including International Film Festival of South Asia, Toronto, 2018.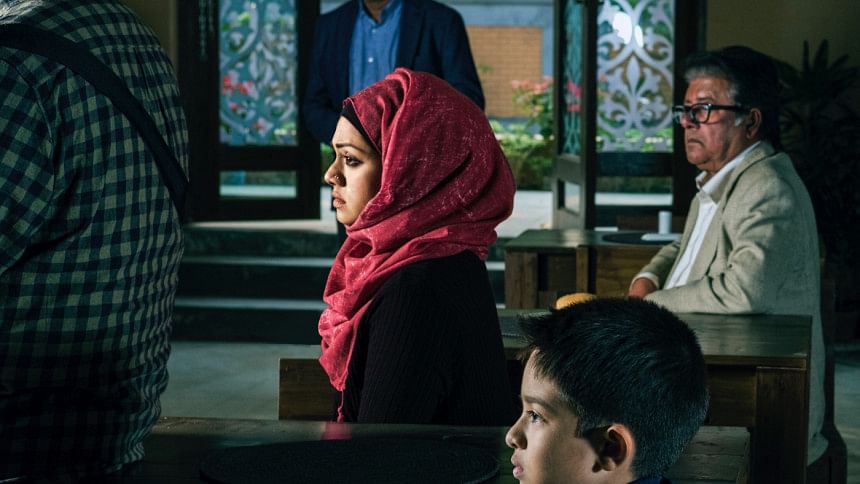 Shonibaar Bikel or Saturday Afternoon: Sadly, this movie is banned by the censor board of Bangladesh. The one-shot film features Nusrat Imrose Tisha, Zahid Hasan and Parambrata Chatterjee among others. The story is set in a restaurant, where a group of terrorists attack. The film won the Russian Film Critics Jury Prize and the Komersant Prize at Moscow International Film Festival in 2019. It also grabbed the NETPAC Award and High School Award at Vesoul International Film Festival of Asian Cinema in 2020. Shonibaar Bikel is the first film in Farooki's identity trilogy.
No Land's Man: This pre-dominantly English language film is Farooki's latest project. The film's shooting is complete and the team is awaiting its release. It features internationally acclaimed actor Nawazuddin Siddiqui, Tahsan Khan and Australian theatre artiste Megan Mitchell among others. Besides Nawazuddin's Magic If Films, Farooki, Nusrat Imrose Tisha, art patron Anjan Chowdhury, and Spirit Award winning US producer Shrihari Sathe are producing the film. Popular content platform BongoBD is one of the co-producers, while UK based filmmaker Ahsan Zaman is the co-executive producer. Tisha makes her debut as a film producer with No Land's Man.
The plot of the movie deals with the fascism and the identity crisis in the current world. No Land's Man is the second movie from Farooki's identity trilogy. It is set in three different continents: Asia, Australia and America. The film already won Motion Pictures Association of America, APSA Film Fund in 2014. It also won Most Promising Project - Film Bazaar India, in 2014. It was selected as the Official Project, Asian Project Market at Busan International Film Festival in 2014.