Bimbavati Devi's homage to Bangabandhu
International dancers to collaborate with Bangladeshi artistes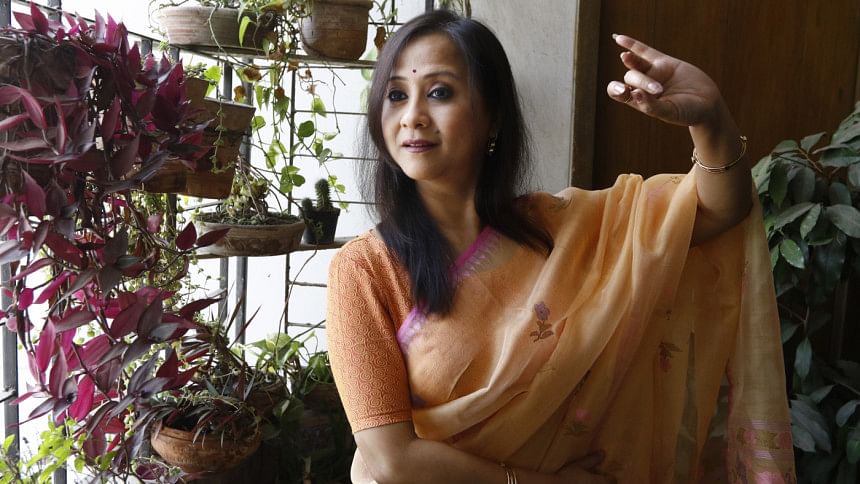 As part of the yearlong celebration of the birth centenary of Bangabandhu Sheikh Mujibur Rahman, Bangladesh Shilpakala Academy (BSA) has arranged a grand programme that will take place on March 17. World famous dancer-choreographer Akram Khan will direct and present a scintillating dance performance collaborating with Bangladesh dancers among others.
Renowned Manipuri Dance exponent Bimbavati Devi came to Dhaka last February to conduct a four-day workshop. Several Bangladeshi Manipuri dance artistes took part in the workshop, organised by BSA. They will perform on the opening programme. Bimbavati Devi, daughter of legendary Manipuri dance Gurus – Bipin Singh and Kalavati Devi, hails from India's Manipur state, and is currently based in Kolkata. She teaches the classical dance genre at Rabindra Bharati University, and runs a dance troupe called Manipuri Nartanalaya. In conversation with The Daily Star, the dance artiste has recently shared her experiences and artistic vision regarding the production.
"Four days aren't enough for conducting a workshop and choreographing a dance piece at the same time. Yet, we have tried our best to pay homage to the Father of the Nation," says Bimbavati Debi. "I feel really honoured to be a part of the programme and express my gratitude to the BSA authority for inviting me" The dance exponent said that her dance piece will highlight glorious aspects of Liberation War of Bangladesh, and the gruesome killing of Bangabandhu with almost all his family members in 1975. "The piece, suggestive in nature, will be rather a theatrical presentation," she says.
Starting with the flashbacks of memories, the production will initially evoke the essence of Karun (painful) and Bhayanak (horrifying/fearful) Rasa. Flashes of Baatshalyo Rasa will confer Bangabandhu's universal bonding with the motherland, at the end.
Following the workshop at BSA, Bimbavati Devi conducted another workshop at Chhayanaut. Organised by renowned dance artiste Sharmila Banerjee and her school Nritya Nandan in association with Chhayanaut, the workshop and performance zoomed in on the advent of Spring. Manipuri Nartanalaya in Kolkata was founded by Gurus Bipin Singh and Kalavati Devi in 1972. Bimbavati Devi tours extensively all around India and the world with many innovative productions on behalf of the troupe. Promising Bangladeshi dancer Sudeshna Swayamprabha, who is Bimbavati's favourite student, works in the troupe as well.