BACHSAS celebrates golden jubilee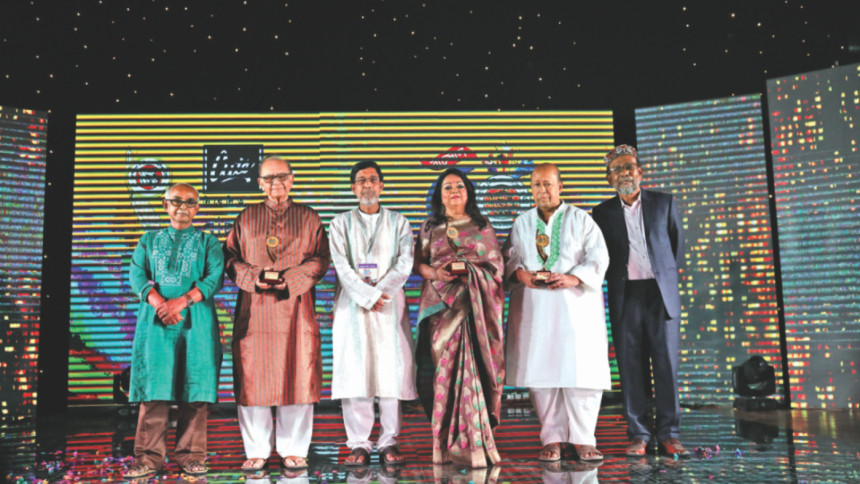 After a five-year hiatus, the 39th installment of the Bangladesh Cholochitra Sangbadik Samity (BACHSAS) Awards were conferred during a grand celebration amidst a star studded evening, held at the Bangladesh Film Archive Bhaban auditorium recently. Considered one of the most prestigious awards in Bangladesh, the inauguration of the day-long event began in the morning with an arrangement of a seminar, poster exhibition, film screening and more. The award ceremony continued later in the evening, which was graced by the Information Minister Dr Hasan Mahmud, as the chief guest.
Eminent actor Alamgir was honoured with the Lifetime Achievement Award. The Emeritus Awards were presented to five distinguished members of the film fraternity -- Syed Hasan Imam, Kohinoor Akhtar Suchanda, Sabina Yasmin, Mirza Abdul Khaleque and Faridur Reza Sagar – for their immense contributions to the entertainment industry.
Amidst enchanting performances, the event, hosted by Anjam Masud, Debashish Biswas, Saikat Salahuddin and Shanta Jahan, progressed with the BACHSAS Awards presented for the years 2014 – 2018. Following is a list of the winners in the various categories.
2014
Best Film: Desha: The Leader
Best Director: Saikat Nasir (Desha: The Leader)
Best Actor (Female): Mahiya Mahi (Desha: The Leader)
Best Actor (Male): Ferdous (Ek Cup Cha)
Best Supporting Actor (Female): N/A
Best Supporting Actor (Male): Tariq Anam Khan (Desha: The Leader)
Best Music Director: Ahmmed Humayun (Shwapno Chhowa)
Best Singer (Female): Lemis (Agnee)
Best Singer (Male): Belal Khan (Olpo Olpo Premer Golpo)
Best Cinematographer: Chandan Roy Chowdhury (Desha: The Leader)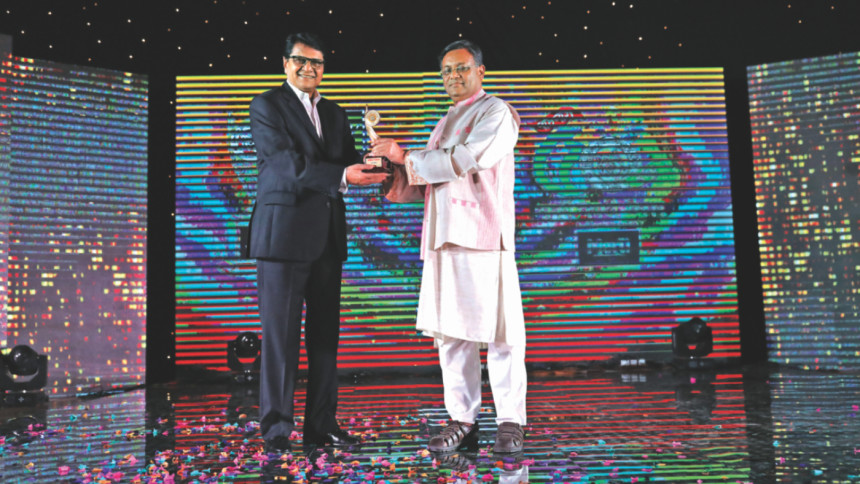 2015
Best Film: Padma Patar Jol
Best Director: Morshedul Islam (Anil Bagchir Ekdin)
Best Actor (Female): Bidya Sinha Saha Mim (Padma Patar Jol)
Best Actor (Male): Arifin Shuvoo (Chuye Dile Mon)
Best Supporting Actor (Female): Jyotika Jyoti (Anil Bagchir Ekdin)
Best Supporting Actor (Male): Sadek Bacchu (Love Marriage)
Best Music Director: Shouquat Ali Imon (Black Money)
Best Singer (Female): Elita Karim (Padma Patar Jol)
Best Singer (Male): Asif Akbar (Padma Patar Jol)
Best Cinematographer: Mahfuzur Rahman Khan (Padma Patar Jol)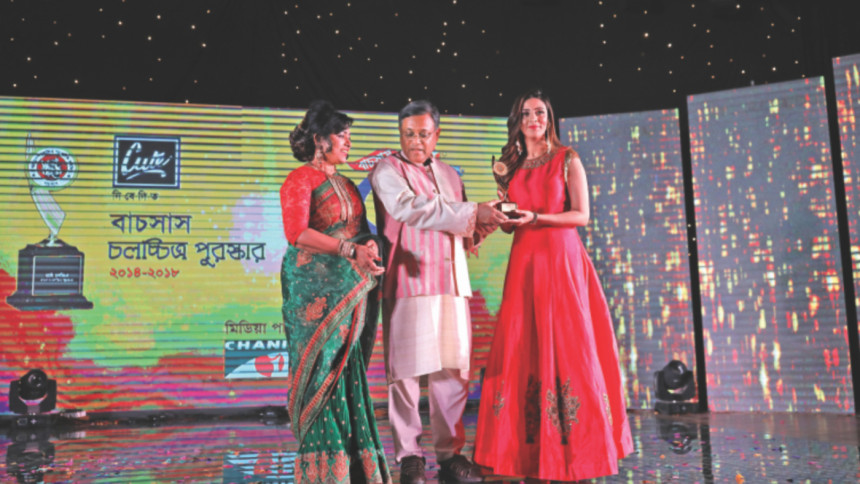 2016
Best Film: Oggatonama
Best Director: Tauquir Ahmed (Oggatonama)
Best Actor (Female): Masuma Rahman Nabila (Aynabaji)
Best Actor (Male): Chanchal Chowdhury (Aynabaji)
Best Supporting Actor (Female): Mousumi Hamid (Purnodoirgho Prem Kahini 2)
Best Supporting Actor (Male): Fazlur Rahman Babu (Oggatonama)
Best Music Director: Pintu Ghosh (Oggatonama)
Best Singer (Female): Shithi Saha (Bholato Jayna Tarey)
Best Singer (Male): N/A
Best Cinematographer: Rashed Zaman Chowdhury (Aynabaji)
Jury Board Special Award: Kumar Bishwajit, Singer and Music Director (Sarangshe Tumi)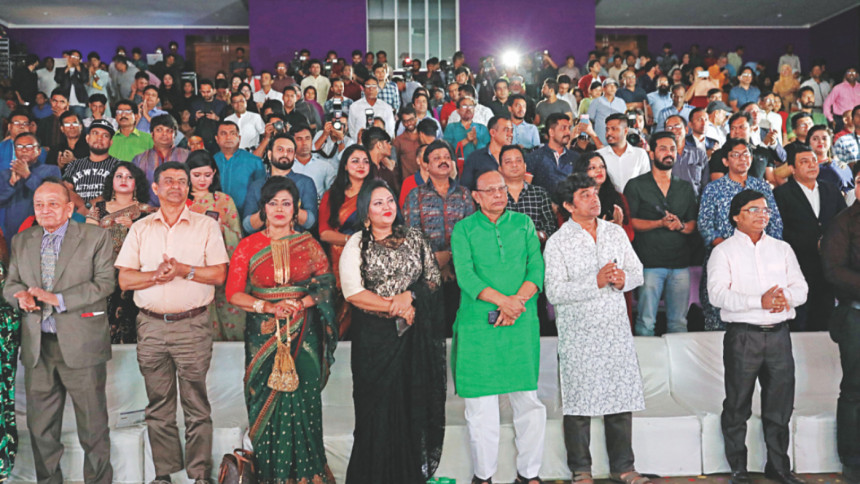 2017
Best Film: Rajneeti and Dhaka Attack
Best Director: Hashibur Reza Kallol (Satta)
Best Actor (Female): Nusrat Imrose Tisha (Haldaa) and Apu Biswas (Rajneeti)
Best Actor (Male): Shakib Khan (Satta)
Best Supporting Actor (Female): Runa Khan (Haldaa) and Nasrin Rahman (Satta)
Best Supporting Actor (Male): Anisur Rahman Milon (Rajneeti)
Best Music Director: Bappa Mazumder (Satta)
Best Singer (Female): Momotaz Begom (Satta)
Best Singer (Male): James (Satta)
Best Cinematographer: Asaduzzaman Mojnu (Rajneeti)
2018
Best Film: Debi
Best Director: Anam Biswas (Debi)
Best Actor (Female): Jaya Ahsan (Debi)
Best Actor (Male): Siam Ahmed (Dohon)
Best Supporting Actor (Female): Sabnam Faria (Debi)
Best Supporting Actor (Male): Misha Sawdagor (Jannat)
Best Music Director: N/A
Best Singer (Female): Ankhi Alamgir (Ekti Cinemar Golpo)
Best Singer (Male): Imran Mahmudul (Nayok)
Best Cinematographer: Saiful Shaheen (Poramon 2)
Jury Board Special Award: Puja Chery, Debut Actor (Female)