Star Melodies pays homage to Bangabandhu
Every year, the month of August ushers in its fair share of melancholic memories for Bangladeshis, particularly because it marks the death anniversary of our Father of the Nation, Bangabandhu Sheikh Mujibur Rahman. Coincidentally, legendary figures of Bengal, Bishwakabi Rabindranath Tagore, National Poet Kazi Nazrul Islam and Netaji Subhas Chandra Bose also passed away in August.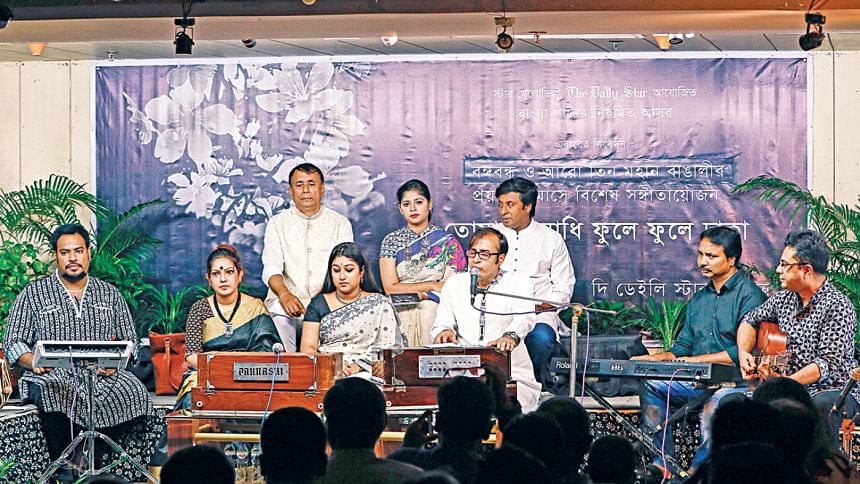 Sadya Afreen Mallick, Chief, Culture Initiatives, The Daily Star, conceptualised the musical tribute, titled, Tomar Shomadhi Phule Phule Dhaka. She also hosted the special event, as part of Star Melodies, an initiative of The Daily Star to promote Bangla music. The musical soiree was held at The Daily Star Centre yesterday.
Mahfuz Anam, Editor and Publisher, The Daily Star, welcomed the guests, prior to the commencement of the programme. 
"Throughout history, we have witnessed how the power of music played a pivotal role as a means of awakening for the people of a nation, and we are no different," addressed Sadya Afreen Mallick. "From 1905 onwards, numerous Bangla patriotic songs were composed by various artistes, often taking a stance against oppression."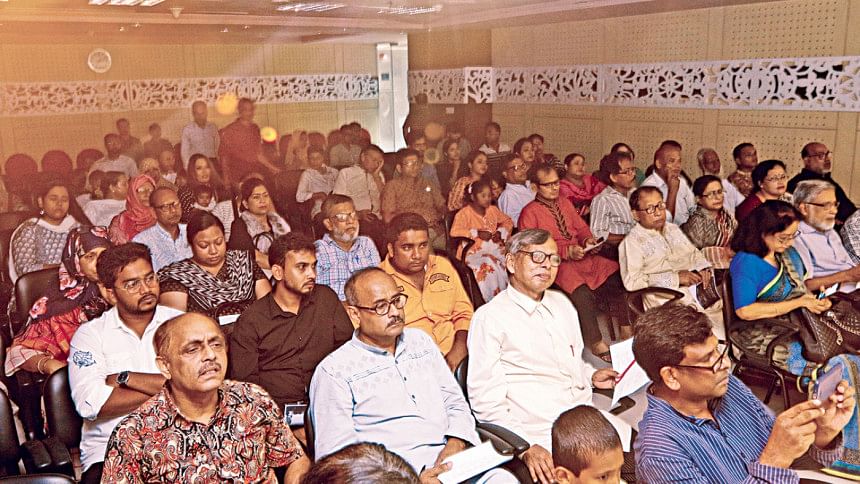 The programme began with Rabindranath Tagore's Moron Re Tuhu Momo Shyam Saman, voiced by Shemonty Monjari, as homage to Bangabandhu Sheikh Mujibur Rahman. Various other popular songs by Rabindranath Tagore, Kazi Nazrul Islam, Kamal Dasgupta, Sudhin Das Gupta, Shyamal Mitra, Ahmed Imtiaz Bulbul.
Famed singer Shelu Barua, enthralled the audience with Tomar Shomadhi Phule Phule Dhaka, Tumi Chhile Tumi Achho, Muktir Mondire Shopan Taley and Ghumaite Dao Shranto Robire. Mafizur Rahman's songs Duare Ayshache Palki and Jibone Jare Tumi Dawni Mala, among others, equally matched the spirited performance.
As the evening progressed, the audience continued to sway to the mellifluous tunes. Renowned artistes, Shaheed Kabir Polash, Shemonty Monjari and Luipa charmed the audience with several songs which included, Pashaner Buke Likhona Amar Naam, Achhey Dukkho Achhey Mrittu, and Shei Rail Liner Dhare, respectively.
Renowned vocalist Alif Laila presented the songs, Baash Baganer Mathar Upor and Ghumiye Gechhey Shranto Hoye, among others.
The instrumentalists for the evening -- Shakib on octapad, Ruptanu on keyboard, Dipon on guitar and Pallab on tabla -- performed marvelously throughout the event and kept the audience entertained.